Yüyi the Mermaid is a fictional mermaid, who plays as an alter-ego to Lady Gaga. Gaga first performed as Yuyi when she sang "The Edge of Glory" on Le Grand Journal. She again performed as Yuyi while performing "Yoü and I" in Sydney, Australia as a part of the Gaga Live at Sydney Monster Hall. She used a wheelchair to keep herself "mobile" on stage since she wore a mermaid tail. Gaga tweeted about Yuyi saying, "A reincarnation of my birth+artistic spirit. In incubation, awaiting a human lover to save her. YUYI THE MERMAID."
"Yuyi the Mermaid might make an appearance on Gaga's next video. She said while discussing some details about the video, "I will also say that Yuyi is in incubation. I won't explain it but all the little monsters who are superfans will understand what I'm saying if they follow my twitter." On July 15, Gaga tweeted more about Yuyi saying "Next video in just days. So passionate about the concept. Can't sleep. Visions of a surreal love. #YuyiIsReal. If you want her to be. -MM"
Yüyi appeared in the music video for "Yoü and I" and was featured in the third fashion film, Haus of Ü. Yüyi was originally planned to be in the music video for "The Edge of Glory", but when the director, Joseph Kahn, left the project due to creative differences, Gaga scrapped the original concept of the video. According to Chancler Haynes, Khan's on-set editor, "[Khan] had sets built for a hospital scene, Brooklyn Bridge, and a big underwater mermaid scene. It all made sense."
Appareances
On September 1, 2011, Gaga announced on her Twitter account that she had shot five "fashion films" related to the music video of the song, with Dutch photographer duo Inez van Lamsweerde and Vinoodh Matadin. After the tweet, Gaga released the first video, titled "Haus of Ü Featuring Nymph".
"We built a studio in a pig sty and worked for three days with her constantly coming off set to us and filming with us and taking pictures. What's incredible in there is that this is Gaga, as herself in the character that she is, related to the 'Yoü and I' video, and it's purely her." They went on to explain of Gaga: "She asked us to make these videos as a bridge between fashion and rock and roll, and since both are kind of equally important for her as an inspiration and starting point. So, she really said to us, 'Do your thing, what you would do in fashion context,' let's say, but relate it to the characters that she is in the 'Yoü and I' video."
Directed — Inez and Vinoodh
2nd assistant camera (AC), sound technician — Derek Nelson
Creative direction — Lady Gaga
Fashion direction — Nicola Formichetti
Cinematography — Todd Heater
Lighting technician — Jodokus Driessen
Editing — Otto Arsenault
Featuring Yüyi
Videos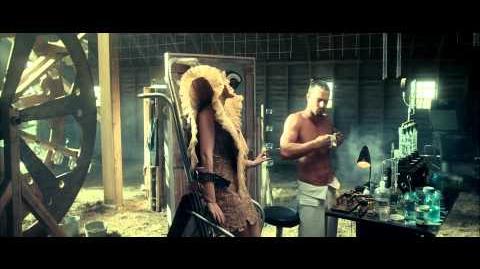 Community content is available under
CC-BY-SA
unless otherwise noted.