V60: The Beauty Issue (July/August 2009)
[
edit
|
edit source
]
Editorial by Mark Jacobs and photography by Sebastian Faena.
To boys and girls with a disco ball, some sunglasses, a glue gun, and a dream, this is your moment, Lady Gaga from Yonkers, New York, a graduate of lower Manhattan nightlife, who came into this world as Stefani Germanotta, is a star. "Just Dance" and "Poker Face" the first tracks from her 2008 platinum-selling, electro-pop debut album The Fame, both reached number one on the Billboard Hot 100 single chart, a success not seen since the introduction of Christina Aguilera a decade ago.
Gaga delivers herself to the masses wrapped in postfeminist sexuality, cynicism-free materialism, and a new generation's excitement for "creative direction". She is the number one proponent of the avant-garde statement costumes currently popular with entertainers like Beyoncé and Rihanna. Gaga's distinct visual vocabulary includes a signature "hair bow", a studied disinterest in wearing pants, and an evolving wardrobe of geometric, left-of-center fashions (a Hussein Chalayan-inspired bubble dress, for example).
Considering that Gaga designed this persona on her own, along with the creative team she calls Haus of Gaga, her development is being watched with interest, particularly as her notoriety affords her greater access to the high-end resources and collaborators that can bring more polish to her artistic ambitions. "You always have to be ahead of the curve", she says. "Right now I'm quite obsessed with 1950s monster movies. And it's a leap. But when you focus on something and commit yourself to it, your lie can become true".
The following conversation with Gaga, who speaks with a slight Madonna-esque accent, happened during a photo shoot for an upcoming M.A.C beauty campaign, in which she will star alongside Cyndi Lauper. Questions were directed at Gaga's reflection in a mirror through a space between her hair, which was being worked on by Danilo, and the arms of a makeup artist applying red rhinestones to her face.
Mark Jacobs: Have famous people been everything Gaga hoped they would be?
Lady Gaga: I was never excited to be friends with famous people. That's never been the goal of this. I know my album is called The Fame, and that's the subject matter, but it's fame in the Warholian Studio 54 kind of way, not the stereotypical fame that people read about in tabloids and is considered very poisonous.
Why is fame important?
To me, if something is good when it's shallow, that's enough. If it goes deeper that's fine. I hope people read into the work but if they don't...
You've spoken about the subtext of "Poker Face". What is the subtext of "Boys, Boys, Boys"?
I wrote the track as a mating call. I was dating this guy who was really into heavy metal and I wanted to write a pop song that would make him fall in love with me. So I wrote that record and we dated for two years. It reminds me of "Girls, Girls, Girls" by Motley Crue. the subtext is that even though I'm a very free and sexually empowered woman, I'm not a man hater. I celebrate very American sentiments about bars an drinking and men buying women drinks. It's very heavy metal sentiment that I celebrate in a pop song. But I don't think every record has to have this "Poker Face" subtext.
Has Gaga encountered an item of clothing too outrageous for her?
I don't consider my own clothing to be outrageous. It's very strange to me the way people say, "Oh, Lady Gaga and another one of her wacky outfits!" Or, "You always dress so crazy!" The truth is that people just don't have the same references that I do. To me it's very beautiful and it's art, and to them it's outrageous and crazy.
It's certainly more challenging than a pair of torn Levi's and a tank top.
I guess challenging and outrageous are two different things. There is a method to my aesthetic. I don't choose pieces based on their shock value. I really think that what I wear and what we design as a house is very beautiful and when people say it's outrageous or over-the-top, to me we just don't share the same references. Danilo, for example, knows who Thierry Mugler is. He's very familiar with his work, he knows the shapes, he's seen the progression of his work and his archives since the '70s. So if Danilo sees a piece that I've designed that's Mugler-inspired, he says, "Oh, that's amazing. I love it." Whereas someone who doesn't know Mugler might say, "Oh you look like a tranny robot." They just don't understand the reference. But it's not my job to do something that's safe for people. I just do what I think is beautiful.
The pop stars have been very territorial with the Mugler lately. Have you met Sasha Fierce?
Have I met Beyonce? No.
You once said you wish your live shows could change lives...
I'm wondering why you asked if I'd met Beyoncé.
Because she's really into Mugler right now.
Right now. But I've been wearing Mugler for years. For me it's not a cone-off for a tour or a one-off for this album cycle. This kind of clothing, the period, the lifestyle of fashion and art and pop art as life, this is who I've been for years. But beyonce looks amazing. I love what Mugler did for her tour. But do you see my point? It's not going to end after The Fame is over.
What about the teacup as accessory?
That's ridiculous. I like to drink out of china. People made a big deal of it.
What is the origin of the hair bow?
Me and Matt Williams, he's my creative partner and my best friend, we design and creative direct everything together, we were in the set of my "Poker Face" video. We were looking through books, and he was looking through a Gaultier fashion show, and Gaultier did all this amazing hair art with cats and giraffes, like crazy amazing. And I was yapping about bows. "I love bows!" I was imagining myself with hundreds of bows. "Bows are everywhere! Bows are the next big thing! They're not on the street but they're at the parties!" So he's saying, "Yeah, I like bows, but everyone's going to do it". And I said, "Let me see that hair art. Go and put a fucking outfit on my head".
V61: The World of Women & Supreme (Fall 2009)
[
edit
|
edit source
]
Editorial by John Norris and photoshoot by Mario Testino
The magazine came with a plastic electrostatic Marc Jacobs-inspired glasses in pink or blue.
When the Marc Jacobs pink hooded coat and glasses came down the runway, I knew there was only one person I wanted to see in it: Lady Gaga. Growing up as a kid obsessed with new wave, I would cut up paper sunglasses and put them onto celebs' faces on magazine covers. These plastic electrostatic glasses come in pink and blue and are actually based on the Marc Jacobs ones that came down the runway!
—Stephen Gan, editor-in-chief of V
By all rights, Lady Gaga should be exhausted. She has just spent a whirlwind weekend in Toronto at the MuchMusic Video Awards where she turned in an elaborate performance that culminated in fire shooting from her breasts, and afterwards was present for at least part of an ugly postshow confrontation between her pal Perez Hilton and members of the Black Eyed Peas; it was all over the tabloids. "We haven't slept", admits Gaga. "We just got off the plane and came here. It's like, 'Get some orange juice and coffee, motherfuckers! Let's get to work!' It's not every day you get to shoot with Testino".
Quite. Mario Testino, the man at whose altar the world's most glamorous fairly genuflect, spends five hours with his lens trained on the years, decade's most outré pop star. Some might expect Testino would get the famously pants-less wonder to, well, class things up a bit. "It's funny you should think that", says Gaga, in a voice just raspy enough to make it clear she knows her way around a party. "Actually, Mario wanted me naked all day long. It was my stylist, Nicola, who kept sneaking in the designer stuff. He was like, 'Put this Fendi belt on right now!' We love clothes. But Mario, he really understands me, and he said, 'I want this to be about you. I don't want it to be about the clothes'".
"The concept was really shooting the essence of Gaga, who she is", explains best friend Matthew Williams, creative director of the Haus of Gaga, the singer's design collective. Gaga adds, "You know, the glasses, the hair, the tan—I'm known for that. So we just made me übertan". And pumping through the speakers all the while? Naturally, "Poker Face."
It is the year's most inescapable song. From the "Mum mum mum mah" robo-Gregorian chant of the opening to the slinky verse to the singsong hook—it's 2009's "I Kissed a Girl", "Since You've Been Gone", and "Womanizer" rolled into one, at once sillier and smarter than all three. It's one of those tunes against which resistance is futile. Even rockers like the Arctic Monkeys, Weezer, and Faith No More have busted out their own versions this year, much to Gaga's delight.
"I looove Faith No More! Their song 'Epic' was my burlesque number at the bar I used to work at! I used to fog myself and dance to it. When I found out they did 'Poker Face', I was like, shit!" Of course, it's not Faith No More, nor influences David Bowie, Queen, or the Cure to whom Gaga is most often compared. Rather, it's to the goddesses of platinum pop: Madonna, Britney, Christina, and Gwen—comparisons the singer finds a bit lazy. "Look, when I was a brunette, they called me Amy Winehouse. When I was a blonde, they called me Madonna. Then they called me Christina, then Gwen. I just don't think most people's reference points go back very far". While she does share a name with Gwen (Gaga's given name is Stefani Germanotta), while she once engaged in a bitchy back-and-forth in the press with Aguilera, and while she wrote a song for Spears ("Quicksand"), it's Madge who seems closest to the mark: both are Italian-American girls who pulled themselves up by their bootstraps in the big, bad city, both are given to spectacle, both are sartorially adventurous and driven, and neither one apologizes for being pop.
All interesting, you might say, but will we be talking about Gaga in thirty years? That, of course, is a much bigger question. Decades-spanning superstars may well be a thing of the past. But those who predicted Gaga would be a one-and-done dance-pop footnote have already had to eat their words. And as for her being branded trashy? We've all heard that before. "I remember the cover of Madonna's 'Vogue' single and the lingerie and her hair—my mother was like, 'Ucch'", laughs Gaga. "But I used to play it over and over". And now, all these years later, Queen Madge herself is attending Lady Gaga shows, or one last spring at least, at New York's Terminal 5. That night, as Gaga recalls, there was a show on and off stage. "My sister texted me and she was like, 'Madonna is 15 feet away from me. And there are two guys having sex in the audience. This is awesome!' I just remember thinking, Wow, this is exactly what I wanted. I've got Madonna and I've got gay sex!"
Gaga herself has copped to a certain degree of bisexuality, but says she never played it up because "I didn't want my gay fans to think I was using their community for edginess. You know, Ooh, she's edgy!" She considers her song "Future Love" to be in part an endorsement of same-sex marriage, and vows to never stop playing gay clubs, no matter how big things get. "With the exception of God, my family, and Matthew, and the Haus, and Vincent Herbert [who signed and discovered her], the gay community is the single reason that I am here today. I started out playing gay clubs in America, then I went to London to play G-A-Y, where I didn't think anyone knew who I was, and there were thousands of people there. How could I ever turn my back on those people who really fought for me? And besides the loyalty factor, playing in gay clubs is fun".
And yet, Gaga says what she does is not camp. "See, we don't see it that way. To us, it's just beautiful", she says. "The idea that Gaga is just kooky for the sake of being kooky is so wrong". Hmm, where would people get that impression? The cone-head hair she sports on occasion? Or the stilettos-on-the-shoulders outfit she wore recently? Or the moment at this shoot when Gaga, lying on the floor in shimmering blue Balenciaga, hikes up the dress's hem far enough that the stylist feels the need to place down there a platinum blonde tuft that perfectly matches her hair? Tsk-tsk.
But say what you will—and plenty have—Gaga goes for it. Whether with a lightning bolt painted on her face, big bows in her hair, space-age cat suits, or that Chalayan-inspired bubble dress with matching piano, she can evoke David Bowie, Grace Jones, Björk, Stacey Q, Klaus Nomi, or Suzanne Bartsch. Throw in some Sprouse here and Margiela there and it's like hip fashion's greatest hits. Well, some might say misses, but what the checkout aisle arbiters of taste have to say won't keep Gaga up at night. "Us Weekly putting me on a worst-dressed list? I couldn't care less". On the other hand, she adds, "If Karl Lagerfeld called me an ugly hag, then I'd be upset. Because it's Karl Lagerfeld".
Whatever his opinion, Lagerfeld might want to stand back from Gaga's latest creation—the aforementioned fire bra unveiled in Toronto. As with most of her ideas, its execution fell on the shoulders of Matthew Williams, part tailor, part craftsman. He says of the bra, "It's really just sparklers—the old sparklers on the tits trick". But Gaga accuses him of modesty. "I called him from Hawaii and I was like, Matty, we need to make my tits blow up!" And he made it happen.
No word yet on whether the bra will make an appearance on Gaga's upcoming fall tour with Kanye West, another artist fond of outsized shows that spare no expense. But she does admit that the two are "exploring aesthetics and new technology that neither of us have traveled, and we are attempting an epic story". Gaga talks a lot about her art, her work, the technology, the Haus, her creativity—and she knows it. "I'm sure to some people in the press it's like to a nauseating degree", she concedes. "There's Lady Gaga again, yakking about her art".
But all that yakking is just part of Gaga fighting the good fight. She insists time and again that pop is not lowbrow, dance music is not soulless, and that she is not playing a character but creating something with meaning. Her sincerity of purpose is admirable. Considering the well of blank R&B ciphers and Disney eunuchs into which 21st-century pop has thrown itself, maybe a performer who talks about creative vision, aspires to be avant-garde, counts among her circle of creative people designer Benjamin Cho and violinist Daniel Bernard Roumain, and sings the praises of drag queens—just maybe that's a good thing. Roll your eyes if you like—and yes, maybe she ought to wear her heart and art a little less on her sleeve—but Gaga truly believes in all this.
For the day's final tableau, the Lady slips into a brown leather Fendi bustier and boots; her Haus of Gaga circuit-board glasses lend her a savage, vaguely Aztec look. Mario Testino snaps away—the woman with an album (and song) called The Fame and a single called "Paparazzi" shot by a fashion photographer known for his images of that ultimate victim of fame, Princess Diana. "Yes, Diana was the most iconic martyr of fame", says Gaga. "She died because of it". But Gaga adds—and this is no small point in a world of YouTube, Octomom, and Real Housewives—her album should not be seen as a glorification of celebrity. Rather it's about "the dream of wanting to make something of yourself", a dream that Gaga is undoubtedly realizing. "I took off those circuit-board glasses and looked at the computer monitor and I cried. I thought, We did that! We're doing something right!"
Photoshoot by Matthew Williams
A Gaga journal by Matthew Williams
THE CAMERA LOVES LADY GAGA, AND NOW AS CREATIVE DIRECTOR OF POLAROID, SHE HAS BRILLIANTLY TURNED ITS INVASIVE LENS INTO YET ANOTHER POP PLATFORM. HERE, MATT WILLIAMS, THE CREATIVE DIRECTOR OF THE HAUS OF GAGA, CAPTURES ALL HER UNCENSORED, OVER-THE-TOP, EXPLOSIVE COUTURE MOMENTS IN A CLICK AND SNAP
This spread: Los Angeles, January 2010
---
Clockwise from top left: Miami, 2010 New York, 2010 Los Angeles, 2010 Miami, 2009
---
This page top left: New York, 2010 All other photos: Los Angeles, 2010
V67: The New York Issue (Fall 2010)
[
edit
|
edit source
]
Lady Gaga covered the New York edition with Marc Jacobs. Nicola Formichetti Formichetti submitted a "year in the life of Gaga" to this issue, detailing the highlights of the year since they met during a photo shoot for Issue 60 of the magazine.
Photoshoot by Mario Testino
She Put the New Back in New York
[
edit
|
edit source
]
When Mr. V moved to New York in 1986, he hung out with girls like Gaga. Everyone he met at school or out at night seemed to be that sort of gifted, freewheeling individual. Andy Warhol, Basquiat, Keith Haring, Stephen Sprouse--these were the people you would see at the clubs. Everyone dressed in his or her own artistic way; no one wanted to look like anyone else. But then things changed. For twenty years, New York seemed so sterile, so Hamptons-like. If girls were cool, they were either like Paris Hilton or Lindsay Lohan. What happened to the downtown girl? What happened to the underground artist that the mainstream would one day embrace? Thank God for Gaga! She has set New York free, and as these pictures show, she's also saving fashion. Her outrageous looks affect every female celebrity today, making them wonder if "safe" is really the safest choice after all. At the end of the day, her exuberant style and maximalist joy is what fashion is all about, and definitely what a magazine like V and a city like New York celebrate! But there are others who are giving this town a good shake: Marina Abramovic's 700-hour silent opera at the MoMA this past spring was one of the most powerful art performances we'd ever seen. And we weren't alone: over 700,000 people--the largest audience on record--made the pilgrimage to the museum's atrium to witness her solemn piece. We simply couldn't imagine doing a New York issue without featuring these two women on the cover--Gaga as the Statue of Liberty and Marina as Mary, both shot by Mario Testino. And that's just the beginning. Like a subway car at rush hour, we've packed this magazine with as many people as we could--artists, chefs, designers, dancers, nightclubbers, filmmakers--all of whom are making New York the most creative, exciting, and inspiring city on Earth. Once again. Mr. V
Testino photo courtesy Mario Testino; Richardon photo courtesy Terry Richardson; Prada photo courtesy Prada; Pugh, Faena, Klein, John, Gan, Formichetti, Treacy, and Jacobs photos Nicola Formichetti; McQueen photo Jay Massacret
In 12 months, Lady Gaga has accomplished more as an artist than pretty much anyone else we can think of. Here, her fashion director and best friend Nicola Formichetti recounts his top 15 Gaga moments.
July 2009

V60 fashion story by Sebastian Faena "The first time Gaga and I worked together. This was the shoot that started it all."

September 2009

V61 cover by Mario Testino "Her first fashion magazine cover in an ultra-tan face and Marc Jacobs hooded coat."
MTV Video Music Awards "A turning point for Gaga. We changed so many times that night, from the red lace vintage McQueen to the living dress that bled on its own. But it was never about a shock thing."
Marc Jacobs/V Magazine party "It was the first time fashion people saw her live. She performed a very emotional acoustic set that people weren't expecting."
And the day after... "The morning after the party we did a quick shoot in a souvenir T-shirt from the night before."
October 2009

Covers of The Fame Monster double-CD by Hedi Slimane "This was about a stripped-down Gaga and creating timeless imagery. The polar opposites of Gaga pop and Hedi ultraminimalism merged into one. The two sides of the disc represented the yin and yang of Gaga."

November 2009

"Bad Romance" " music video directed by Jonas kerlund featuring finale look from Alexander McQueen S/S 2010 "Gaga loved McQueen, McQueen loved Gaga. McQueen used the song as the finale for the show and we thought this look would be perfect for the chorus of `Walk walk fashion baby.' It was the first time that we brought high fashion into the music videos in such a direct way."
Performance with Francesco Vezzoli at MOCA's 30 th Anniversary "Another turning point. This was an incredible collaboration with Miuccia Prada, Francesco Vezzoli, Frank Gehry, and the Bolshoi Ballet. So many amazing artists from around the world came together in one place."
"Monster's Ball" Tour video material directed by Nick Knight "We wanted to create a series of fashion videos for the `Monster's Ball' tour. It was the first time we collaborated with Nick."

December 2009

Meeting Queen Elizabeth II "We created this outfit that was an homage to the Queen but in PVC latex. Gaga told me that the Queen said something very special to her."

January 2010

Grammy performance with Elton John "This was a huge performance with Gaga's all-time hero: Elton John. It was also the first time we worked with Mr. Armani, who designed several Armani Privé pieces for the night."
amFAR/M.A.C Viva Glam performance in collaboration with Terence Koh "We worked with Terence to create a look out of crushed pearls and M.A.C makeup."

February 2010

Alexander McQueen tribute at the Brit Awards "One of my favorite performances that we've done together. We wanted to create something that Lee would be happy watching from above. It was a really emotional moment."

March 2010

"Telephone" music video featuring Beyonc directed by Jonas kerlund "A celebration of pop-consumerism and exploitation. It was also very much about female bonding. Beyonc wanted to be Gaga'd up and she was very open."

June 2010

"Alejandro" music video directed by Steven Klein "This was about creating a moving fashion image that looked almost painterly. It was the darker, more romantic side of Gaga, and Steven Klein really helped take it there."
Marc Jacobs party photo courtesy Patrick McMullan; MTV, Vezzoli, Queen, Grammys, amFAR, Brit Awards photos Getty Images; T-shirt photo Max Abadian; "Monster's Ball" photo courtesy Nick Knight
V71: The Asian Issue (Summer 2011)
[
edit
|
edit source
]
Lady Gaga covered the 'Asia' edition. 10% of the proceeds will go towards the Japan relief efforts.
Gaga's first column (Memorandum), in which she shares her thoughts on fashion and gives an exclusive look into her world, will appear in the new issue. The piece will be accompanied by illustrations made by Gaga's fans.
Interview by Elton John, photoshoot by Inez and Vinoodh

Promotional images
The most outrageous and talked-about performer of today is also turning out to be the smartest and most unflinchingly honest. Lady Gaga's new album proves that being number one doesn't mean your dance music can't be deeply and stirringly personal. If anything, that's all it needs to be
Photography Inez van Lamsweerde & Vinoodh Matadin Styling by Nicola Formichetti Interview by Elton John
With her new album, Lady Gaga is getting personal. Not that the superstar musician hasn't already laid her soul bare countless times in songs, performances, and even on the runway at the Mugler show in Paris this past March. It's just that on Born This Way she's unquestionably singing from the heart—about social injustice, self-acceptance, forgoing Hollywood, and the recent passing of her grandfather, among other tough topics. As Gaga grows up—she celebrated her 25th birthday two days after this cover shoot—songs about late nights and hard partying are naturally transitioning into those about identity, vulnerability, and, ultimately, pure joy. That's what's different about the Gaga of 2011—she has undoubtedly found herself. Here, Elton John asks his dear friend (and the godmother of his new baby boy) exactly how she got there.
ELTON JOHN Growing up, who were your musical heroes?

LADY GAGA I grew up listening to my father's vinyl collection. You, Bruce Springsteen, Billy Joel, Michael Jackson, Pink Floyd, Led Zeppelin, Mick Jagger, Neil Young, Bob Dylan, James Taylor, Carole King, Whitney Houston, Duran Duran. I had an affinity for rock and roll and dance music at a young age, especially for artists who wrote and played themselves. I started playing piano when I was 4, so the idea of creating something on my own that could someday live next to Dark Side of the Moon—that became an ultimate driving force in my childhood.

EJ At what point in your life has music had its greatest influence?

LG I remember listening to Carole King's Tapestry album in my parents' basement at two in the morning, singing and screaming at the top of my lungs, then finishing up papers and harnessing as much bravery as possible to be confident in a very socially challenging school environment. This is just one of many moments. But this was around the time that I began to write really great songs. I was 16.

EJ Were you encouraged to perform as a child?

LG There was no stopping me. I was always in a moment of performance and creativity. My parents encouraged me in that they never tried to change me. But in a way, my home has always been the stage. I was the girl whose phone was ringing off the hook because I was late to meet everyone at the party, I was too busy finishing a chord progression or lyric, dreaming of getting my boots dirty and becoming a superstar.
EJ Does your family support your current lifestyle and commitments?

LG Wholeheartedly, except they're afraid I work too hard. My dad's a whiskey mouth like me, though, so we don't argue much about my recreational life: booze and recording.

EJ You have been on the road with your Monster's Ball tour since late 2009 and have performed over 180 shows with still more to go. How does touring affect you physically and emotionally?

LG At a certain point exhaustion becomes a state of being, and mentally I have to be strong and overcome it. It's like a cloud, a fog really, that hovers over me. But in a way I will never escape it, because in truth when I do have time to rest I end up writing a song, or editing a film, or creating a new project for the fans to be involved in. Art is my whole life. The monsters are my medicine. They heal me, physically and emotionally, every night at the show.

EJ What's the most spectacular thing you have ever seen when looking into an audience?

LG Myself. It's like a magnificent disco ball, with twenty thousand tiny mirrors reflecting back at me. It requires me to be honest. I see myself in my fans. I feel God through their love. I worship little monsters. They're my religion. Without them, I don't exist.

EJ Do you feel your life and your act have become inextricably intertwined?

LG Yes. Where I begin and where the stage ends has no linear quality. It's centrifugal.

EJ When do you feel the most free?

LG Onstage, especially at the piano. However the most defining moments of liberation always occur when I am performing a new song for the first time. I have never before felt the energy and freedom that I do now singing "Born This Way" at the end of the show. It was the finale I had yet to write. It was the end of the unfinished, and never finished, story of the Monster's Ball. I spoke of freedom and identity every night for three years. But artistically, not until now have I put my money where my mouth is. The celebration is so intense with the fans. It's unlike any feeling I've ever had before.

EJ We share a flamboyant taste in fashion. Who or what inspires you?

LG I'm mostly inspired by shapes, and using the body to create iconography. Leather culture and high-street punk fashion. I would say perfecto jackets occupy most of my fashion thoughts. We were laughing on the set of the "Judas" video—we had fifty racks of couture, and I wore leather, Motorhead panties made of a vintage T-shirt, custom from young designers who are my friends, my own creations, and archive Christian Lacroix from a museum. There are no rules.

EJ What music are you listening to at the moment?

LG Gregorian chanting. Édith Piaf, I've been obsessed with her throughout the making of Born This Way. And metal.

EJ What can people expect on Born This Way? Will it be hard-core or reflective or both?

LG The album is a meditation with my psychology. It begins with "Marry the Night," a song about refusing Hollywood and moving back to New York, and it takes you, through the rest of the songs, to what is a paradoxical condition for me as a musician: I must be wholly superstar and wholly human to be a great artist. The album reckons with being private in public and liberating myself, and hopefully others, from their insecurities. In "Hair" I talk about discovering my identity in high school, and in "Americano" I tackle the social injustices that my generation faces now. Now that I have the courage of my fans, and the potential for revolution, I feel obligated to address what I see in their eyes every night, something I wasn't ready to do on my first two albums. Sonically it's an exploration in pop, dance, metal, techno, and rock, and fuses these genres with a variety of textures and colors; it's a very painterly approach to music. It is quite aggressive and intense, like me, but the melodies are sweeping and beautiful. The album finishes with "The Edge of Glory," a song about death. After losing my grandfather this year, I realized that the ultimate glorious moment when you are passing is when you realize that you won at life. So, yes, it's quite hard-core in that it's the hard-hitting work I've done, but [the album has] softer moments of vulnerability where I am quite joyful, and girlish, and enjoying being 25.

EJ Which track on the new album is the most personal?

LG They are all personal, I wrote and co-produced every song. But "Marry the Night" is the deepest look into my heart and mind as a woman of New York.

EJ What is the future of Lady Gaga?
LG
I don't know. I'm still trying to figure out what I'm going to wear later.
V MAGAZINE MEMORANDUM No. 1
[
edit
|
edit source
]
Date: MAY 2011
Re: PIET MONDRIAN & LIBRARY CARDS
From: M†SS.GAGA
To: STEPHEN GAN
Copy to: HAUS OF GAGA
LADY STARLIGHT
NICOLA FORMICHETTI
FREDERIC ASPIRAS
V COLLECTIVE
LITTLE MONSTERS
THE WORLD
FASHION-SEXUALS
ANDY WARHOL
NEW YORK PUBLIC LIBRARY
BULLIES
Glam culture is ultimately rooted in obsession, and those of us who are truly devoted and loyal to the lifestyle of glamour are masters of its history. Or, to put it more elegantly, we are librarians. I myself can look at almost any hemline, silhouette, beadwork, or heel architecture and tell you very precisely who designed it first, what French painter they stole it from, how many designers reinvented it after them, and what cultural and musical movement parented the birth, death, and resurrection of that particular trend. So dear critics and bullies: get your library cards out, because I'm about to do a reading.
An expertise in the vocabulary of fashion, art, and pop culture requires a tremendous amount of studying. My studio apartment on the LES, quite similar to many of my hotel suites now (knock on wood), was covered in inspiration. Everything from vintage books and magazines I found at the Strand on 12th Street to my dad's old Bowie posters to metal records from my best friend Lady Starlight to Aunt Merle's hand-me-down emerald-green designer pumps were sprawled all over the floor about two feet from my bathroom and four inches from my George Foreman Grill. (Starlight was always jealous that mine had a bun warmer and hers didn't.) And in my downtime, which meant whenever I wasn't waitressing, go-go dancing, or making mixtapes for a music publishing company in Times Square, I was analyzing and studying my library. I would dream of being a rock star who dressed like Marc Bolan, walked like Jerry Hall, and had the panache of Ginger from Casino and the mystery of Isabella Blow.1 See footnote.
Any writer, or anyone for that matter, who doesn't understand the last two sentences of this column should NEVER be writing about or critiquing fashion or artists in publication. As someone who references and annotates her work vigilantly, I am putting all of you on notice. I've done my homework, have you? Where are your library cards? Did they expire? When
Yves Saint Laurent
designed the "Mondrian" day dress for fashion week Fall/Winter 1965, did he plagiarize or revolutionize? Some people would say he was unoriginal, that he traced an iconic contemporary artwork by Piet Mondrian, and stole it for his own merits. Others may argue that by referencing something so "before its time," he influenced an entire generation in fashion that transformed the female body with a more linear sensibility, graphics, and painterly shape. We now call it "mod."
Picass
said, "Good artists copy; great artists steal." Maybe he only said that because he and
Matisse
were in a bitchy queen fight for two decades (some called it a boxing match, I call it a conversation in art). But maybe it's just that the resolution is: art gives birth to new art. There is no chicken or egg. It's molecular. Cells give birth to cells. To put it more bluntly, the
Hussein Chalayan
vessel I wore at the
Grammys
wasn't inspired by a chicken. It was stolen from an egg. But the transformation, the context, and the approach taken to reinterpret the meaning of birth and rebirth in terms of fame on a fucking red carpet — this is what creates the modernity of the statement. The past undergoes mitosis, becoming the originality of the future.
The Haus of Gaga, my (our) own pop-cultural family and living Warholian factory, talked endlessly about the initial vision for "Born This Way." On the set of the video, it was almost terrifyingly important to me that I tribute Rico (the Zombie Boy's) tattoos, creating a visual metaphor where tattoos, along with the body modification I had been exploring, became a subcultural symbol for rebirth. Rico in this case was my Mondrian. After I put the makeup on, I found myself dancing and flailing at 9 a.m., after twenty-four hours of no sleep on set. Feeling young and free, it occurred that the makeup allowed me to erase the public's perception of my beauty, and define it for myself. I asked Rico, "Why did you tattoo yourself this way?" (Something I imagine he's asked quite frequently.) He said very genuinely, with no hesitation, "Bazooka gum."2 See footnote. And just like that, as many of the creations in my brain take form, I realized, and so did the Haus, that not only did I need to reunite with my youth, i.e. "Bazooka gum," but that my fans needed to see me in that juvenile way in order to understand the intention behind why I wrote "Born This Way." Accompanied with a side ponytail, it took me back to moments when I was just a little baby monster. When my mother would perch a pony high on my hair and we would dance so hard to the tape deck that the perfectly perched pony she fashioned would fall to the side. I had to take an uncomfortable journey back into high school, where my youth represented tears. Wishing I had a mask. Hoping that I could artistically hide the wounds buried deep from years of being bullied. I have since reckoned with this psychology in my performance art. But this time, the revelation was clear: I still want to wear the mask, but now I wear it proud, and with the same effervescence and innocence I had when I was 6, dancing with my mom.
After I performed "Born This Way" at the Grammys, it seemed as though the piece was interpreted as an engagement for battle. And the whole performance was a battle cry in essence — for freedom against forces of inequality and prejudice. But as quickly as the song catapulted to number one, a more subtle controversy exploded. "Born This Way" was a triumph as a pop song and a social statement, but it ultimately revealed another division: the reality that the young generations' challenges with equality and social justice are just as prevalent now as they were twenty-five years ago. And while "Born This Way" was written for every walk of life, I began to feel my youngest fans were longing to be nurtured, while others felt they already had been. Perhaps in this way the song was not for everyone, although the intention was such. And perhaps I was naïve to hope everyone would unfold the true meaning of my performance piece the way I unfolded YSL's "Mondrian" dress. Instead, I am caught between two forces: one holding onto a ponytail, and another screaming "I don't want to be angry, I want to be free."
"I DON'T WANT TO BE A DRAG, I JUST WANT TO BE A QUEEN."
I have a passionate understanding of the history of many of the references that not only I have reinspired, but have been reinterpreted over centuries of fashion: where they came from, what they meant, and specifically how they became modern again. I have concurrently shown that I could "read you" in this subject, but I would rather reckon with the fact that many are clinging tightly to cultural divisiveness and leaving home without library cards.
Just like sometimes Picasso was Matisse's Mondrian, and vice versa. Bowie is often my Mondrian, as are Michael Jackson, Prince, Lita Ford, and Madonna. Mugler is my silhouette's Mondrian, Cindy Crawford is my sexuality's, Kermit is my whimsy's, and, in my "Born This Way" video, two of my Mondrians were Francis Bacon and Salvador Dalí. In a lot of ways the "idea" of being obsessed with art is my Mondrian. Just like Campbell's Tomato Soup was Warhol's Mondrian, and Marilyn Monroe and Maripol were Madonna's. I am obsessed with all the authors in the library of pop culture.
I do not define, however, my artistry or historical relevance with one particular fashion or musical statement. And I don't believe any of the artists I mentioned do either. Rather, I find freedom in my ability to transform and liberate myself (and others) with art and style­ — because those are the things that freed me from my sadness, from the social scars. Furthermore, I am in no way encouraging anyone to emulate my fashion sense, but rather setting a, hopefully, liberating example for anyone to look inside and know they can become any image or projection imaginable. I am an obsessed pop cultural expert. And, perhaps, between my music, performance art, and this column, I will be remembered as such. After weeks of writing this article I asked out loud, "What do you think YSL would think of my metaphor about his collection?" My darling hair designer Frederic replied, "You could ask Nan Kempner, but she's dead." Now that's a queen who never left home without her library card.
---
1. Mirrored bikini inspired by Bolan Scuba Suit, Mugler runway model walk, a past romance with drugs and costume jewelry à la Scorsese. Lobster Philip Treacy hat.
2. For those of you who've never had it, it's a retro chewing gum that comes with whimsical stick-on temporary tattoos.
V72: The Transformation Issue (Fall Preview 2011)
[
edit
|
edit source
]
V MAGAZINE GAGA MEMORANDUM No. 2
[
edit
|
edit source
]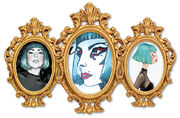 Date: JULY 2011

Re: I DON'T SPEAK GERMAN BUT I CAN IF YOU LIKE

From: M†SS.GAGA
To: STEPHEN GAN

Copy to:

MRS. VREELAND
HAUS OF GAGA
V COLLECTIVE
LITTLE MONSTERS
THE WORLD
FASHION-SEXUALS
PHILIP TREACY
MY LIVER
MY MOLE
MY PEARLS
MY WIGS
MY TOBACCO CIGS
MY FIGS

Art is a lie. And every day I kill to make it true. It is my destiny to exist halfway between reality and fantasy at all times. They call me "theatrical," but I posit profusely that I am theatre, and that theatre is me. I am a show with no intermission. It is this thing that summons me from the depths of reality and reminds me that the power of transformation is endless. That I (we) possess something magical and transformative inside —  a uniqueness and specialness waiting to be exiled from the depths of our identity. I have said before that I am a master of escapism, which many attribute to my wigs, performances, and my natural inclination to be grand, but perhaps that is also a lie. Maybe I am not escaping. Maybe I am just being. Being myself.

The arrival at this revelation revises my previous escapist philosophies, as my entire being, thus far, as wholly artist and wholly human, has been propelled by the idea that I must effortlessly vacillate between two worlds: out of the real and into the surreal. Out of the ordinary, into the extraordinary.

"I DON'T SPEAK GERMAN BUT I CAN IF YOU LIKE."

But as I delved quite deeply into this topic for my current album, I've reckoned that perhaps there is no pendulum. No need to distinguish between artifice and consciousness. The "notion" of escapism may be a lie, but for some of us this lie is our truth. You must desire the reality of fantasy so profusely that it becomes necessity, not accessory.

The lines for myself have become so blurred now, I know not the difference between a moment of performance and a moment of honesty. If you were to ask me to remove my Philip Treacy hat at a party, in truth it is the emotional and physical equivalent of requesting I remove my liver. Talk about giving "clutching her pearls" a new meaning! I know not the difference between the hair that grows from my head and the teal wigs that grow from my imagination. They are the same. They are both honest, and always have been. So maybe I know nothing of "the art of escapism." I was just Born This Way. I revere the dream to be real. I am always, and shall forever be, private in public.

In this lies one of many books in the Bible of Fashion: in order for the FANTASY OF YOU to become the REALITY OF YOU, you must commit to the fantasy as wholeheartedly as you commit to your humanness. Wear out your vision. Proclaim your mission. Amen, Fashion! Style can transform and release your internal superstar. Whether it be one pair of shoes, some vintage sunglasses, a family heirloom, or a hair color that makes you feel as electric on the outside as you do on the inside. Acknowledge that this choice is a manifestation of an internal magic and the potential of your spirit. You are fan-tas-tic. And this fantasy is part of the real and honest you. It is a lie inside, waiting to be unlocked to become true. Scheiße. I just spoke some German.
V73: The Heroes Issue (Fall 2011)
[
edit
|
edit source
]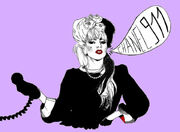 Date: SEPTEMBER 2011
Re: EXTREME CRITIC FUNDAMENTALISM
From: M†SS. GAGA
To: STEPHEN GAN
Copy to:
MS. VREELAND
HAUS OF GAGA
NICOLA FORMICHETTI
V COLLECTIVE
LITTLE MONSTERS
THE WORLD
ART HISTORIANS
INTELLECTUALS
JOURNALISTS
COLUMNISTS
CATHY HORYN
Doesn't the integrity of the critic become compromised when their writings are consistently plagued with negativity? When the public is no longer surprised or excited by the unpredictability of the writer, but rather has grown to expect the same cynicism from the same cynic? When we can predict the same predictable review from the same predictable reviewer? Accomplished creators of fashion and music have a visceral effect on the world, which is consequently why they are publicly distinguished. So why do so many notable critics seem so impervious to the emotion of the work? Why such indifference? Does intellectualism replace feeling? It's so easy to say something is bad. It's so easy to write, "One star, hated it, worst show of the season." It's much more challenging to reckon with and analyze a work. It requires research, but maybe no one does their research anymore. So my question, V readers, is this: when does the critique or review become insult and not insight? Injury and not intellect?
I'm going to propose a term to describe this movement in critical journalism: Extreme Critic Fundamentalism. I define this term as instilling fear in the hopes and dreams of young inventors in order to establish an echelon of tastemakers. There is a difference between getting a B- in Biology with a series of poignant red marks from your teacher and being given a spanking with a ruler by an old nun. The former we can learn from, while the latter is just painful. The artist is the general and captain of his or her artistic ship, always ready and willing to take the first blow and drown if an iceberg is hit. But in reviews, should critics not reveal all the scientific, mathematical, and pertinent information to explain why the Titanic could not withstand the blow, or why other cruise ships were successful?
The temperature of the water.
The construction of the ship.
The weight of the cargo.
The number of passengers.
The disorganization of the crew.
Where my argument leads is to the perspective space of art, which is subjective and not ultimately rooted in mathematics or physics. Is it not even more critical for fashion and art critics to be profusely informed not only in art history but in the subliminal? The public operates with the assumption that critics are experts in their respective fields. But are they? Does every critic have the soul to really receive a work in the transcendental sense? The out-of-body experience of art?
In the age of the Internet, when collections and performances are so accessible to the public and anyone can post a review on Facebook or Twitter, shouldn't columnists and reviewers, such as Cathy Horyn, employ a more modern and forward approach to criticism, one that separates them from the average individual at home on their laptop? The public is certainly not stupid, and as Twitter queen, I can testify that the range of artistic and brilliant intellectuals I hear from on a daily basis is staggering and inspiring. In the year 2011, everyone is posting reviews. So how does someone like Ms. Horyn separate herself from the online pack? The reality of today's media is that there are no echelons, and if they're not careful, the most astute and educated journalists can be reduced to gossipers, while a 14-year-old who doesn't even have a high school locker yet can master social media engines and, incidentally, generate a specific, well-thought-out, debatable opinion about fashion and music that is then considered by 200 million people on Twitter. Take Tavi Gevinson. She's 15, and Rodarte created an entire project inspired by her. Her site is thestylerookie.com. I adore her, and her prodigious and well-written blog is the future of journalism. The paparazzi has similarly been usurped by the camera-toting everyman. That magical moment of the movie star posing in front of the Metropolitan Museum is no longer so magical. Now everyone has a fucking cell phone and can take that same fucking picture.
Why do we harp on the predictability of the infamous fashion critic? The predictability of the most notoriously harsh critics who continue writing their notoriously harsh reviews? Why give the elephant in the room a peanut if it has already snapped its trunk at you? That peanut was dead on arrival. To be fair, Ms. Horyn, the more critical question to ask is: when did the pretense of fashion become more important than its influence on a generation? Why have we decided that one person's opinion matters more than anyone else's? Of all the legendary designers I have been blessed to work with, the greatest discovery has been their kindness and their lack of pretense. They care not for hierarchy or position. They are so good, and so precise, that all that matters to them while they're pinning their perfectly customized garment to my body is the way it makes me feel. Perhaps the pretension belongs in formaldehyde. And the hierarchy is embalmed — for us all to remember nostalgically, and honor that it once was modern, but is now irrelevant. Peanut.
V74: The Model Issue (Winter 2011/12)
[
edit
|
edit source
]
Date: NOVEMBER 2011
Re: REMODELING THE MODEL
From: M†SS. GAGA
To: STEPHEN GAN
Copy to:
MS. VREELAND
HAUS OF GAGA
NICOLA FORMICHETTI
V COLLECTIVE
LITTLE MONSTERS
THE WORLD
ART HISTORIANS
INTELLECTUALS
JO CALDERONE
My study of gender manipulation, though not a new endeavor in the fields of art and fashion, has been both revealing and terrifying — perhaps my most emotionally challenging performance to date. Beginning as an invention of my mind, Jo Calderone was created with Nick Knight as a mischievous experiment. After working together tirelessly and passionately for years, eating bovine hearts, throwing up on ourselves, giving birth to an alien nation and an AK-47, Nick and I began to wonder: how much exactly can we get away with? Given the nature of this V Magazine issue, an exploration of "the model," I felt it appropriate to investigate, in diary form, how the past few months of my work have been a deliberate attack on the "idea" of the "modern model," or, in my case, the "modern pop singer." How can we remodel the model? In a culture that attempts to quantify beauty with a visual paradigm and almost mathematical standard, how can we fuck with the malleable minds of onlookers and shift the world's perspective on what's beautiful? I asked myself this question. And the answer? Drag.
Nick and I photographed Jo, omitted his biological sex, and shopped the photographs around to men's fashion magazines. The cover of Vogue Hommes Japan, a major Japanese men's publication, was a coup to say the least, exciting mostly because we had convinced the editors that Jo Calderone was a male model and had sold his look as the next big thing. Nick Knight, a photographer with intuition that borders on godly, wondered immediately if they would be able to feel my spirit in the photograph. He wondered, knowing good and well his photographs were marvelous and utterly masculine, if there was still no way to mask my intensity as a performer. What an interesting venture it was, because, in truth, really brilliant models have the chameleonic ability to transform into new creatures all the time. So why should I be any different? Was our experimentation devious? Or is it nobody's business whether or not Jo has a cock in his pants? It was a few weeks later, after the cover was printed, that Nick said to me, sweetly, "Gaga, I believe Jo has to sing."
I wrestled with this idea. Would it be convincing? What was the purpose of the piece? And if I were to do it, what would its significance be in relation to my work as Lady Gaga? Yes, this is me, but in the fantasy of performance I imagined (or hoped) the world would weigh both individuals against one another as real people, not as one person playing two. Lady Gaga versus Jo Calderone, not Lady Gaga "as." That would be the intention of the process, to co-exist with an alternate version of myself — in the same universe. So I reasoned, how could remodeling my current image ignite a statement or revelation about me as an artist? What is the new model of the performer and how can I push the boundaries? The answer was that Jo would not just make a statement about me as performer, but would reveal things about me as a woman. I decided then that there was only one way to execute this piece: Jo and Gaga had to argue.
As I began to reckon with Jo, I found it important to excavate what he didn't like about me, or rather, what I struggle with liking about myself. Concurrently, I felt it necessary to imagine what the public expects of me during a performance of this magnitude — the opening of the VMAs — and how I might destroy this expectation in a variety of ways. On a stage, the laws of fantasy are meant to be broken, but I have always found it difficult to bring my real pussy out there with me. (Or do I bring it out there and just don't know it?) I have always feared that the reality of love, if brought into the spotlight, has the potential to destroy creativity. Needless to say, the line between fantasy and reality is blurred in my life, as this psychobabble may indicate, so I drew upon my personal experiences to initiate a deeper parallel. Do my lovers feel like an extension of my audience? Because I refuse to draw a distinction between what's real and what is artifice, do they feel a part of the show? How can Jo become more relatable and lovable than I am?
During my performance and the three days I spent as him, I felt permission through him to confess things about myself as a woman, things I would normally keep hidden. In a way, it seemed that he could get away with a lot more than I can. He talked about his feelings, wore Brooks Brothers, smoked Marlboro Lights, drank beer on stage, and talked about what I refuse to discuss publicly: my relationships. It was by remodeling myself into something completely foreign, and in some ways crafting the anti-pop performance, that the complexities of "the model" began to unfold. For someone known as much for her image as for her music — and this has become my model — the presence of Jo in no way eradicated my spirit from the stage. I was still ever-present, and, in fact, more myself than ever. Jo had a clean slate. Jo had no past or future to answer to. Jo existed only in that moment, as I chose for him to.
By remodeling the "model artist," "model citizen," or "supermodel," we can liberate the present. The transformation detaches the model from any universal paradigm and allows him or her to reinvent perspective in a pure, unattached moment. Within the different archetypes of our psychology, which part of ourselves can tackle an obstacle with more honesty or strength? Is it a farce to transform? Or is it an injustice to "the model" to treat him or her as a prototype? How will you remodel yourself and discover which model is best for today? Use every ounce of potential you have, raise revolution against what people expect of you, and tell the world this is not a rehearsal. This is the real me. And listen up, 'cause it could be the most honest incarnation yet.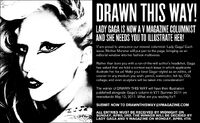 Drawn This Way is a contest held by Lady Gaga and V Magazine in which her fans are to submit an illustration of her that is to be used in her new column that will be appearing monthly in V Magazine. The contest was announced on March 29, 2011, with the first issue featuring the contest would be issue 71, Lady Gaga would have a column in every issue where she talks about fashion. Rather than a typical headshot for the magazine, an illustrated drawing of her will be used; the magazine asked that Lady Gaga be "stylized as an editrix (editor)".
V75: The Music Issue (January 2012)
[
edit
|
edit source
]
THIS MONTH, LADY GAGA LETS THE DESIGNERS OF HER MOST RECENT COLLABORATIONS DO THE TALKING
GAGA MEMORANDUM NO. 5

Date: January 2012
FWD: NOTES FROM DESIGNERS
From: M†SS.GAGA
To: Stephen Gan

Copy to:
Ms. Vreeland
Haus of Gaga
Nicola Formichetti
V Collective
Little Monsters
The world

Giorgio Armani: It is always stimulating to work with Lady Gaga because it allows my imagination to roam freely in order to create genuinely theatrical stage costumes, as was the case on this occasion. Lady Gaga is an artist with a huge personality and amazing stage presence. I was attracted by her genuine interest in fashion and design, which she projects with a conviction that knows no limits — and which she definitely considers a vital ingredient of her career.

Lady Gaga in Armani Privé, backstage at the Bambi Awards, Viesbaden, November 2011

The winning submissions from our Drawn This Way contest, inspired by her Paco Rabanne looks worn at the 2011 MTV European Music Awards, Belfast, Ireland, November 2011 Top, from left: Jane Lane, Jamie Rearden Bottom, from left: Thulio Beacker, Anthony Taysub

Manish Arora (Artistic Director of Paco Rabanne): Daring. Far beyond fashion and beauty, Gaga's style is unpredictable, iconoclastic yet iconic and out of time. She is now and tomorrow, between fantasy and reality … She is a statement of re-creating, a piece of art.

Karl Lagerfeld: Gaga gives the world her music and her talent, but the thing I like most is that she fights against boredom and banality. She also puts forth an ever changing, inspiring, and strong image — an image beyond fashion. She is an extreme concentrate of "zeitgeist," freeing us from the heavy boredom of publicly displayed political correctness by being herself more than politically correct. Something in today's world would be missed if there would be no Lady Gaga because Gaga is a Lady.

Lagerfeld's sketch for Lady Gaga's Chanel couture gown, worn for the unveiling of Gaga's Workshop, Barneys New York, November 2011
V76: The Sports Issue (March 2012)
[
edit
|
edit source
]
Date: March 2012
FWD: More Pearls Please

From: M†SS.GAGA
To: STEPHEN GAN

Copy to:
MS. VREELAND
YANKEES
METS
THE BRAIN OF THE INDUSTRY
MIKIMOTO
MOLLUSKS
CLEOPATRA
ALL PLAYERS, COACHES, ALL-STARS, AND CONFUSED VETERANS

"Nobody likes the game that they've won over and over again to change."

So for the Sports Issue of V, I suppose some of you wondered if I would vacation for the month. Perhaps I would come up with some benign excuse, or feign some sort of city-girl confusion: write about sportswear? Or sports where? When, in fact, I grew up a huge baseball fan. Google now "Lady Gaga at the Mets game," and you will find a photograph of a not-so-sober version of myself flipping the Bronx cheer with my friends. Which deemed problematic, as we weren't actually in the Bronx.* [See Footnote.] It was the first time in nearly two years that I was actually being scolded by my father—partly for misbehaving in public and partly for attending a Mets game. But that's the beauty of baseball, isn't it? I was able to drown myself in so much whiskey, beer, and Italian sausage that after two years of touring the world I: (A) completely forgot that I am famous, (B) was completely wasted indeed, wearing my costume from the "Telephone" video, and (C) am still confused as to how the paparazzi spotted me. What a lady.

Well regardless, this story came to mind when my editor e-mailed me for article copy for this issue and I thought, What a revelation! What a challenge I could rise to and truly show my appreciation for this thing we call "the game." So, ladies and gentlemen, V readers, this is a theory on competition. The integrity of ambition. A Winner's Verité. Look out fashionistas, in this issue when talking about sports, even you may catch a few home runs. Yes, I said that, home runs. Let me just put on my sports…where?

2011 was one of the most exciting and difficult years of my life. I made this internal pact with myself when I put out "Born This Way." This time, when I "win," I want it to mean something. How can every "win" be a force? Not a tiara, a pat on the back, or the cashing of a check, but how can I look out into the sea of fans and know that our "win" changed the industry and changed each other?
I wonder how many thousands of years ago the first pearl was discovered. In fact, I wonder who discovered it. Was it a fisherman? Or did Cleopatra, on her yacht, summon a mollusk? Did her fabulous male makeup artist hang it on a tiny spear and say, "Oh dahhhling, on your ears!" I thought of the pearl during my exploration of "the game" because as an accessory, pearls are the most game-changing and timeless of them all. There's no crime or conflict surrounding them, they are natural and perfect, and they are gifted as a gesture of elegance and womanhood. For thousands of years they've never gone out of style, and to this day no one knows when or how they were discovered. They have no sense of time or beginning. They are cyclical in nature and in existence.

Christmas this year was the first time I really bought myself anything nice. I don't equate money with style, nor do I equate it with happiness. I'm often content hiding in the back of places like Claire's, schlooping costume jewelry into a basket.

However, it just so happened I was in Japan, and I decided to buy myself a strand of Mikimoto pearls. Why wait for a lover to buy you jewelry, lover yourself! After the year Japan had, and the experiences I'd shared with the people there, I thought it would make for a beautiful memory. The staff from Mikimoto arrived, we cracked open some champagne, and my buddy Brandon and I tried pearls on and swooned. I quickly decided that I couldn't only buy one for myself. I would feel terrible. So I made it about the girls: one for my mother, my gorgeous and talented sister, and Bo, my best friend. It was to be a sign of our womanhood, a thank you for fostering mine, for my sister a sign of things to come, and for my mother a strand of pearls to represent each of the blessings she had cultured for our family over the years.

I lay down on the airplane back from Japan, tossing around some dashi, fondling my pearls. I watched the movie Moneyball for the first time. I began to laugh and smile as [Brad] Pitt talked romantically about the game. I suddenly imagined that my pearls were teeny-tiny baseballs. When a player hits a home run, the baseball is flung into an abyss of enigma and screams so great. It travels so far that only rarely is one caught in the bleachers. Where do these balls go? Where do all these wins get encased? Are they in a heavenly baseball land floating around for players who pass to acknowledge? Or do they disappear?
By the end of the film, we discover the truth about winning from our hero. It only matters if you've changed the game. Being kicked in the teeth is par for the course for this kind of win, a win that not only pisses off the team you've beat, but every other team, their coaches, owners, and even some of the greatest baseball players of all time. You've made your own set of rules and gone so far on your own talent, no one can possibly crack the truth behind your wins. You were either lucky or were cheating. Nobody likes the game that they've won over and over again to change.

Pitt expresses this as the central objective to his life, as we see a flashback to an old Oaks game. Batter hits and runs, doing what he does normally, running past first to take second, but trips, falls, and scurries back to first. He's so focused on the game, so focused on the team winning, head so down into the dirt of the stadium, he doesn't even realize he's got a home run. The crowd roars, and he's not sure why.

In this moment I looked down at my pearls, and I saw all the teeny-tiny home runs I'd hit over the past year. I knew some of them were more perfect than others, but I knew only an eye trained in pearls would notice. The thing about music is you're not in competition with anyone else. You're in competition with the psychology of the industry as a whole. You're in competition with you. You must delve deeper and deeper into your creativity, history, and modernity to change not just this moment, but every moment that came before it. How can I hit a home run that will make every player question every run that was ever scored? How can I round third to home plate and bewilder some of the greatest players of all time? How can I change the game, until 30 years goes by and someone changes it again?

Sometimes my face is buried so deep in the work I forget to look up. Sometimes I don't even realize I've won, because the stadium is either cheering or screaming so loud it doesn't even matter. So this season, in the spirit of the Super Bowl and all things sporty, wear your pearls. Wild, cultured, real, or fake, wear them proud. And look up, or rather down, at all of your home runs. (Unless you've made them into a crown with a glue gun.) Then look up! In fashion and in life we all deserve more pearls, please. A moment of revelation to remember that we are timeless, we all matter, and every win like this is as important as the next. When you are changing the way people think, your life achievements are working toward the greatest accessory of all time: nerve. So collect your tiny baseballs, string your pearls, and remember that you are as timeless as the pearls on your neck. And if you forgot to be a lady and wear them, then shame on you.
V79: The Travel Issue (Fall 2012)
[
edit
|
edit source
]
The Beauty Files
HOLD ON. BEFORE YOU READ, THIS YOU MUST BE AWARE THAT MANICURES ARE EXTREMELY UNDERRATED! YOU MAY ALREADY BE ROLLING YOUR EYES, BUT PLEASE LET ME GET A WORD IN ABOUT THIS!
I find that any woman—no matter how stylishly she is dressed—is instantly above the rest if well-manicured. I know this may sound harsh, but perhaps if I beat it into you, you will CUT THOSE CUTICLES. TAKE the time for yourself, do it more frequently, just to stay in a nice self-compassionate habit. Grab a coffee and a magazine, this moment is just for you. Also, if you don't have the money, doing it at home by yourself is an excellent hobby (spring for fun nail products to make this more enjoyable), and tell your friends that manicure-related products make good gifts! If you are not pressed for cash, find and kidnap the best nail technician in your city and make her your best friend (when you're trying to close that deal with Coca-Cola, your shiny talons will come in handy, I promise).
SIX REASONS YOU SHOULD DO THIS: 1) HAVING A PERFECT MANICURE INSTANTLY MAKES YOU FEEL BEAUTIFUL AND CLEAN. 2) YOU'LL BE READY FOR SEX OR TO PUT A PENIS IN YOUR HAND. 3) IT'S A WAY FOR YOU TO EXPRESS YOURSELF (CAREFUL HOW YOU DO THAT). 4) IT FORCES YOU TO SEE THE IMPORTANCE OF MAKING TIME FOR YOURSELF. 5) IT BOOSTS YOUR SELF-ESTEEM EVERYDAY. 6) IT PROJECTS AN IMAGE OF SUCCESS, WHICH IS GOOD FOR BIZ.
So, for my dear veteran salon goers, I'm including some more adventurous options and tips on how I like to do my nails. Thank you to my amazing manicurists, Aya, Emma, Marian, and Deborah, for always taking care of my prims. And to Freddie for gluing on my nails, Brandon for telling me when I need a manicure, and Tara for telling me I don't. LADY GAGA
P.S. Ladies in lights, in the magazines, and on red carpets—know that I am judging your cuticles…but that's about it.
NAIL OF THE MONTH Push elegance. This is the Born This Way Ball nail, the one I wear in the show. It's meant to be the nail bed of an alien, pretty princess, or Polly Pocket fugitive-aka iridescent pink tone gel. Any question?
GLAMOROUS Okay, this is an epic manicure-not for every woman to love, but for every women to try on or admire. Try these larger rhinestones for a cheaper take on crystals. I love the aurora borealis effect.
CLEAN Can't go wrong. Goes with everything: work, party, sex, dinner. This nail is fab. I suggest getting them filed with an extra pointy to add some personality.
ART For the creative! I'M OBSESSED WITH THIS NAILS! It is TRUE RED LEATHER UPHOLSTERY. Great for a special occasion or photo opportunity. Careful when you are eating. Find a Japanese nail artist to make these for you- you need a good nail technician to put these off. The beauty is in the art of illusion. From far away they are a sexy, clean and rounded red, but more close-up your nails are teeny-they design handbags. The texture is beautiful.
SEXY I love this nail because it's a little more dangerous. There is nothing sexier than a woman who could either kiss you or gun you down! I love to put a lover's initials in the jewels, it makes it fun!
P.S. Ladies in lights, in the magazines, and on red carpets—know that I am judging your cuticles…but that's about it.
PHOTOGRAPHY SPENCER HIGGINS NAILS AND MANICURE AYA FUKUDA USING SWAROVSKI ELEMENTS LADY GAGA ARTWORK RUBEN TER-SARKISSIAN
HAND MODEL CHRISTINA AMBERS (PARTS MODELS LLC) PHOTO ASSISTANT JASON FALCHOOK RETOUCHING VIEW IMAGING HAND ILLUSTRATION ELI ROSENBLOOM SPECIAL THANKS LANE BENTLEY </poem>
V82: The Dynamic Duos Issue (Spring 2013, March)
[
edit
|
edit source
]
Article by Patrik Sandberg, Photography by Terry Richardson
With only three albums under her belt, Lady Gaga is already a household name. But unless you're working in the businesses of music or social media, you might not be as familiar with Troy Carter, Gaga's manager and the genius behind her media presence. V sat down to talk shop with the guy who helped Mother Monster get massive.

How did you originally meet and come to work with Lady Gaga?
Troy Carter We were introduced by Vincent Herbert, who was her executive producer at her record label. You saw the energy when she walked in the room. She was very specific about her vision, all of the music was there, and all she needed was someone to help her translate it to the rest of the world, which is where I came in.

When did you first realize the potential social media had to affect Gaga's career?
TC I think it developed because we were forced into it. We couldn't get her record played on the radio and we couldn't get the video on TV. YouTube and blogs were our platforms in the very beginning because the Internet was the only platform!

Is it true that Lady Gaga's next record, ArtPop, will be released as an app?
TC The album is going to be an app. It will also exist in CD and digital form, but the primary experience will be as an application. It will be built around the tablet, but will have a mobile version as well.

How do you think the business of pop music will evolve?
TC This is the best time to be in the music industry. As sub-Saharan Africa and China go completely mobile, you have people who've never had access to the music we offer all of a sudden able to access it. I think we can reach a lot more people now. You're going to see a lot more friction points for independent artists disappear, but there will be more artists than ever. You'll have to look at making money through a different lens. Artists are going to be giving away music in exchange for different things, like data or purchasing a ticket or a piece of merchandise. There will be new ways to monetize music, but it may not be the music itself.

What is your most memorable experience of working with Gaga? Does anything particularly surreal stand out?
TC I think—and I can say this because it just happened recently—it was seeing her have a casual conversation with the President about gay rights issues. When you think back to six years ago, this girl from New York walking in with ripped-up stockings, and now she's having conversations with the President about serious issues-—it's a bit surreal.

What is next for the Troy/Gaga think tank?
TC I have no idea! We could have never predicted we'd be where we are right now, so I have no clue what the next five years are going to look like, but I hope it gets even better.
V85: The Icons & Ingenues Issue (Fall 2013, September)
[
edit
|
edit source
]
For this edition, V magazine released four different cover and editorial with Lady Gaga. A special box edition was also sold on their official webite and Gaga's official web store.
The special edition box set is a translucent acetate box that can house the 4 magazines. "V85 Special Edition Box Set" is written in caplock in white on one side and " V magazine + Lady Gaga" on the other. The magazine logo is also printed in white on the front.
Paws up! Mother Monster is back with multiple personalities and a brand-new sound. In an Icon-to-Icon exchange, she sits down with performance art pioneer Marian Abramovic to explain the ethos behind her impending album, her elvolving state of being, and what valuable information she is storing inside her brain purse.

The Art of Pop by Lady Gaga
Interview by Marina Abramovic
Photography by Inez & Vinoodh, fashion Brandon Maxwell

THE NEW ARTIST
This is the me I was most afraid to ever be again. The me I'd left behind. Through the work, each time over and over with Inez and Vinoodh, there is a challenge I am facing with myself. The person they want to see is dead, I think. I have an ability to endure physical and mental pain for long durations, months or years of time. But I've learned that eventually the brunt of that anguish finds its point of impact, and although I was able to withstand a challenge for that period of time in my youth, the results were destructive. I was left a shell. Why would I ever want to feel that again? And then a bigger question: Does anyone really know what I went through to get here? Then somehow, with Inez's seductive artistic way and Vinoodh's calm sense of confidence, in the process I am inspired to allow the emotions to pass through me as they photograph me. And then I hear "Beautiful, Gaga! Yes! Yes! Look at that girl!" And I'm reminded that my sense of self within the world I create provides an element of honesty and gravity to the work. And it's okay that I'm broken. I can be broken in the Cubist or Surrealist sense. Like a Picasso nose, or a Dalí clock—ahead of its time, not pathetic or shameful. Plus I'm wearing a custom Saint Laurent sequined jacket from Hedi Slimane. Impossible to be sad! Lady Gaga

Lady Gaga: Ciao, Marina!
Marina Abramovic: Oh, you're there, baby. That's nice. I am in the countryside. I'm preparing everything for our workshop, by the way.

Lady Gaga: You are? I can't wait. Where are you? Are you at the place?

Marina Abramovic: Yeah, I'm in the country, and then I have to go the next week to Aspen, and then I come back and everything's ready. Honestly, it's very serious.

Lady Gaga: I'm so excited for the things we're working on, because I think it's important to show my fans what it means to be devoted and committed to something. And to show them the process of that. And I feel like you're the person that will really bring that to life.

Marina Abramovic: This is much more different in many different layers because I want to do something special. And new! Anyway, I have some questions. My Lady Gaga, ARTPOP…How did you think of it and what does it mean? This is the first question. It's important, because we're talking about your new album.

Lady Gaga: For ARTPOP, I instantly had an initial cosmetic experience with words, so I spent some time reflecting on exactly what it is that I wanted to say. When I'm thinking about the title for an album, I think about the marketing, I think about the cultural implication of the words, what the words mean. How the words will change the meaning after the music has been put out as well as the visuals. I spent some time and I kept seeing those two words, "art" and "pop," put together in a reverse way, instead of Pop Art, which is the way I had always seen it. And then quite quickly, the more work that I did, ARTPOP became something that had a nice ring, you know? Like, Marina, when you said to me it has a good ring.

Marina Abramovic: Totally. It just kind of sounds right. Right vibration.

Lady Gaga: Exactly, I had the right vibrational experience with the words and the way they sounded when I said them, with the way the work was coming out. Then I started to repeat them like a mantra, which I find so interesting, because I know that when we do this workshop I'm sure I'm going to be so focused on the things that you are saying, almost like a mantra. It's the same way I experience my creativity, as a vibration. When I was working I was thinking, What does ARTPOP mean? And then I started with the basic sense of it. Well, it could belong together. I thought about Pop Art and how the dominant subject matter was always the celebrity or the pop-culture icon on the canvas, and then I thought to myself, But what I have tried endlessly to become through my work is a celebration of my differences through art, with myself as the canvas, as opposed to me as the subject matter, being put on the canvas. I don't want to be an icon in just one form. I want to be an icon in many forms. So that's where it began.

Marina Abramovic: I've been looking at these four covers of V Magazine and I can tell you that they really work. My favorite is the one with the black hair.

Lady Gaga: That's my favorite too, Marina!

Marina Abramovic: It's kind of a touch of something from the old days of Patti Smith. There's some kind of innocence, but then you also go for it, a real warrior.

Lady Gaga: That look was very hard for me because that is how I looked when I was 19 until I was 21 years old…Maybe longer. I got my hair cut like that when I was 18 and all these really painful things happened during that time.

Marina Abramovic: I can read through to this suffering. It's an interesting mix. It's a kind of fragility mixed with strength.

Lady Gaga: Yeah, I'll tell you what that's from. It's because it was so hard for me to go back to that place. I was telling you about this when we were talking about everything that we're going to be working on. I told you how I have an ability to experience pain for long periods of time—to endure it, whether it's mental pain or physical pain. I think it's because of my discipline as a child. I studied piano and then theater and then dance, so I have this ability to endure long periods of pain. But as a result, when I became an adult at 18, I allowed myself to stay in bad situations because I was able to take the pain. Does that make sense?

Marina Abramovic: Makes perfect sense to me because that's exactly why we have lots of things in common. It is so important to find a way to transfer the pain and elevate it into something else.

Lady Gaga: I was so naive, in a good way. The art was—and still is—the thing that drives me, you know? Pop is sort of my medium, the medium that I'm good at. But art was always the thing that drove me forward in these challenging and painful circumstances. I would always have the wings of high art kind of flying high above my back, lifting me up, and I could feel no pain, because I could feel the adrenaline of the future, of my artistic experience, and that was more important. I had some sort of transcendental experience with art. And I was going to do anything for art at a young age.

Marina Abramovic: It is very interesting that you believe you found something that you were good at, pop, and you put art at the front. So now you have ARTPOP—it makes total sense.

Lady Gaga: I wanted to bring it all the way to the front, yes.

Marina Abramovic: And your references to art. For me, what's always been very interesting is that you make clear references to art. Other musicians, I don't want to name names, they make garish references to art, but they never really give the ownership to art. But you do.

Lady Gaga: I think that the world has fallen into a very interesting trap, where people look at visuals in such a rudimentary way, they are not approaching them in a complex way. So what happens is that everything becomes nothing. Everything that we review means nothing anymore because nobody is able to look at anything with any sort of artistic eye, to find the complexity behind it. It's like, They both wear a hat, so it's the same, They both wear a bra like this, it's the same, Their hair is both this color, so it's the same. But if you were to show someone like Matisse a huge board full of colors, he would probably tell you why they're all different.

Marina Abramovic: What is also interesting is that everybody is looking to the same things. It's getting the same information. Reading the same books. The television tells you what to do. The fashion tells you how to dress. There is no freedom. What you are doing is claiming your territory, you're claiming the freedom. And that's so great, because you have to create space. And to create space you really have to break the rules.

Lady Gaga: And that's where I feel like you've been an inspiration to me for so long. Especially when I was younger, and the more that I got to understand your work. The older that I got, I was able to look back. What you experienced at that time was more painful than maybe you realized, but that's why you're capable of these things now. It's like, maybe instead of doing this, you should channel your pain like this. Put it in here and experience it like this in your work. And when I watch what you make, Marina, there's no limitation and there's no boundary to your art, because you are willing to trust it implicitly. That's what your work means to me. The piece especially, was it in Germany? I think it was in Berlin that you did the piece where you were lying on the table with the knife and the gun and the condoms and the sleeping pills…

Marina Abramovic: [laughs] Let's get back to these questions, because this is serious. I'm into numerology myself, so why are you releasing your album on 11/11? There could be so many significances with this date.

Lady Gaga: We arrived at that date after speaking a lot about the music and going over the different territories. The most important thing for me is that every fan has the ability to access the work at the same time. If they can't experience it together, it deflates the meaning of the work, which is that art and pop belong together. So the moment for me is only explosive if art and pop are together in one instant and the fans get to experience it together in one instant for the first time. It's like an ultimate explosion of experience for them—where they get to touch and feel the music and art—with a philosophy and framework behind it that really allows them to understand the kind of shape-shifter performer that I am. I'm someone that wants them to view me not only as a figure with many wigs, but as a figure with many wigs who has a skin tone of many colors, with nails of many paints, and the shoes of many people, with the heart of many thieves and many wise men, and an ability to transform emotionally as well as intellectually as well as humanly. I create the work so that they can have a physical and virtual representation at once. That is what ARTPOP is all about, to bring the technical aspects of being a performer together with the metaphysical, and to ask the fans to look and experience both of them at the same time. I don't know about the date.

Marina Abramovic: It doesn't need an answer, it can just be intuitive that you want this date and that's it.

Lady Gaga: The date was the day that all of the fans in all countries around the world would be able to get access to the music at the same time. It had a lot to do with delivering copies and making sure we had enough time to upload the music to all the servers worldwide. I was trying to think of everything. When would be the best time in my fans' lives? And if I tell them two to three months before the album comes out, it gives them a few months to save their money as well. You know, I care about that too. I want them to have time to save their money so that they can buy it. I don't expect them to be rich. I don't expect them to just have the money to buy the music. In this age, buying music is sort of an old thing, and the app is the new generation of a physical experience with music through digital interaction.
Paws up! Mother Monster is back with multiple personalities and a brand-new sound. In an Icon-to-Icon exchange, she sits down with performance art pioneer Marian Abramovic to explain the ethos behind her impending album, her elvolving state of being, and what valuable information she is storing inside her brain purse.

The Art of Pop by Lady Gaga
Interview by Marina Abramovic
Photography by Inez & Vinoodh, fashion Brandon Maxwell

PHASE ONE
I see this girl as the first incarnation of me. Of Gaga. The Bowie superfan, playing with glitter and reflective materials, like doing a jigsaw puzzle. How can I paint with this palette in a way they've never seen? How can I remain loyal to my glam roots and soar with an artistry that is still forming? I have always felt comforted in my ability to learn as a performer. When I care to no longer learn or research, I am then an occupant of my own ego. Bowie is a scholar, and it is this part of him that I've kept with me. If I allow myself to really delve into and analyze the thing I'm making, I feel a sense of control. A sense of belonging. I belong because I must create. I must transform. And I must believe that my ability to evolve is infinite. Lady Gaga

Marina Abramovic: I was just looking at the photographs for V Magazine. I know what it takes to create these kinds of shots. You work day and night, it's crazy. People say, "Oh, how easy it must be to become what you've become." But it's enormous discipline and sacrifice. Can you describe your normal day?

Lady Gaga: Normal working day…they're always different. I wake up—recently, a bit earlier—and I usually smoke and sit in bed and read. I put out all of my notebooks, computers, the music, pictures, art books, and I just sort of lie there and I smoke a bit. I look at everything and I really just look at it, Marina. I always think about the work a lot, but on this album I really spent a lot of time gazing, you know? Really gazing into the work and really thinking about what it means. How can I make it better? How can it become more original? How can I inspire them to see something that I don't even want them to see? And so I wake up, I do that, and then I start to make my calls—kind of like a serial killer—to everyone in the HAUS. Each one has a different thing that they're good at. And while I'm sitting there and gazing at the work, I just start to call them and say, "Okay, I need you to do this," and then "Okay bye." And then I call the next line and say, "Can you do this? Okay bye." It's sort of an editing process, but instead of it being a painting or just music, it's everything. My team calls me the atelier, the couturier at the end, when they put the dress together and the couturier comes in and sews the dress at the last minute and makes it all come together perfectly. That's what I do. I put it all together and I'm there at the inception of it. So I'm really the one that understands every single piece. In a typical day, I would do that for three to four hours in the morning. Then I will run or figure out a way to sweat, and then I'm usually at the studio…

Marina Abramovic: You forgot the breakfast. When do you have the breakfast?

Lady Gaga: [laughs] I don't eat breakfast.

Marina Abramovic: I knew it. No breakfast. You have coffee, tea? What do you do?

Lady Gaga: I drink Pellegrino, I'm a good Italian girl. I have Pellegrino with lime and a smoke. And I just lie there. Sometimes maybe green tea. I just sit there and look at everything. I get mad at the work, I get frustrated, I start getting really sweaty. I have a very emotional experience when I'm creating.

Marina Abramovic: What time do you go to sleep in the evening? Late or it depends?

Lady Gaga: It really depends. I can fall asleep at any time, at any place. In a strange way it's because my mind is always so exhausted.

Marina Abramovic: That's how you know when you're really an artist. When you're an artist, it's a thing like breathing, you don't question breathing. If you don't breathe, you just die. So if you have this urge, it's almost like you're diseased, you have a fever, you can't do anything else that way, your mind is occupied, you're pretty much an artist. But then the question is what makes you a great artist? Because you could just be an artist, but you can be mediocre too. What makes you a great artist is the few steps more. It's really sacrificing almost everything around that actually can fit into this image that you have to construct, and that's a real thing.

Lady Gaga: When I shot with Inez and Vinoodh, it was the same thing. You have to stare at the image, you have to stare at the work. You have to have an intense connection with it all the way to its core, and then push, push, push yourself and then say Okay, and you have that instant adrenaline feeling of Let's go.

Marina Abramovic: That is what is making this thing pop. I want to know a little about this piece for the new album that you played…"Pig"? I love this work. Do you have a favorite song? Also tell me a little bit about the pig one.

Lady Gaga: Actually it's interesting that you said that you love "Swine."

Marina Abramovic: "Swine" sounds so much worse in English. Pig is almost sweet, but swine is really dirty.

Lady Gaga: Yes, swine is dirty. And in European culture, it's not very nice to call somebody swine. It's like the worst thing you can say. So when we were making the cover that you mention, with the dark hair…Each cover was designed with a custom outfit by one designer. That's the one that Hedi [Slimane] did—the one in the sequined jacket with the high-waisted jeans and the hair. That was the time in my life when I was the new artist. I wasn't a fully formed artist, I was 19, I was young. I was on my way. I was willing to do anything for art. It got me into so much trouble because when you're willing to do anything for art but you don't even know what your art is yet or what your music is or what you're making, you're willing to do anything to understand it or to experience something that will charge it or inspire it. And because of that I was really troubled. I was really sick all the time in my head, in my heart. I felt trapped, but I was free. And then it was like a slow death. A slow death of my innocence and my youth. And I had to climb through a lot of swine, and that's where that song came from. This idea of something so dark and something so awful and perverted that at a young age you don't really understand. And you don't want to know and understand it. And then, as I'm older, I understand the intenseness of the experiences that I went through. They have affected and changed who I am now. So this song became a liberation, because I'm now saying that if I am to be truly great at this transformation, I have to understand. It shows on stage before people's eyes. And that's really what these covers are about. It's not just the hair, it's the whole life.

Marina Abramovic: Each one is different.

Lady Gaga: It's a whole life-form.

Marina Abramovic: How you would describe these characters?

Lady Gaga: The dark-haired one I wrote as the New Artist. It reads like this: "This is me, the me I was the most afraid to be again. The me I had left behind. Through the work each time over and over with Inez and Vinoodh, there is a challenge that I was facing with myself. The person they want to see is dead, I think. I have an ability to endure physical and mental pain for long durations, months or years at a time, but I've learned eventually that the brunt of that anguish finds its point and impact, and although I was able to withstand the challenge for that period of time, the results are destructive and I'm left a shell. Why would I ever want to feel that again? And then a bigger question, Does anyone really know what I went through to get here? And somehow with Inez and Vinoodh's calm sense of confidence, their seductive artistic way, in the process I am inspired to allow the emotions to pass through me as they photograph me and I hear, 'Beautiful, Gaga! Yes! Yes! Look at that girl!' I'm reminded that my sense of self within the world I create provides an element of honesty and gravity to the work and it's okay that I'm broken. I can be broken in the Cubist or Surrealist sense, like a Picasso nose, or Dalí clock—ahead of its time, not pathetic or shameful. And then I am transported back to a time I wanted to forget, I somehow still arrived at what I have become, an artist that celebrates our differences." So what I'm saying is I realized that if I wasn't able to become her again, then I was in essence afraid of something, which felt like a big, padlocked chain.

Marina Abramovic: That means that you're freeing yourself from that.

Lady Gaga: Exactly. I felt it at the shoot, then we shot for the video, and I became the same girl again in the film. Then there was another level that came out and it was the joy of me as a young Italian-American girl from an immigrant, blue-collar family that just wanted to be a performer with that drive and love of music. It became this really beautiful film of me lying on a mattress and singing this song as if I was writing it in my bed for the first time. The hour that we shot was like ten years of a good sneeze or something. A really good sneeze.
Paws up! Mother Monster is back with multiple personalities and a brand-new sound. In an Icon-to-Icon exchange, she sits down with performance art pioneer Marian Abramovic to explain the ethos behind her impending album, her elvolving state of being, and what valuable information she is storing inside her brain purse.

The Art of Pop by Lady Gaga
Interview by Marina Abramovic
Photography by Inez & Vinoodh, fashion Brandon Maxwell

DONATELLA
There are very few people I've met since my debut that have truly become friends. Donatella Versace and her daughter, Allegra, occupy a space in my heart so wide, with their ability to love and give. Donatella was there for me in difficult times, and for that I will never forget her. She took the girl sobbing with tissues into Gianni's apartment. Tears falling on the floor, champagne pouring, she escorted me to his room, where she left me to play with his books and sketches. I studied the notes and drank and smoked until I could barely see. Running around the house with her and Allegra as she said, "Never cry, Gaga! You are a star, a REAL star!" And this cover commences the newest transformation in my long love affair with Versace. Donatella opening the Gianni archives for me during the campaign for my album Born This Way was just the beginning of a dream that seems to never end. And today it's c-thru plastic, with my custom shoulder, Medusa pins, and a wrong blonde. Donatella approved. Lady Gaga

Marina Abramovic: You have said, "Nobody knows how much it takes to get there, nobody can even imagine." People think that things are easy. But the amount of work and sacrifice and pain…

Lady Gaga: That is essentially the switch, Marina. The difference between what people were feeling about Pop Art and where I want to take ARTPOP. To say something is Pop Art for some artists was as simple as putting something in a museum or a gallery—it became art if it's there. But that's not what my feeling is about art. I don't believe that trick works anymore. I think the real challenge is, How do I take a place that is not an artistic space and transform that space and make it into an artistic space?

Marina Abramovic: This is totally interesting. This is why I'm interested in bringing some complete new structure, like this institute I want to make, for the long duration of performing arts, which is for everybody. The point is that if you make art elite, then you kill it. You kill it immediately. You have to live really through everybody, through the normal people, through the farmer that is listening to your music, or the student…

Lady Gaga: It's unfortunate, Marina, that people don't see the difference between the words elite and disciplined.

Marina Abramovic: Wait, this is very interesting. Elite and disciplined, explain to me.

Lady Gaga: Elite and disciplined are so different, right? But in society, with the young generation, they associate them with the same thing. If you are viewing young people the way they are right now, I feel like there's a tremendous sense of lack of responsibility, as well as a lack of interest in working hard for a common goal. And working hard in the space of art seems almost futile, like how would that be lucrative for a young person, to focus on their art? Where's the page in the book that's telling them that focusing on their work will be lucrative? For example, if someone were to come to your school, you don't have to give the impression that the art is elite, but you do have to give the impression that it requires discipline. How do you then challenge a young person to see your art in a way that has discipline but not a tone of elitist knowledge? Does that make sense? It's such a beautiful experience to go into the space of performance art, the long duration of work from it being a conceptual idea and then actually doing it and it becoming a reality. That's a transition. What you're saying is that it belongs to everyone, but what I'm saying is everyone shouldn't feel that it's easy to acquire.

Marina Abramovic: It's the time now to really break the difference between the different media. There were all these strict borders on how it was done in the '70s and '80s. Before, if you were an artist you were not supposed to love fashion or go into pop culture. If you were a performance artist, you were supposed to hate theater. It is important now to go from one medium to another and look for the essence—the really good material that can actually create awareness for the audience and change their mind to see the world in different ways.

Lady Gaga: Yes, exactly. I see my fans and how they become so excited by music. They are obsessed with what I'm creating and then in some way they find an inspiration in their own life, where they're creating something that they become obsessed with. And they're no longer obsessed with the icon, they're obsessed with themselves.

Marina Abramovic: You're showing them the way to themselves, you know.

Lady Gaga: I want them to experience that self-love through creation and in the way that your art can give back to you. That's ultimately what I care mostly about, our collaborations, and establishing a line…Intellectualism doesn't also have to be elitist. You don't have to have money or know people to be smart. I feel that in my heart. If anyone were to become obsessed with you, for example, and what you create, in the way that I was, and if they were to find your school and find your program and find that discipline…I'm sort of like an addict or junkie that will never go to rehab, you know?

Marina Abramovic: But you always do your research.

Lady Gaga: Yes, I do the research, exactly. You're my rehab, and the research is my rehab. And me coming out to the country with you and starving and waking up at times that you choose and walking long distances with no sense of direction or purpose, these are the things that challenge me. That is the rehab. That is the research, that's the work. And what I was trying to get at is this idea that you can have money, or that you can pay your way into the art world, but it will ultimately destroy the art world. It will be run only by money and commercialism and a sense of artifice. Money is a fake representation of value. I want my fans to know the importance of putting in the work and the discipline. To me, you're the most hard-core of them all; I always call you the don of the art mafia. That's what we call you when you're not around.

Marina Abramovic: When the students come to me and they say "I want to be rich and famous," I tell them to go to hell, because being rich and famous is a side effect of lots of good work. That's not the aim.

Lady Gaga: The money is just there to make more things, and to make the work bigger. I don't spend it on myself. I'm like sitting here on the couch with my wig on my lap, I have bruises all over my legs. I'll take a picture for you. I must have at least 50 bruises on both legs.

Marina Abramovic: [laughs] I have a spider bite on my stomach and I'm sitting on my bed too.

Lady Gaga: It's like nothing changes except that I just become more excited and more hungry to make more and to challenge my mind. When I see my friends all together, we're all making our work together; I really believe that it's something. Like you said, Marina, you have to trust your ability to know at some point, that's what makes you good. If you've done the research. We're not in the age anymore where you can put the shovel in the wall and call it art. It's over.
Paws up! Mother Monster is back with multiple personalities and a brand-new sound. In an Icon-to-Icon exchange, she sits down with performance art pioneer Marian Abramovic to explain the ethos behind her impending album, her elvolving state of being, and what valuable information she is storing inside her brain purse.

The Art of Pop by Lady Gaga
Interview by Marina Abramovic
Photography by Inez & Vinoodh, fashion Brandon Maxwell

THIS IS ARTPOP
In this custom Balenciaga, I felt full passion, and fearless, like my hair and body were on fire. I am preparing for my workshop with Marina. I am so excited. She will starve me in the woods for days, with no clocks, no speaking. Cleansing me before my first performance on stage and beginning my training for a performance piece in Paris we are doing with Robert Wilson. I told her I wanted to reveal my total creative self to her. With complete trust, openness, and freedom to be an artist, instead of "making" or "designing" for the public to love. What I am is enough. My talent is enough. But the wigs and the makeup, I need them, I tell her—and she understands that. Marina understands my art, and in my understanding of her art we have made an exchange. When an exchange occurs between two auras, there is a formation of trust and an impulse of love—perhaps...we could belong together. ARTPOP! But this is not my "look" or "reinvention" for this album. I will be all of these women forever. I am a shape-shifter, a pop-cultural magician. I am not just one ICON. I am every icon. Lady Gaga

Lady Gaga: In this custom Balenciaga, I felt full passion, and fearless, like my hair and body were on fire. I am preparing for my workshop with Marina. I am so excited. She will starve me in the woods for days, with no clocks, no speaking. Cleansing me before my first performance on stage and beginning my training for a performance piece in Paris we are doing with Robert Wilson. I told her I wanted to reveal my total creative self to her. With complete trust, openness, and freedom to be an artist, instead of "making" or "designing" for the public to love. What I am is enough. My talent is enough. But the wigs and the makeup, I need them, I tell her—and she understands that. Marina understands my art, and in my understanding of her art we have made an exchange. When an exchange occurs between two auras, there is a formation of trust and an impulse of love—perhaps…we could belong together. ARTPOP! But this is not my "look" or "reinvention" for this album. I will be all of these women forever. I am a shape-shifter, a pop-cultural magician. I am not just one ICON. I am every icon. LADY GAGA
Marina Abramovic: I have three questions. Number one, are you more relaxed now than you were two years ago?

Lady Gaga: Relaxation is so futile. I understand relaxation in only one way. I'm only relaxed when I'm on the stage.

Marina Abramovic: That's a great answer. You are completely in your own element in the presence of giving, that's why.

Lady Gaga: When I'm on the stage, everything begins to fade and I relax. I feel the applause. I feel the energy of the room. When I walk onto the stage, the first thing I think is, Find the energy.

Marina Abramovic: This relation to the audience is very important. Do you feel them? I feel my audience. When I give a lecture, if someone goes to the bathroom I look to see if they come back, because I feel every single minute.

Lady Gaga: Absolutely. I notice if they're crying, if they're laughing. I notice if they're taking a picture, so I'll smile. I notice everything, but I notice more something that's much more visceral. It's a feeling that they're looking at something that they know is real, but that feels too impossible to be happening. That is the real rush that I want to give them, and that is what people did not understand about my work in the beginning. I know I'm still giving them that feeling. The feeling is a rush of adrenaline that could not possibly be real, but it is. It's the magic of the fantasy of the performance of being a musical shape-shifter that goes from one song to the other. It's like the ultimate magic trick, but it's not actually a magic trick at all. I've spent hours and hours rehearsing and choreographing the garments as they come on and off my body with the wigs and the lipstick. And then the hours I spend in the studio. Oh, Marina, ARTPOP was like a long love affair. And it's not over, it's so wonderful. I have this endless experience with the music, where I'm so proud of it throughout its growth and duration. Even though I have moments with it where I'm disappointed, they glaze over. Then I give it some more time and I hang out with you, and I give it some more time and I go see Jeff [Koons] or I go see Robert Wilson to talk about the Life and Death of Marina Abramovic and have coffee. I have this incredible opportunity each time I am in your wake, and in the wake of these great artists that I'm so lucky to be friends with. I really feel that there is a transfer of wisdom when I speak to you. It's like I truly am listening to everything that you're saying when you're talking. So it's not so much that I'm excited that people will know that I was with Marina Abramovic—I mean, that alone I could go to sleep on for 10 years in happiness—but what they don't know is that while I'm with you I'm writing down everything you're saying. I'm keeping it in a log in my brain purse. And in my brain purse I'm putting everything that you're saying. Last week I stood at the studio and we were mixing the record and I said, "More and more of less and less, please."

Marina Abramovic: I just want to say something about this magic and how the audience doesn't know how this happened or that happened. When you put so much work into something, the result has to be like without any effort. As if you're standing on the waterfall and it just happened. When you see the effort, the public is tired, then you lose it. The public is gone.

Lady Gaga: I didn't get to see you when I was injured, but I was in a wheelchair for three whole months. Before that I was basically on a cane and in a wheelchair on the tour in between the shows, trying to rest my body. It felt like my humanity was leaking on the stage, like gas out of a car or an oil leak. As my hip was breaking…and you know I didn't know it was my hip! Fuck if I know which part of my body it is that hurts the most. I don't know. I can't tell you that my hip hurts more than my back or my shoulders or my ass or my ankles in these fucking shoes or my tits. You know, after that "Scheiße" routine, at the end, where I'm bouncing all over the place? I was on tour for basically five years once I was on the "Born This Way" bus. It was the brunt of so many years of long-duration performances. The center [of the audience], where all the stands are, inside the runway, they know me like I'm their family. And they would just look at me and they'd know. They were whispering to me from the front row, "Are you okay? I love you. What's wrong?"

Marina Abramovic: That's the real deal.

Lady Gaga: It is the real deal because they know what I've put in each time of my life and they knew what I was capable of, and when they saw my humanity start to leak, they didn't punish me, they didn't say, "Oh, you look human, we don't like it." My fans have always stood by me, but they let me know that they could see and it killed me. For them to see my humanity, which is something I think is not magical, as opposed to the work that I spend hours putting in the time—that's the magic—that's what I want them to experience. I don't want them to see that.

Marina Abramovic: Wait, now I don't agree with this. You have to learn to embrace this and you have to actually show your vulnerability to the public. When you show both sides, it's unbeatable. They have to learn through you, you are actually a medium to them if you can show your fragility so they can accept their own. It's a completely new level of working. You have to embrace that part, it's a big deal.

Lady Gaga: It's so funny because in my own work, when I create it, if there's an imperfection that was put there, I love it, so it's not an issue for me. My humanity, since I've put out my first music into the public, is something I've been desperately hiding. I've been trying to figure out why I do this. What is it about my past that terrifies me? What I realized is that I just never settled the score with myself about some of my painful durations. Some of the things that I experienced with men, with the music business, with how they treat women, being a woman in a business with a lot of men, it was terrifying. It was terrifying. It was something that I truly don't wish upon anyone. And it was my naïveté in thinking that my provocation or my sexuality was artistic because of the people that I looked up to. It was that which kind of led me into my greatness, but it also led me through a darkness that at one particular point I had to endure. Like I said, I wouldn't change anything, but I suppose that time did make a much deeper impact on me than I had initially thought. I woke up one day and there were wigs everywhere. It was the silence of the wigs. I was a serial killer of my own self.

Marina Abramovic: A serial killer of oneself with the landscape of the wigs. That's already a good start to a movie.

Lady Gaga: Each wig represented a different day in my life when I had to be something else because I just could not go back to that place. In order to become a better artist, at some point I was going to have to go back to the nucleus of the work, and I didn't want to go. And "Born This Way," that whole era, was me not wanting to go. I just did not want to face any of it. I didn't want to talk about it. You should see me try therapy, it's like a nightmare. I hate it, Marina. I don't understand talk therapy. It's like, it's so confusing, the questions that they ask me.

Marina Abramovic: It's not therapy for us! It's totally the wrong way, because we put everything in the work and turn it around and heal ourselves, and this is the magic we have. Therapy is for other human beings, but not for us, ever. Are you happy?

Lady Gaga: Am I happy? Oh, yes. I feel so happy about the process. Speaking with you today and doing the interview this way, this has been such a treat for me, because I hate doing interviews and I love you so much and I just love hanging out with you anyway.

Marina Abramovic: The next question, Are you in love?

Lady Gaga: Am I in love? I don't want to answer that question. I think that the world judges the work based on whether you are in love or not. I don't want to be judged on that.

Marina Abramovic: That's totally right. My last question really is, What is the song on this album that summarizes ARTPOP? All of them talk about different things. This is a tough question, I never have a favorite work, but go ahead.

Lady Gaga: "ARTPOP" is the song with the lyrics, especially I say, "a hybrid can withstand these things / my heart can beat with bricks and strings / my art pop could mean anything / we could belong together art pop." It's all about the strength of coming together and having an exchange with someone through an artistic process. And in this sense this artistic process can ultimately lead to a pop-tistic process.

Marina Abramovic: You know, if you transcribe all of this, it's almost a book. I enjoyed this so much. These conversations are really important. It's how we can mix things together. And another thing, I really trust you.

Lady Gaga: I know. I really trust you too. You're wonderful.

Marina Abramovic: And now, by the way, you have to sleep, and maybe it's not a bad idea to start eating breakfast. Now I'm talking like Mother Abramovic.

Lady Gaga: I know, but I never know when I'm going to be sleeping or awake. I never know when I'm going to get an idea, and if I get an idea I have to work.

Marina Abramovic: That is the diseased artist!

Lady Gaga: If I don't have an idea, then I'm probably asleep or else I have to be somewhere.

Marina Abramovic: But then there's another interesting exercise when you have to remember the moment before you're really awake—the transition from the sleep state to the wake state.

Lady Gaga: I have a lot of ideas during that time.

Marina Abramovic: I had this recurring dream where it was always a house somewhere in the woods and there was a party in this house. And the people I knew, I knew only from the dream. And they're there with all of their friends and they're very happy, but I don't know them in real life. And then I dreamt again and it's the same party, and everybody has gray hair. I could not believe in my dream you can actually get old.

Lady Gaga: Did you have a conversation with the dons of dreaming? You said, "Listen, dons of dreaming, you are not allowed to get old in dreams?"

Marina Abramovic: I couldn't tell them. They were all gray. I don't think I really dream anymore. They're gone, maybe they died. They're gone forever. Now it's late and I'm going to sleep and you're going to get a new idea and this is the end. But I really love this. Something really caught me when you said, "Nobody knows how much it took to get there."

Lady Gaga: I know what it took for you to get there. I mean I might not totally know, but…

Marina Abramovic: I know that you know! It's a lot of work. And these photographs, they're really disturbing. Really strong. They're amazing. They stay in your memory. I love the position of the hands. Strong, strong, strong. The energy was there. I mean, it was like, Oh my god, this one is going all the way. Okay, I'm going to sleep now. We'll go for dinner. We don't even need to eat.

Lady Gaga: [laughs] We'll eat, it's fine! I don't eat breakfast. My gosh, you see? A lack of discipline in one area and you're already reaming me about dinner!

Marina Abramovic: Three meals a day. It's a mechanical element, like a car. You have to put the gasoline. Anyway, that's a different topic. I'm not going to give a lecture now. Totally not. Love you!
LADY GAGA AND BRANDON MAXWELL: AN INTIMATE INTERVIEW
Text: Katherine K. Zarrella.
THE MORNING AFTER HIS NYFW DEBUT, BRANDON MAXWELL AND HIS FRIEND, CLIENT, AND MUSE, LADY GAGA, CAME TO THE V OFFICES FOR A HEARTFELT CHAT
During New York fashion week, Brandon Maxwell's dream came true. And Lady Gaga was his fairy godmother.
When Maxwell, who is best known as Gaga's stylist, was a child in rural Texas, he loved playing dress-up with his sister. The feeling was not mutual. "I would take the bed sheets off the bed, tie them over one of my sister's shoulders, and put my dad's cummerbund on around her waist, and I would tie it super tight, and I would make her walk in heels", recalls Maxwell, who was formerly Nicola Formichetti's assistant. "But my sister was a tomboy so she always cried through the process".
On September 14, however, Maxwell's sister was crying for a different reason. After years of hard work, the designer debuted his first full collection during an intimate, and deeply glamorous show at Mr. Chow's uptown eatery. He sent a symphony of impeccable black and white wares down the runway, all of which were sculpted to perfection. Some ensembles seemed modern interpretations of le smoking, while others, like plunging tops, tailored trousers, and a pair of alligator (yes, alligator) bellbottoms were meant to fit seamlessly into a powerful woman's wardrobe.
The collection is no doubt destined for success, and the credit belongs completely to Maxwell—however, Lady Gaga played an integral role in making his vision a reality (and promoting the final product—she donned one of his elegant black gowns to the Emmys on Sunday to rave reviews). Mother Monster stayed up all night to help with fittings and planning, sorted the music and lighting, and even lectured the photographers pre-show, insisting that once the show started, they focus on Maxwell's clothes, not her sitting proudly in the front row. The morning after the show show, Maxwell and Gaga stopped by V to discuss the collection, their relationship, and what makes Maxwell's work stand out.
Brandon, you're Lady Gaga's stylist, but would you two call each other colleagues or friends?
BRANDON MAXWELL: I'd say friends, right?
LADY GAGA: Friends, totally friends. "Colleagues" feels so polite.
Gaga, Brandon has been styling and creating custom looks for you for some time. What draws you to his work and aesthetic?
LG: I am attracted to people that have very interesting minds and have a bravery within them. Brandon has an incredibly interesting and complicated mind and I feel that I identify with him in a lot of ways. Watching him make the decision that it was time to put his collection out and seeing the way that his personal life and his life experiences aligned with his decision to make the collection, I just knew how authentic it was. And I've always known him to be a talent. What can I say? I'm attracted to geniuses, and that's how I feel about Brandon. I just want to be near him all the time because he inspires me so much.
Brandon, how did you tell Gaga that you were going to launch your line?
BM: We probably talked about it a million years ago. I don't know that we ever sat down and had a conversation about it but…
LG: Yes, we did!
BM: Ok, but I feel like it was a natural progression. When I was very young and working with Nicola [Formichetti] and Gaga, I learned very quickly that everything didn't have to be like, look 1, look 22, or whatever. Instead, it was like, Ok, make it on set, sew it now, glue it together, cut this top and put it with this pant. It was like my master's education. And so when I wanted to start designing clothes, she was just like, "Do it". And I'd make it and I would say, Oh, you don't have to wear it. You're not obligated to wear it. But every time she would wear it, and she made me feel like it was the only thing that she wanted to wear, like it was the only thing in the room that made her feel beautiful.
LG: And that's so true. What he said about how I feel when I put his clothes on is absolutely true. I always saw in him, as did Inez and Vinoodh, when he's working and styling, we've always seen his eye for silhouette and the woman's body, and his ability to make a woman look like a woman in that kind of timeless, classic way. I remember when the first dress he made me arrived. I was in Belgium, and I opened it, and it was packaged so beautifully in a box, and it had all of the accessories with it with a beautiful matching turban. It was a beautiful blue velvet gown with a handmade corset. It was made perfectly and I know that because I wear Donatella's gowns made by Luigi [Massi], and I wear Gianni's gowns also made by Luigi. And I wear Alaïa's clothes and I wear McQueen's clothes—I know. I don't bullshit and he knows that, and I just started crying because I had it in my hands and I turned it around and it said Brandon Maxwell on the label in the back.
BM: And it was my 30th birthday.
LG: It was such a powerful moment. And he always sends me a beautiful card with it. He is my best friend, and he sends me handwritten notes. Like, who does that? Seriously. And he always says, "Made by my hands with love". It's so beautiful. And I knew in that moment that he had everything it took to be a great designer.
BM: She gave me so much confidence. She supported me in a very public way and told me to jump off the ledge. She gave me the fuel that I needed to do what I did last night.
Gaga, can you tell me about the moment when Brandon revealed he was launching his line?
LG: I have to tell this story because it's so true it's funny. Brandon sat me down, we were having drinks and smoking cigarettes, and he was like, "Okay. I had an epiphany over the weekend and I need to discuss it with you". I thought he was going to say something super terrifying and my stomach was turning and I was like, Oh God, is he okay? And he goes, "I think I'm going to be a designer. I'm going to make my first collection". So I started laughing because he literally said it to me like I had no idea that he wanted to do this. It was like he was just telling mom one day, "Hey, Mommy, I'm gonna quit school and be an artist". And it reminded me of what I said to my parents, and my parents cried at the table when I told them at 19 that I was leaving. But when he told me, I laughed and said, "Fucking finally". That's it, and that's very his personality. Brandon is a nice person, and has no clue how smart he is, so he's just doing this because he has to, because he'll die if he doesn't make clothes. That's his passion, and everything else doesn't matter.
Gaga, I heard that you were extremely hands-on when it came to helping Brandon with his show
BM: The night before, we had a family dinner with everybody. She was there, and it was all my best friends from growing up and all my best friends now and I was talking about how I went to an art school in Texas, and I was up all night in the studio creating with people, and it was very collaborative. It was very pure and harmonious. When I moved to New York to go into fashion, I obviously didn't think it was a business that's really known for its friendliness, although everyone that I've encountered thankfully has been.
LG: You only work with people that are nice. You don't engage with people who aren't. That's sort of our thing. If somebody's not open and completely loving, it's not our bag. We like people that are ready to dive into the pool of art with us.
BM: I met [Lady Gaga] very quickly after I moved to New York. And what I was saying when I was with my family and friends, the people who supported me growing up and collaborated with me and helped me get to this place, is that when I met [Lady Gaga], it felt like she was a sister. I'm very fortunate to have already had a career, but I did feel pressure if I'm being honest. And to have somebody hold my hand the entire way is incredible. Obviously she comes into the studio a lot, and we FaceTime every morning about the collection. But she also put her pajamas on and sat there for three whole days for 24 hours, and she stayed up while I got to go to sleep. The day of the show, she went to the venue and dealt with everything. And when I walked in, everything was done for me, down to the minute. Not to be too religious or anything, but you really have to thank God for people like that because it's not something that a lot of people have in their lives.
LG: I just love him so much. I feel like his mom in a weird way. I'm so close to him that I don't know how to not be there. It almost felt like my child leaving for college or something and I wanted him to have everything that he wanted. So we made a list of everything and all day we just made sure that we did everything we needed to facilitate his vision. We didn't make the show. Brandon made the show. And we wanted him to have a clear head. You know I really wanted him to be as peaceful as possible so that when he was backstage with the models dressing them that he could put on his stylist's hat and enjoy that moment and be proud. It was a beautiful experience, and all I could do was be there for him the way that I know that he has been there for me every day for the past 5 years of my life. Every day. When I couldn't get out of bed, when I couldn't leave the house because I was afraid of people because I wasn't comfortable being famous yet, when I was feeling sick, when I was injured, when I became depressed, when I had a breakup, through all that, he came to me because he never wanted anyone to see what was happening. He wanted to protect me and to let me know that there would always be someone there to lift me up forever. And what am I as a fucking artist if I don't give that right back to him. He knows I wouldn't do it if I didn't believe in him, but my God, I just told him this morning that If he doesn't give me one of those dresses for the Emmys I'm gonna cry. It's gonna be a whole thing. I love it and I love him. I feel like I watched him become a man.
Gaga, do you have a favorite look from the collection?
LG: I actually love the entire collection and I keep begging him to sell it to me. I want one of each piece, because I want to archive it. It's a tradition. You know Isabella Blow bought Alexander McQueen's entire first collection and I really want to do that. I did that for Nicola [Formichetti] as well with Mugler. So for me, it's not about one piece. And that's really what I would say about Brandon Maxwell as a designer is that it's a total type of a woman and a lifestyle. It's a garment you can trust will always be there for you to make you feel your best.
After working so closely with Brandon, what was going through your head while watching the show?
LG: It really felt like it was like the fashion rat pack of my life, you know? It was me, Nicola, Brandon, Inez and Vinoodh, Stephen Gan… these are people that I have had in my life for many years now and that I have experienced so much with and they all came together. I also have to say that James Scully and Stephen Galloway were so magnificent. They really, really embraced us young kids trying to make it in fashion and they embraced somebody that I loved so much. It was inspiring and it reminded me why I love fashion and why I love artists because, you know, we're not like other people. We don't dream when we're asleep. We dream when we're awake. And that's what that show was. I saw Brandon's dream while we were all awake. It was amazing.
Gaga was picked as guest editor for this issue of V magazine. According to V, her first first goal as guest editor was to break V's record number of covers for one issue, dedicating each of the 16 to creators, collectors, and collaborators who have inspired her life in fame and fashion.
A Letter From The Editor There is something about fashion that is crucial to my existence. Not only by definition significant, essential to my happiness, necessary, yes—but more definitively, fashion is the cross hanging in my church. It is the anchor in my artistic place of worship.
When I first thought of what to write to you, I conjured a vision of my friends as the fashion guard. All of the people who have influenced not only me but the world, for decades and generations. I wanted to line them up in all their glory. This issue would be the royal academy of fashion where I would use V Magazine as a proper love letter to the fashion and art community.
But I cannot abide this concept for the issue because it would leave out too many significant, legendary people that have yet to grace V's covers. I have not yet even begun to dig into my relationship with Donatella and Allegra Versace and Nicola Formichetti, my collaborations with Hussein Chalayan and Alaïa, the inside of my earliest days as a young girl adoring Marc Jacobs, the rainbow of young designers for whom I have troves of "I knew them when" stories, my funny Anna Wintour encounters, or the secrets I know of the many places I've been—nothing juicy or gossipy (well, some are, actually). I only really begin to scratch the surface of what I know with this issue.
So what I had to find within myself was something much bigger than a concept for a single issue. I drove deep into the forest of my heart for the concept of every issue. The manifesto. The place of worship. I wish it to explode the conversation of fashion with the most mind-blowing and controversial approaches: fashion and imagery that aims to sell nothing, a playground for all the greats to flock and break rules, a place where we can feel free to leave the politics of fashion behind.
My coverhumans share something profound in common that I have observed in myself since I was a young child. It's an ability through our innate sadness as creatives to find a glimmer of fantasy and hope through our art. Every person on our covers exemplifies the artwork or subject of someone who is a master curator of their own life. I choose the word "curator" to imply, also, the curing nature that their medium then takes on. They cure themselves by making it, and then us by sharing it. All the people on my covers have healed me in some way, and I think some real peace was found between all of us in collaborating amidst our elaborate histories. What they gave to me and each other is a unique understanding of loneliness and passion—when you can look directly into the abyss of your own emptiness, like a canvas, and feel delighted. LADY GAGA
A Letter From The Editor
"I went to Home Depot Bought a kayak How about we paddle out into the ocean as far as you like And you can push me off"—Taylor Kinney
I could not complete the covers of this issue without relinquishing one to an important cause. Taylor and I talk all the time about our unique existence on this earth. How can we use our creativity to heal people? Since we first met, Taylor' s been painting and drawing all over me. Years ago, when we were secretly living in San Diego and crashing on the floor of a beach shack, we never wore shoes. He told me he wanted to make love to me on a canvas. And though he made many murals on my body in the wee, small hours of our stoked, gypsy mornings with our friends, for whatever reason we never got around to it. So when I asked him to collaborate with me on a project to raise money and awareness about mental illness, he immediately brought my attention back to this idea. We then of course began our research. What type of paint do we use? Which colors and why? Is there a functional way to apply the paint so it smears more beautifully? Who' s to say what makes a smear beautiful anyway?
We arrived at a concept. Since many people had made art of their love on canvases before, we had to do something more—to apply a purpose greater than each other, and make love for the world. We would draw attention to something important, with an adult finger painting.
THE GOOD PEOPLE
PHOTOGRAPHY CHADWICK TYLER
FASHION ANNA TREVELYAN
THIS IS AN EXCERPT FROM LADY GAGA'S "FASHION GUARD" IN V99. TO SEE THE FULL EDITORIAL, LENSED BY CHADWICK TYLER DURING AN IMPROV ACTING SESSION WITH THE CAST OF AMERICAN HORROR STORY, ORDER THE ISSUE NOW.
JAMES FRANCO Let's talk about this shoot.
LADY GAGA So, what I did here was: my friend Chadwick photographed us and set us up inside a house that we rented and it was like a true American horror story. A slum of America. We didn't pose or anything. We improv'd for, like, five hours. We just created characters and performed in the space. It was based partly on A Streetcar Named Desire, but loosely, and we each created our own space within the story. It was just a beautiful day and we took these beautiful photos. So, [most of the cast from American Horror Story: Hotel]: Kathy Bates, Wes Bentley, Chloë Sevigny, Finn Wittrock, Cheyenne Jackson, Angela Bassett, Matt Bomer, and Denis O'Hare. I just asked that everyone forget that the cameras were there, period, and just be there together. And that Chadwick was really documenting it while we were doing a live piece. We spent some time talking about it in our trailers outside, and when we went inside we kind of fell into it. It was amazing how it happened. Everybody reacted differently to it. I asked them all to improv on their day off. Not everyone was super stoked right away. I had to work them into it and explain it to them, and once we got in there, everybody came together and it happened so naturally and easily and these beautiful photos happened.

JF How was Kathy Bates?
LG You know, she was right there with all of us. When she came in, at first she was like, "I'm not quite sure how we're going to do this." And then Wes started jumping up on the kitchen table and he was throwing knives across the room and shoving pizza into his face. She was throwing the American flag across the room, and I [was] thinking to myself, Fuck, that's Wes Bentley, American Beauty, the flag…this is amazing. Kathy just opened a beer and started drinking and then all of a sudden she started talking, and she was our mom, and I was her daughter, and Cheyenne and Wes were my brothers. Wes was being inappropriate with me and she was telling him what a pig he was. What was really amazing was to see us all feel safe enough to recreate that outside of the studio, without the show. Even though Ryan Murphy showed up and he was there with us, part of what I wanted to show within the shoot was the camaraderie that was born out of that show and also for me, as someone who came in and wasn't on the show before. They've really embraced me as a person, and I've developed really solid friendships with them. They really trusted me, coming in on the weekend to do something like this, and it's resulted in something that I don't think—I mean, I just don't think it has been done before.
JF Did Ryan Murphy come to you [for the role of the Countess in American Horror Story]?
LG I reached out to Ryan and told him that I was a big fan of the show and that I really wanted to do something with him. He basically just said yes right away. I told him I wanted to play a strong but dangerous woman. We started logging ideas back and forth, but the Countess really kind of became who she is after we filmed the first three episodes. I had an idea of her that was strong and I did a lot of research to make her as fully inside of me as possible, but it was as we went along that we sort of went back and forth on how dynamic she would be. Everyone was quite insistent that she had lived 100 years and so she was cold. I said, "I feel like I've lived 100 years and I'm not always cold. Sometimes I'm quite vulnerable and insane and weak and reckless."
JF She seems lonely—there's a need in her to connect.
LG There's an insatiable longing that is unfulfilled. There are a lot of parallels between the character and my own life. Over 100 years she's changed quite a bit. You learn about the way that she was before she became evil—or what other people think [of as] evil. I view it as practical. She has to eat. She has to survive. This is just the way that she exists, and it's different from how she existed before. So, what happens to us as human beings that changes who we are and can either serve or disrupt our personalities or our souls forever? What are those instances and what happens when they occur? [The show] makes you ask questions about good and evil—because the hotel is quite an evil space, but when you see what everyone is going through inside of it, it's not so outside of what we all go through. What would you be willing to do to survive? What would you be willing to do to be happy? In that way, it's not so hard to relate to a junkie or somebody who can't live without a rush.
JF In some ways it parallels what you've done in music videos.
LG I wouldn't consider anything I've done in my music videos to be the Countess. I don't know if Ryan Murphy is, but I'm sure I myself am in some ways inspired by things that I've done; some parallels you can't draw exactly, especially when you're doing fantasy. So, my inspiration for when I kill on the show is swatting a fly. I've swatted a fly before. I've not killed someone with ease or effortlessness—I've not killed anyone at all—but I've swatted a fly and probably made it look like it didn't matter to me. Other times I've swatted a fly and felt really bad about it and it's been a whole thing and I had a moment...
JF So, do you think your acting and your music are read differently?
LG I really don't have a tremendous concept of how people frame my work.
JF You don't read anything?
LG I see articles and things like that, but I don't know that I believe that that's exactly how people read my work. Who's to say how people see it? I spend all my mornings and nights learning my lines, getting them on my body, and then trying to let it fly as much as possible on-screen, knowing full well that I'm not nearly as seasoned as anybody on this show. I just have to trust in my love and passion for acting. Who knows if people view it as different from my music? They could think it's not good; they can think it's good; they can think it's better than my music, worse than it. It's hard to say if I would even know, or maybe even care. I have to do it and be it or I'll die, I think.
JF I saw your part on The Sopranos. You've acted before.
LG Oh, that's awful. Yeah, I went to the Lee Strasberg institute since I was 11. I studied a lot of Method acting.
JF How do you get into the character?
LG I study my lines a shit ton. That's the first thing. On the way to work every day, when I'm driving into the studio, I have a few things that remind me of [the Countess]—her outfits and hairnets and makeup and things. I just put my makeup on and do my hair like her and listen to music that reminds me of her depending on what century and decade we're in. I have a lot of different music I listen to. So on my way to work I sort of become her. I go on set and do rehearsal, and then I come back and put my wig on, and my clothes. That's sort of the last thing. That's totally inconsequential to me, the clothes. I know it looks like a big deal and a big part of it, but I spend a lot more time practicing how I walk and the things that I say. I also spend a lot of time relaxing in between takes and before I go out there. I almost meditate. I have to go in and forget what I learned and then just talk. Like with Chloë [Sevigny]—she's my friend and we're always laughing right before they yell "action" [but then] it's like we've thrown it all out the window and we just zap into our zones. We're just listening to each other. It's fun. It's been important to me as a person because—I'm sure you understand this because you're famous—90 percent of the interactions that you have with human beings, it's not like they really care to hear about you, or that they're really listening to you when you talk. They just want a picture with you or something. When your job is to listen and to have other people listen to you, it's this magical, romantic thing that's been amazing for me. I have real conversations all day long, and it's my job to figure out how to listen and to be honest. And I don't even know if I'm any good at all. I just know what I studied at school—I went to Tisch, also. I'm a total theater geek. I read Stanislavski and all of that. But the bottom line is that I had some really generous actors open up to me on set.
JF What have you picked up from them?
LG Everything. That's all I do is pick up what they put down. [laughs] I was embarrassed in the beginning. I didn't want to improv and ad-lib and take tons of chances with all of these really seasoned actors like Kathy Bates. Like, who am I? I'm like, some pop star. I'm not doing that. I'm going to go in and say my lines like a good girl and leave. Then, over time, you know, things started to change. I did a love scene with Matt Bomer, and it's not even scripted for us to fuck at the end of the scene, but we just started fucking. It was so crazy, but he's my friend. We were laughing after it; we didn't plan it. It was just the way that we said the lines to each other; it escalated to that place. We were just really open to it and I trust him. He knows I don't give a shit, so it goes well. There's a ton of freedom on the set. I mean, in the very first episode, some of my lines were ad-libbed. By my third scene I started to get sassy. [laughs] There were really high stakes all the time—people killing for love—so me and the cast members were always fighting the directors and the creators and the writers about how physical it would be.
JF So you were the ones trying to turn up the heat rather than the other way around?
LG Oh yeah. It's not the directors telling us. We're telling them, for sure. Because it feels like an injustice to the characters to have it be pretty and safe. It feels like we have to go there for it to be relatable to addiction in any way because addiction isn't beautiful. Addiction is terrifying and morbid and provocative. That's a lot of what we're talking about.
JF One of the things I really admire about you is that you're able to pull these different spheres together: music and art and acting and performance—
LG And fashion.
JF And fashion. So when you decide you wanted to act on a show that has won Emmys, with actors who have won Emmys, how do you deal with—
LG The pressure?
JF Yeah, the pressure. The skepticism.
LG I don't think that any artist has to identify with one medium more than another. I think it's okay and beautiful to be studied in many. I suppose I just don't really care because I love it so much and nothing could be worth more than somebody lighting the fire of my passion. I know that you know that...you go through stints in your career doing things that don't make you feel really fulfilled and a part of you dies. [When] you start to work on something where you're alive again, nothing could be worth more than that. I'm just so alive. I get to go to rehearsal in my jeans and my T-shirt with my actors and we just go in there and we sit down and we talk about the scenes. I feel like I'm in college again, only it's better because I hated college. [laughs]
JF I remember when we were at Klaus [Biesenbach]'s Christmas party, you were talking about getting a lot of criticism for a collaboration with Jeff Koons [ARTPOP's album cover].
LG Who knows? I could've told you a number of things. I could've told you alcohol. But now that I look back on it, I don't know if anyone ever criticized my collaboration with Jeff—[they were] probably just critical of me, period. I suppose you go through waves of that in your career and you learn from it. You go through an adolescence. I guess I've just passed through that time. It's a hard shock at first. You know, I care about my work so much, so when people say bad things about the presents that you make—the little art presents—it just makes you feel bad. Some of us are sensitive...but I've gotten tougher over the years. I just follow my intuition as an artist. Things that I want to do and believe in I do them fully. You know, when I did The Sound of Music [tribute at the 87th Academy Awards], I was only studying that music. I told everyone I worked with that I can't do that performance unless I have total discipline and focus. I can't sell anything while I'm doing that. When you commit your life to making music or art you can't also commit yourself to making money. A commitment to money is—that means you're dancing with the devil. That means that what you're making is related to money making. I just think it's much better not to do that—then you don't have to ever feel bad about what you make. I can feel so proud of it, every performance, everything.
JF Are you working on a new album?
LG Yeah, I've been writing a lot for the past year. The show has really affected my voice, I have to say.
JF How so?
LG I'm using my listening from acting in my music more, which is crucial because it's music. Who knew I could listen even more? It's amazing to even talk about. There's a tremendous freedom and a recklessness, but there's also a sophistication in the show. There's a lot of liberation, but it's a very chic liberation. Here's what I will say: when I wasn't working on the show I was truly miserable because I had no safe house to get out any of my vices. Now I have a safe house for my vices so when I'm making music I just have a lot more clarity. I have a little less of an instinct to be reckless with my music now because I'm reckless in other places. So now I'm thinking more about what it is I want to say and what I want to leave on Earth. It's less an expression of all my pain. There will be some of my pain on the record for sure, but it will be more than that. My last album was riddled with a ton of pain. That whole record. It's almost like you couldn't even get to what it is. Now, the show gives me an outlet to put things somewhere, so when I get to the piano I'm in a deeper place already. I have something completely other to explore.
JF Acting involves much more collaboration.
LG When I was performing with Tony today—I was performing with Tony Bennett at Lincoln Center and I was singing my songs—I could feel myself really thinking the thoughts through as I was singing the music, while also improvising. Just taking it a step further. And I knew that that was from acting. When I'm acting it's the same type of thing: I'm worried I'm going to start singing in the middle of my scene! I'm afraid I'll veer off into the wrong medium or that my voice will sound...affected.
JF Do you view songs as characters, or is that you?
LG I mean, they're all me. I view the Countess as a part of me. What I am as a person is some mixture of myself, Stefani, and Gaga. The Countess is all in one.
JF When you came to see my play on Broadway, Of Mice and Men, two minutes before the curtain went up I heard this commotion from the audience. I guess you had entered wearing this beautiful outfit and this really big hat. It made me think: I don't know if you yourself are always on—and to a certain extent if you can even help it. If you're a public figure, at a certain point people just project onto you. Your public persona starts to blend with who you are. You and I might think we know who we are in private, but that public persona—it does become a part of you. You're a central example of somebody who follows her instincts, but your public persona is so large that it can't help but have a big stamp on your life.
LG I've said it before. Everything I've created of myself is something that I made to cure myself of some particular type of pain that I always felt was helped by creative things. Not only is it a big part of me, but it's a part of me that makes me whole. Really and truly. I couldn't survive without Lady Gaga, which is what I am. It's the thing that's made me strong and helped me to survive. I care very much about it; it's not separate. But when I go out, do I have a choice? Of course I have a choice, but I choose to not hide what I am. I can go out in jeans when I feel like it, but I have to say, for someone like me, it's not very fun to go out when you feel like you have to hide who you are. It's sort of against everything I stand for.
Also include the following articles:
GAGAISM
LEE, ISSIE, DAPHNE, GAGA, AND ME BY STEVEN KLEIN
Asia Major
Behind the Scenes: Gaga On Gaga
[
edit
|
edit source
]
Date: November 2, 3 and 25, 2015
Location: East of Hollywood, NY
Directed: Ivan Olita
Art Direction: Davide Di Teodoro
Head of Production: Will Foster
Camera: Brian Davis and Jonathan Mehring
Music: Jean
Colorist: Roy Sun
Editing Assistant: Luca Brinciotti and Christopher Rivera
Animation and VFX: Milan Nikolic
Visual Research: Alexiah Williams
Editor in Chief: Stephen Gan
Editor: Patrik Sandberg
Art Director: Cian Browne
Photo Editor: Nicola Kast
Bookings Editor: Sara Zion
Market Editor: Michael Gleeson
Fashion Associate: Julian Antetomaso
I keep seeing this girl. It's in a dream. In the dream I'm playing at an amphitheater, outdoors, and beyond the seats there's a field in back—it's the cheap tickets. That's where the girl is sitting, dressed in a Hanes sweatshirt, wearing her mom's rolled-up jeans. She has three babies, two are running around her. There's a cigarette in her hand, a glass of Pinot Grigio. She's got on a lot of jewelry, mostly fake, but she also has on one heirloom piece. This girl is singing every word and she thinks, How is it possible that Lady Gaga understands how I feel? That girl—it's me. She's the one I'm writing to. With Joanne, I wanted to reach people, I wanted to bring all parts of the country together through this record." —Lady Gaga
As a reader of a "celebrity profile," I want the dirt, the gossip. I want to know what makes someone tick. I want to delve deep and get at the heart of who they are. When the chance to interview Lady Gaga came up, I was curious to understand the source of her drive. Where did all that energy, enthusiasm, and ambition come from?
My youth was spent in a New York reigned over by Andy Warhol, so I know a thing or two about superstars. Warhol would have loved Gaga. Had she been on the scene in the 1980s, Andy would have gone out with her every night, happy to take her places, to dinner, to art world events—someone to travel and spend time with. He would have been painting her portrait and collaborating on projects with her. Both Catholic, creative, ambitious, not nasty or grandiose—both lonely and both wanting to see the planet, explore, and grab the world. He would have been full of admiration for her.
There's always a buzz of excitement surrounding Gaga, and when I mention I will interview her, everyone from my 21-year-old daughter to my middle-aged friends instantly knows who she is. Even where I live—upstate New York, Schuyler County, where the usual radio stations are turned to country—Gaga's instantly identifiable voice can be heard in Walmart. The people I know may not be listening to her, but everyone sure knows who she is. How has this happened? Gaga is barely over 30 and the world has become a place separated into small categories of personal interest. She has, in 10 short years, seemingly melted into the global consciousness. And as she readies for her upcoming Joanne World Tour from August to December in support of the album of the same name she released almost a year ago, Gaga is as much at the forefront of pop music as ever.
The build-up before meeting her is dizzyingly complex. In the days leading up to the interview, numerous calls arrive: One moment the interview may take place on the 22nd, then the 23rd, and finally the 24th. The on-set time will be in the morning, then the afternoon, and on the date itself the shoot is moved from AM to PM, from five, then six, and so on. When I finally get the call to come to set, it comes with the caveat that the interview time will have to be pushed further back. Gaga, I'm told by one of her handlers, has decided to shoot a low-key video for one of her songs from Joanne. I wonder to myself, After a full day on set—endlessly exhausting!—which Gaga will I meet?
Those who have achieved this level of success have often entered zombiehood, frozen in a space reserved for those who inhabit a glazed-over world of flashbulbs and handlers, unable to trust anyone outside other "equally important" celebrity acquaintances or their immediate entourage—P.R. companies who notify the press of the arrival and departure times of their flights, handlers, secretaries, stylists, people around whom they can act natural. These are their friends, all of whom are getting paid. They've been followed, photographed, maligned, sneered at, trashed, and they have had to develop a steel coat of armor. They are in a bubble.
Even when I've gone to the homes of major celebrities to conduct interviews, the person will often have no interest, and perhaps no skill, in showing themselves as anything other than a well-rehearsed, inhuman star. By the time the public has gnawed off their shell, it seems there is nothing left inside to give.
When I arrive at the studio, there is a phalanx of people: bodyguards, car drivers, studio employees. Then there's an inner sanctum of magazine staff, and beyond that, surrounding the temple altar, are the lighting and sound guys, photographer, and stylists—with Lady Gaga at the center of it all, the nucleus around which a million frantic atoms spin, forever in orbit, held steadfast by some mysterious gravitational pull. She's got a guitar and she's strumming it casually, unable to get the F chord right. All the while, she's fussed over by makeup artists and stylists making various adjustments to the clothes hanging off her body.
There she is, Lady Gaga, the larger-than-life star, unbelievably tiny and luminously beautiful as she smiles and waves hello to me. She has more than $200 million to her name and has met, or so it seems, everyone on the planet. And yet, in that moment, in her cut-off jeans, white T-shirt, and cowboy boots, she appears to be just another person. Of course, it's an illusion, because she is anything but. Even when stripped of all the heavy makeup, the enormous shoes, and costumes, even after a 12-hour day of what must have been hard, unending work, she's encased in her own sparkling magic.
I'm expecting someone ferociously ambitious, a petulant commander-in-chief, a force of nature that must achieve and succeed with such intensity that you can feel or sense it in the person. But from behind the lights and various rigs, watching it all unfold, the Gaga before me seems almost blithely unaware of the frenzy around her. She's just sitting there, childlike and waifish. A man tunes her guitar and returns it. One of Gaga's breasts is exposed, pressed against the guitar's back. She's beautiful in a wistful way. And while there is no denying that her vocal talent has propelled her to the heights she has achieved, it's that mysterious quality, the one we all yearn to brush up against, that has provided the fuel for her rocket ride to fame's outer limits.
She launches into a song. It's from her most recent album, Joanne, which is vaguely...country-western-ish. It's very pleasing: the simple chords, the sad, plaintive singing. She's clearly experienced sincere sadness and it comes out in the way she sings. I'm usually appalled at phony "artistic" emotion, but I'm not getting that sense at all. I sit on a barstool, watching—and waiting.
Hours pass. I wander into the other rooms. I've been waited on by her assistant, her manager. They've procured champagne to tide me over and sent out for a bottle of Pinot Grigio (which is what I've requested). Apart from Gaga's flickering light, you can
feel, after such a long day, that the energy in the studio has begun to fade like a dying bonfire. By the time she's done with a last-minute decision to record a song, alone, acoustic, it's after 10 PM. The staff disappears. She bops around the studio, grabbing a hat and sunglasses for the picture of both of us I need so desperately to impress my friends with—particularly my 21-year-old (my status has gone up in big percentages by my meeting her). Gaga is dressed casually, but is practically naked, her tiny shorts revealing her plump derrière, her T-shirt cut so high that her breasts are exposed. I wish I had this kind of ease with my body. I have the feeling that, alone at home, she's probably naked all the time. Gaga's manager and I go into the makeup and dressing room. We sit on high stools in front of the mirror, the lights around them bright. I'm drinking the Pinot Grigio, she's puffing on a clove cigarette.
"For me, Joanne, in the simplest terms, it's the classic stories of our lives that help us return to who we really are, no matter how lost we get." She leans forward, eager to explain. "You can always go back to a loss, or the pain of a pending loss, or a challenging struggle in your family life, or your childhood. And when you go back to that place, it somehow brings you back to where you were in the beginning. And for me, that's what writing this album was all about. Because after The Fame Monster and subsequent albums, I felt that there was a part of me that was connecting on a human level with the public and part of me that was connecting on a whole new level, one that I had been wanting to connect with them on, a sort of fantastic magical level. And now, I want more of that connection."
At this point, we're gabbing like old friends and all my questions about what makes her tick somehow vanish. As the interview progressed, I wanted to protect her. Maybe it's similar to the way people must have felt when they met, say, Audrey Hepburn or Marilyn Monroe, women who appeared fragile and damaged but who were, at the same time, extremely strong. It's the same feeling, too, that I would have when I spent time with Andy Warhol. Back then, on nights when I would go out and hit the town with him, there was frequently an almost palpable anger and hostility in the crowds that gathered around him. Those of us who were with him made sure that Andy was whisked off into a quieter, more isolated room. But Andy did not seem to notice. He was oblivious, or perhaps even pleased with the attention.
Bobby, her manager, runs to get a cassette player—Gaga wants me to hear her song about Pinot Grigio, which is what she and her girlfriends drink all the time.
"I want to connect with people on a deeper level," she tells me. "And I wanna be able to see all those other things I'm interested in, but slowly and differently. Joanne is about living every day as if it's my last. My father's sister died when she was 19—that was Joanne, my aunt. This was the center of the pain in my family. Growing up, I never understood what the tears of my family were about."
"How did she die?" I ask.
"Lupus," Gaga replies.
"Oh. Like Flannery O'Connor," I say, in reference to the brilliant writer who died from the disease.
"It's a terrible autoimmune disease. [Joanne] died in 1974, but they had no idea why she died. They didn't know what it was. And so when she was really, really ill, she had these lesions on her hands and the doctors wanted to take her hands off. She was a painter, and she did needlepoint and crochet, and she was a writer and a poet. As Joanne neared death, my grandmother said, 'I can't let my daughter's last moments on this earth be without her hands.' The spirit of Joanne is very much alive within my family. My dad has a restaurant called Joanne, and for me, personally, it means I must live every day as if it was my last. Catholic guilt. It's those stories, those classic stories, that made me tough." Gaga's sincerity—her openness and enthusiasm—are touching, seemingly at odds with the exhibitionist/provocateur/larger-than-life entity who can perform at the Grammys with Metallica or headline a Super Bowl halftime show.
"Tell me about the horses," I ask her instead, switching the topic to something I'd learned about Gaga, a passion of hers that honestly surprised me.
"I guess, when I moved to California, the sunlight was really good for me—I was happy. The sunshine helped to keep an optimism in my music. And while out there, I developed a special connection to horses. It began when my record label gave me a horse for my birthday: an Arabian mare named Arabella. I had never taken a horse-riding lesson. I literally did not know how to ride a horse. But I just grabbed her by the mane and rode her bareback." An avid equestrian myself, I was curious to learn more.
"Was she very well-trained?" I asked her.
"She's so well-trained that when I was about to fall off her, she stepped to the side to collect me. I also got her a boyfriend, Trigger—a stallion—because I didn't want her to be alone. With him, I have to ride with a saddle. When I ride him, it always makes me feel so powerful, because he is so powerful. There's no pressure. I just get on the horse and go. It's sort of a metaphor for all the guys I've been with."
"I still don't understand how you can do this," I say. I'm a rider, a trail rider. I have my nice American Quarter horse, but even after years of lessons, I can't imagine getting on her and galloping off bareback. On the other hand, I couldn't wear 10-inch platform shoes and not fall over, either.
"My body's been through a lot over the years. Riding has forced me to be fearless pretty quickly. It's all about down here," Gaga notes as she points to her crotch, "in that woman area." She adds, "Balance, strength, persistence." It's a routine that Gaga seems to have found strength and inspiration from: "I go on trails, ride, gallop, I'm not a 'planning' type of horse rider. I wake up, write songs, go for a ride." To be sure, it's an existence that sounds divine to me, but also one I know is very much a fairytale for most of us, if not for the quotidian practicalities alone. Reflecting on her bucolic pleasures, Gaga pauses, noting, "It's all so antithetical to the me when I'm in NY, having grown up here. I went out today in Manhattan. It was pouring, but with my newfound appreciation of the city, I said to everybody, 'Hey, isn't it great!'"
"Who's everybody?" I ask. "I was talking to my team," she answers. "The girls that take care of me. I have these wonderful powerful women in my life. They wake me up every day and make sure I am powerful, feeling good and strong. And also the gay men in my life. I would be lying if I said there weren't some straight men on my team, but to me it's the women and the gay men around me who give me strength."
As the interview winds down, I'm curious where she'll go after the cameras, stylists, and handlers disappear. "Are you going out?" I ask, picturing an exclusive, underground wrap party.
"No, I'll go home," she replies. "I'll listen to music, play the piano, probably stay up until around three. Normally, I wake up and go to the studio when I'm in NYC, but I happen to have the day off tomorrow." As I'm about to leave, she presents me with a huge bouquet of beautiful hydrangeas and calla lilies. If I wasn't won over before, I am now.
Long after the interview, I miss her. I'm not trying to be gushy after hanging out with her, but I just have to admire this creature, the same as I would admire a brilliantly colored hummingbird or flower, a rose in full bloom, the petals not yet starting to droop. It's the first occasion in a long time that I've wanted to make a new friend, to watch as her crazy life unfolds in front of me, to grab the tail of a comet and hang on for the slipstream ride. I still don't know what makes her tick, but I can say—and with an acute radar for phoniness—I walked away from our interview with only praise and awe for Gaga.
As I survey her trajectory as an artist, I wonder what it means in the bigger scheme of things when we encounter the sudden emergence of stars of this magnitude—say a Madonna or a Michael Jackson. In some cases, virtuoso talent ascends and fades rapidly, a burst of creative dazzle akin to a roman candle. While for others, their work, their reputation, outlasts their lives—Elvis Presley, perhaps. The Beatles. I've known many who have come to New York City, formed a band, played every gig in town, and made an album. For a moment, "success" must have seemed so readily within reach. But where are they now? Dig through the bargain bins at any of Manhattan's dwindling number of music stores and you'll find their albums selling for a dollar or two. But it seems unlikely that Gaga's desire to consume the universe will be easily quashed, and her ambitious world tour this year is another expression of that passion.
In many ways, Gaga's stardom has moved her farther from the paradise that most of us already think she has achieved. Sure, she has her ranch to retreat to, but the arcadia of her own making, as in mythology, reminds us there are greater forces waiting at the gates. Gaga has rocketed to fame's greatest heights and landed upon its Elysian fields. In so doing, she is, like the girl that she speaks of, alone in the distant field, wearing jeans and a Hanes sweatshirt.
But Gaga is also gentle and brave, more resolute than any I've met before. I think—I know—the summits she has reached, while not removed from epic tribulations, are assuredly her very own Mt. Olympus, and she our bright-eyed Athena, a goddess to be admired—and protected.
She's an Enigma! / Ten Years of Lady Gaga
Ten years ago, V's editor-in-chief, Stephen Gan, met Lady Gaga for sushi in the East Village. A recent graduate of the Lower East Side club scene, pop's latest anti-ingénue (innocence was never really her shtick) was on familiar turf. A beautifully calloused voice with a polished cultural vocabulary, miles beyond her 22-year-old contemporaries, had landed Gaga's debut album atop international charts less than a year prior. The Fame manifested something. Gaga, in all her bizarre glitz and glam, was becoming the industry's unexpected new darling. But Gan believed in her ability to become more than another pop-star archetype. Whatever glow he saw in her that day were the early embers of an artistic fire—one that he'd fuel and document for the decade to come.
Gan wanted to pair Gaga with Jean-Paul Goude the moment he met her. She told him it would be a dream to work with such a legend, but that she already had her Jean-Paul Goude. Matthew Williams, the man now behind L.A.-inspired label ALYX, had called Gan to meet with Gaga in the first place. Acting as her creative adviser, Williams was determined to introduce the budding star to the fashion world's glitterati. Much like Goude and Grace Jones, the two were becoming a creative force to be reckoned with.
And so Goude would have to wait. Until now, that is. Said rendezvous launched a 10-year expedition, wading through a world of beautiful creative chaos—the combination of Gan and Gaga, whose love of the fashion canon was matched only by their desire to revolutionize it—culminating in this very moment. It marks Gaga's 25th cover with V Magazine.
Gaga first appeared in V60, lounging glamorously in a Riccardo Tisci–designed Givenchy dress and posed next to a similarly styled teddy bear—you know, for that touch of just plain weird. She told writer Mark Jacobs, her interviewer and an admirer of her "avant-garde statement costumes" and "cynicism-free materialism," that, "When you focus on something and commit yourself to it, your lie can become true."
And while "lie" might feel like a loaded word, Gaga had indeed been facing public doubts about her authenticity as an artist at the time. Her aggressively calculated wardrobe was often deemed a plea for attention rather than a genuine homage to the exhaustive list of idols she uses to color her everyday life. The hair bows of 2009? A tribute to the styles seen at a Jean Paul Gaultier couture show three years prior. The famous bubble dress? Inspired by designer Hussein Chalayan. The teacups that briefly became her red-carpet trademark?
Actually, that part was just Gaga. "I like to drink out of china. People made a big deal out of it," she told Jacobs.
By V61, her first cover with us, Gaga had already defied the fate of becoming a flash in pop's oily pan. And while most artists follow a career path that is relatively wrought with fluctuation, like a ship soaring above and then violently crashing into waves (the tide itself a result of the fickle public's opinion), Gaga's career had already proven to be a linear climb. But as she pointed out in her interview, it's pointless to compare her to other artists. "Look, when I was a brunette, they called me Amy Winehouse. When I was a blonde, they called me Madonna. Then they called me Christina, then Gwen."
The world was falling head-over-platform-heels for Gaga. She was singing, dancing, and dressing her way into the global consciousness as a household name. So too was Gaga falling in love with the world, particularly her fans. In V71, she told Elton John: "Art is my whole life. The [little] monsters are my medicine. They heal me, physically and emotionally, every night at the show…I feel God through their love." And yet few people really understood what she was trying to say beneath the disco ball dresses and Kermit the Frog gown, as she would suggest in later interviews with V.
"Does anyone really know what I've been through to get here?" she mused in a conversation with Marina Abramović for V85.
It seems that Gan understood, and thus invited her to be guest editor of V99, which culminated in 16 different covers, each one a love letter to the fashion world's "curators," as she dotingly called them. A year and a half before releasing her single "The Cure," Gaga wrote in her editor's letter: "I choose the word 'curator' to imply, also, the curing nature that their medium takes on. They cure themselves by making it, and then us by sharing it."
For ten years, Gaga's artistry has been an adaptive, widely applicable remedy, from critically acclaimed acting on the big screen, to her Enigma residency in Vegas, which would inspire the cosmic, futuristic couture queen seen now on our cover. Not bad for someone who, in her very first V interview professed a simple dream "of wanting to make something of [myself]."
But what is this new moment for Gaga; what will she make of herself? If Goude's photos are any indicator, whatever it is will be out of this world.
Orchestrating Gagaland
Toying with perception is one of Jean-Paul Goude's many gifts. The creative polymath has spent decades tickling the public's eyes by garnishing photographs with impossibilities so subtle that they often go unnoticed. The pose seen in one of his most famous works—ex-girlfriend and muse Grace Jones, grasping her foot behind her head while holding a microphone with the other hand—is not humanly attainable. It is, however, how Goude wants us to perceive her in that moment, and so we do.
"So, this is the way I work," Goude begins. "First, the idea and the sketches, then the shoot, then the manipulations, which give birth to the final hyper-realistic computer-controlled picture, that hopefully has the appearance of a spontaneous photograph. A rather painstaking endeavor." Indeed, Goude's convincing illusion of impromptu visual miracles has made him one of the most sought-after names in fashion. And yet Goude reminds us that he is not really a photographer.
"My timidity towards photography has to do with the fact that I've never considered myself a photographer, per se," he explains. "Photography is about capturing a rare moment, seizing an opportunity as it unfolds before your eyes. It's all about being reactive and spontaneous. I'm more of an illustrator of my own concepts, planning rare moments from scratch in advance. I enjoy manipulating my photographs. It feels like drawing, almost like filmmaking."
"We tried to turn gaga into a living doll, a living icon, like the figurines that people collect and put on their mantelpiece, but life size."–Jean-Paul Goude Many of these manipulated photographs feature now-iconic celebrities. It is a subject that, according to Goude, has changed very little during his career.
"I like to do portraits. I did a lot for Esquire at a time when Warhol claimed that in the future, everyone would be famous for at least 15 minutes. Today, ironically, this obsessive craze with celebrity appears to me as a sort of dream come true, in spite of its silliness."
It made sense then, of course, to pair Goude with one of the world's biggest celebrities for our cover. But because Lady Gaga is one of the most photographed women, Goude turned to the cosmos and fantastical depths of his mind to create something unique. "With Gaga, we tried to bring to existence a fictitious character, straight out of my personal mythology: a sort of deity and the ruler of her very own Gagaland." The intergalactic aspect comes through clearly. "[Here, she is a] living icon, like the figurines that people collect and put on their mantelpiece, but life size."
And so Goude depicted Gaga in a way that was both bizarre and beautiful; extraterrestrial but with a familiar face. Before meeting Gaga, five years ago, he had his reservations.
"With Gaga, we tried to bring to existence a fictitious character, straight out of my personal mythology: a sort of deity and the ruler of her very own Gagaland."–Jean-Paul Goude "The truth is that I had been prejudiced towards Lady Gaga," he admits. "She reminded me too much of my own short-lived experience in the disco business years earlier; just the sound of her name put me in a bad mood." Gaga changed his mind with one live show. "Her performance took me aback completely. She was great—her voice, her piano playing! I felt like a fool as I swallowed my mistake," he admits.
And so Goude's perception changed. Now, through his lens, we're able to see a woman we've seen countless times before in a new light. And suddenly, a star is born all over again.
Article by Mathias Rosenzweig, photography by Jean-Paul Goude.
Community content is available under
CC-BY-SA
unless otherwise noted.