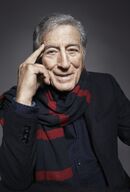 Tony Bennett (born Anthony Dominick Benedetto; August 3, 1926) is an American singer of popular music, standards, show tunes, and jazz.
Relationship with Lady Gaga
Edit
On May 9, 2011 at the Robin Hood Gala, Tony Bennett who was also performing that night, saw Gaga's rendition of "Orange Colored Sky". He was impressed by her performance and soon after, asked her to do a song for his second album of duets. On July 31, 2011, Bennett and Lady Gaga recorded a cover of "The Lady is a Tramp", which was released on Bennett's album, Duets II (September 20, 2011). The two later appeared on the ABC special, "A Very Gaga Thanksgiving" and at the Inauguration ball performing the same song.
Bennett sketched a portrait of Gaga based off of her Vanity Fair photoshoot.
"Tony recently sketched this portrait of @LadyGaga at her @VanityFair photo shoot with @annieleibovitz. http://pic.twitter.com/vr4JT5Po" 2:37 PM, Dec 2nd via web
"Thrilled that my portrait of @ladygaga is up for auction to support our charity efforts! Bid at http://ebay.com/celebrity http://twitpic.com/7sdznq" 8:12 AM, Dec 12th via Twitpic
Lady Gaga and Bennett's collaborative album, Cheek to Cheek, was released on September 23, 2014. In 2014, Gaga asked Bennett to draw a trumpet so she could get it tattooed. Bennett sketched Miles Davis' trumpet and signed it with his last name, Benedetto.
"I asked Tony to draw me a trumpet, and he sketched me Miles Davis' trumpet. Then I had it tattooed with his last name, Benedetto, underneath. Just so I would always remember this time together."
Bennett sketched three portraits of Gaga based their Cheek to Cheek photoshoot by Steven Klein.
Work with Lady Gaga
Edit
Community content is available under
CC-BY-SA
unless otherwise noted.