The Orpheum Theatre
is one of Los Angeles' most venerable landmarks. From a young Judy Garland's 1933 vaudeville performance, to a recent filming of the hit TV show
American Idol
, this renowned venue has hosted an array of theatrical productions, religious events, concerts, weddings, film festivals, seminars, private parties, variety shows, awards shows, movie shoots, music video shoots, television show, and commercial shoots.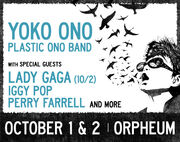 Lady Gaga performed with the Plastic Ono Band, which features Yoko Ono and Sean Lennon.
""http://twitpic.com/2u99yr - WE ARE PLASTIC ONO. I got to sit in as a guest musician tonight, what a legendary band+mother, Yoko."
1:19 AM via Twitter for BlackBerry®
Performance
Edit
Set list:
Backstage
Edit
Community content is available under
CC-BY-SA
unless otherwise noted.