The Tattoo Film (also known as Bone Tattoo Film) is the finale film for The Monster Ball Tour. It comes after the performance of Bad Romance, after Lady Gaga and the dancers walk offstage. The film is about Gaga getting a "Dad Tattoo" while wearing an exoskeleton styled mask, similar to the mask worn by the dancers during the performance at the American Music Awards. It also resembles the one Gaga wore during the LoveGame performances of the first US leg of the tour. Towards the end, Gaga takes off the mask, looks at the tattoo, and smiles. Throughout the entire video, Blondel zu Marien, D. 626 is heard in the background. Some parts of the film are also used in the new version of the Puke Film.
Images
Video
During the first leg of the tour a shorter version with different aspect ratio was used. It starts when she is about to get the tattoo and the image fades out at the 1:50 minute mark. The rest of the song is playing while the lights in the theater are on again as people exit the venue.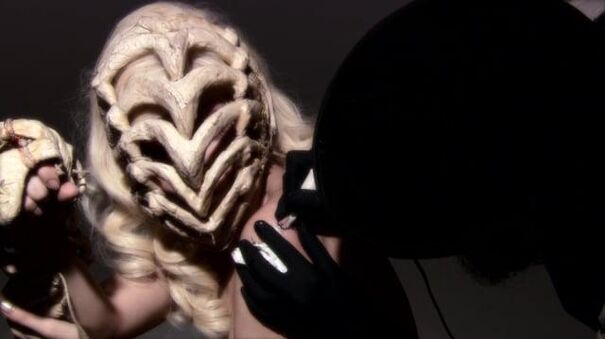 Community content is available under
CC-BY-SA
unless otherwise noted.