Skype is a proprietary voice-over-Internet Protocol (VoIP) service and software application.
Skype Ball
Skype became the official sponsor of the Born This Way Ball and officially joined in Estonia on August 25, 2012. The sponsor included dates in Europe, South and North America only.
A special website, "Skype Ball" was created with informations on the various contests, fans interviews and contests rules.
Footage from a rehearsal in London in September of 2012 was recorded by Asiel Hardison and uploaded through Skype Ball in October of 2012.
The following photographs were uploaded on the website labelled as "Never-before-seens photos of Lady Gaga live on stage":
Photographer in Brisbane: Kentaro Kambe
Photographer in Los Angeles: Frank Micelotta
Blue carpet and video booths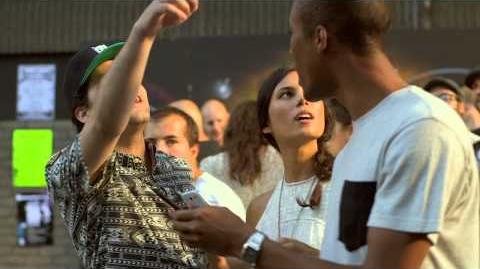 At each show, Skype have a "blue carpet" around the venue where the winner of the Skype Reporter Sweeptakes have the chance to interview other fans before the show. The Skype Reporter will also receive some Monster Pit access to give to fans.
The Skype Reporter Sweeptakes was offered for every show sponsored by Skype in order to be eligible to "win 2 tickets to see Gaga and have a chance to host the blue carpet before the show."
Inside the venue, Skype have video booths where fans can take videos.
Both video booths footage and interviews are uploaded after the show on Skype Ball. The last uploaded videos were from September 8, 2012.
Skype Group Video Call with Lady Gaga
On January 17, Lady Gaga did a group chat on Skype. She went into the Skype headquarters. Skype offered the possibility to one lucky fan from each country to have a face-to-face with Gaga. The contest was open only to legal residents of the United Kingdom, Canada (excluding Quebec) Unitied States, and the Republic of Ireland who are at least eighteen (18) years old at the time of entry.
Winners
Ateeb W. (UK)
Christoffer S. (Ireland)
Javier M. (US)
Kostiantyn S. (Canada)
Get Well Gaga project
In April 2013, Haus of Gaga Collaborate with Skype on their get well project for Mother Monster! Help Gaga stay strong by sending fans "Get Well" photo or artwork with Skype.
Links
Community content is available under
CC-BY-SA
unless otherwise noted.