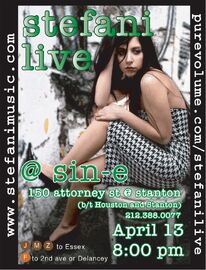 Sin-é (English pronunciation: /ʃɪˈneɪ/, Irish for "that's it") was the name of a music venue in New York City which helped launch the careers of several noted musicians in the early 1990s. Located at 150 Attorney Street, at the corner of Stanton Street, on the Lower East Side of Manhattan, the last Sin-é was built to be the "epicenter" of New York musical venues. Sin-é was named "Best New Venue" in NY Magazine's "Best of New York" issue (March 2003). On its first birthday, Sin-é was awarded "Best Place to See a Local Band's First Gig" by NY Magazine (March 2004) for helping nurture acts like The Seconds and The Secret Machines. In 2004, the adjoining Sin-e Bar opened to expand the total area, with partners Shane Doyle, Emily Danziger, and two others from Ireland. The venue and bar closed on April 2, 2007, a victim of the gentrification of the area.
Stefani performed at 8:00PM for $8.
Set list:
Community content is available under
CC-BY-SA
unless otherwise noted.