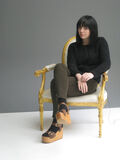 Ruth Hogben is a filmmaker based in London. She assisted Nick Knight between 2005 - February 2009, both as his first photographic assistant and editor of his fashion film projects. Hogben has continued to collaborate with Knight on numerous films for SHOWstudio.
Ruth Hogben worked on The Monster Ball interludes and filmed In Camera: Lady Gaga. She did a photoshoot with Gaga for Elle magazine and was set to direct a music video for "Venus" (Which was never filmed). In 2016, along with Andrea Gelardin, Hogben founded the creative direction studio called Lobster Eye. Studio serves as the primary creative director for Joanne album campaign cycle.
Background
In an interview for Paper magazine released on May 23, 2021, Ruth Hogben told that she met Lady Gaga on the occasion of the launch of the Alexander McQueen Spring/Summer 2010 "Plato's Atlantis" Collection, saying:
"Nick [Knight] and I had just made the film for Alexander McQueen's show, "Plato's Atlantis." That's how we met Gaga, because he debuted "Bad Romance" at the end of that show."
In the same interview, Ruth Hogben revealed the features of using Final Cut, professional video editing application, both for Alexander McQueen's show and in working with Lady Gaga:
"I was just coming off working on that project [Alexander McQueen's show, "Plato's Atlantis"], so it was like a rush of freedom and creativity and being extremely inspired. [...] At the time, it wasn't really normal to have all these moving images in fashion. I was using Final Cut in a way it wasn't really being used before and twisting all these special effects. And, because I started working with Gaga, that meant I could use this program and use it in a way that it wasn't meant to be used for. Back then, everything had to be pushed and thought about differently. Technology was on the cusp of changing, but it needed to change quicker for what Gaga needed."
Ruth Hogben was asked, how has her own style changed in 10 years working with Lady Gaga, and she answered, speaking of all the projects Ruth worked on with Gaga that:
"It has always been led by her. That's one thing that I've really made sure to do: to be led by whatever Gaga's been discovering about herself on a personal level. And those are all such different periods, and she's had so many different musical moments like ARTPOP and Joanne. All the songs are so lyrically different and although I've always had an aesthetic, it's never really been about me — it's been about facilitating her vision. She's very collaborative, but she's just so focused and knows what she wants, so there's not many decisions to make in between. Obviously when I'm directing and cutting things I seep into the film, but I try to keep her as the focus as much as possible. I want to be a conduit for her."
Ruth Hogben said that her "all-time favorite track" created by Lady Gaga is "Scheiße", adding "If I could only edit to "Scheiße" for the rest of my life, I'd be very happy." Also "Scheiße" is the song that Ruth Hogben wish she could have made a music video for, imagining that there would be "lots of leather. It has to be a huge amount of leather. It goes without saying, but we would obviously need to have an army of Gagas. [...] I'd have to think about it more, but I think there would have to be some element of travel in it. But not like Mad Max where they do a U-ie and come back. She goes somewhere with purpose, in leather."
In that interview for Paper magazine, when Ruth Hogben was asked "What was your favorite part of working on that [Born This Way] era?" she answered:
"The freedom [Gaga] made sure I had. She was so encouraging of the creativity — there were no limits. That's why the Born This Way films look like that; they look like they have a sense of freedom to them. I remember we were in a really big meeting with all the department heads — we were all sitting in a big circle — and I was sitting quite close to her, and she went all around the circle giving notes to each head. I was nervous and getting sweatier and sweatier as she got closer to addressing me. She was wearing these large sunglasses and took them off when she got to me and said, "Ruthie, just keep doing what you're doing.""
Work with Lady Gaga
Main articles: The Monster Ball, The Monster Ball interludes
Hogben did the concept and direction with Nick Knight for the interludes and backdrops of the Monster Ball. She was also in charge of the editing.
Date
July 8, 2013
Location
Long Island, New York City, NY
Camera
EOS 5D Mark III by Canon
Camera operator
Edward Edwards
Camera assistants
Elliot Ross and Nick McCann
Dit
Dai Yoshida
Editor
Gharli Davis
Producer
Larry McCrudden at the Custom Family
Production courdinator
Nicole Hektner
Production
Ian Kaplan, Haylie Lavin, Jack Clarizio
Photo Director
Barbara Grogan at ELLE
Photo Producer
Katrina Symonds at ELLE
Creative Director
Joe Zee at ELLE
Fashion director
Brandon Maxwell at Haus of Gaga
Makeup artist
Tara Savelo at Haus of Gaga / Bridge
Makeup assistants
Siobhan Benson
Hair stylist
Frederic Aspiras at Haus of Gaga for Moroccan Oil
Hair assistants
Grace Ahn
Manicure
Gina Viviano for Chanel LE VERNIS
Set Design
Marla Weinhoff
Set Design assistants
Abigail Fendler, Colin Adrian,
Ryan MacFarland
Marc Bankowsky Resin Screen courtesy of Maison Gerard
Sculpture by
Brandon d'Leo
ELLE present LADY GAGA the Glass House
Director
Ruth Hogben
Editing
Gharli Davis
Music
"Applause" (Instrumental)
Petga video, 2013-14
Main article: ARTPOP: App
Hogben was the director of the introduction video for the ARTPOP app featuring Petga. The footage was later re-used as short clips being shown on the two screens next to the stage before the artRAVE: The ARTPOP Ball in 2014. The footage was created by The Mill under the direction of Hogben.
Lady Gaga wears an opaque thigh high nylon stocking with satin ruffle trim and bow by Leg Avenue, two bracelets and a crystal encrusted neck brace by Alexis Bittar, boots by Swear Alternative, and a bunny ears headpiece by WXYZ with a mask covered with Swarovski crystals.
Screencaps and Stills
Lady Gaga wears a custom outfit by Vex Clothing.
Location: One Of A Kind Store in London.
December, 2015
In 2016, along with Andrea Gelardin, Hogben founded the creative direction studio called Lobster Eye. Studio serves as the primary creative director for Joanne album campaign cycle.
Other
Reference
Links