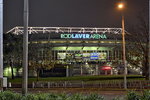 Rod Laver Arena is a tennis stadium that is part of the Melbourne Park complex located in Melbourne, Victoria, Australia, and has been the main venue for the Australian Open in tennis since 1988, replacing the aging Kooyong Stadium. Originally called Flinders Park or Centre Court, the arena's name officially changed in January 2000 to honour Rod Laver, a three-time winner of the Australian Open and one of world's greatest tennis players. The arena was finished in 1988 with a seating capacity of 14,820. The venue currently attracts over 1.5 million visitors per year.
Part of the Doll Domination Tour, Lady Gaga was the opening act. There were no changes between this concert and the last at Acer Arena. Gaga did return to her standard short bob blonde wig though.
Set list
Part of the reloaded The Monster Ball Tour.
Set list'
Part of The Born This Way Ball Tour.
Additional notes:
(June 27th)
A new outfit was debuted during "Judas". A crown of white roses was also added during "Americano" starting on this date.
Lady Gaga debuted a new song titled "Princess Die", which temporarily replaced "Hair" in the set list.
(July 1st)
Set list

Act I
Space (intro)
Operation: Kill the Bitch (interlude)
Birth (interlude)
Interlude
Mother G.O.A.T. Manifesto I (interlude)
Interlude
"Judas"
Act II
Act III
Mother G.O.A.T. Manifesto II (interlude)
"Bad Kids"
"Princess Die" (acoustic)
"Yoü and I" (acoustic)
Act IV
Interlude
"Americano" / "Poker Face" (medley)
Act V
"Scheiße"
"The Edge of Glory" (acoustic + album)
Part of artRAVE: The ARTPOP Ball.
Community content is available under
CC-BY-SA
unless otherwise noted.