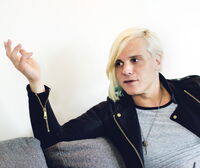 Robert Fusari is a music producer and songwriter from New Jersey. Early in his career, Fusari became producing partners with Vincent Herbert who together wrote his first #1 single with "No, No, No" which also launched Destiny Child's career.
Work with Lady Gaga
Main page: Team Love Child
In 2007, Fusari asked Wendy Starland to find a female singer to front a new band he wanted to create. Starland found Stefani Germanotta at the 57th New Writers Showcase on March 23, 2006. From there, the two of them started writing music which led to Gaga being signed to Island Def Jam and later meeting Vincent Herbert who would sign her under his label, Streamline Records.
On March 17th, 2010, Fusari filed a $35 million lawsuit against Lady Gaga. The lawsuit was filed in a Manhattan state court. This law suit resulted in a counter-sue from Gaga's side. As of September 10, 2010, the lawsuits were both dropped.
Productions with Lady Gaga
He worked with Lady Gaga on the following song(s):

Songs from The Fame (2008):
Songs currently unreleased:
Songs written for other artists: