The Raven Film was used in the first edition of The Monster Ball Tour.
Background and description
The Raven Film depicts scenes of a raven's wing flapping, and different parts of its body, such as the head. The music for this interlude is also used during the Apocalyptic Film. A very first version was conceived in black and white color. During the first shows the film was shown with a red color tone and the "Girls" song sample by Style of Eye. Time after Gaga's vocals were added in the beginning saying the words "That's money honey" and "Don't call me Gaga" in slow motion during the chorus of the film's song.
The film is also used as a backdrop during "So Happy I Could Die". During the reloaded version of The Monster Ball Tour. It was also used too is a backdrop for "Alejandro", with the bird body parts being super imposed together in a different way from the original film and the color was sea-green instead of red like the theater version.
Credits
Music — "Girls" (Original Mix) by Style of Eye, vocal sample of "Money Honey" and "Monster".
Images
Video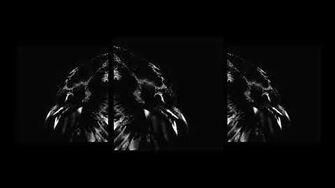 Community content is available under
CC-BY-SA
unless otherwise noted.