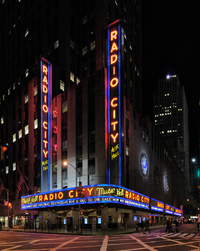 Radio City Music Hall is an entertainment venue located at 1260 Avenue of the Americas at Rockefeller Center in Midtown Manhattan, New York City. Nicknamed the Showplace of the Nation, it was for a time the leading tourist destination in the city. The venue is notable as the headquarters for the precision dance company, the Rockettes.
Radio City Music Hall was built on a plot of land that was originally intended for a Metropolitan Opera House. The opera house plans were canceled in 1929, leading to the construction of Rockefeller Center. The new complex included two theaters, the "International Music Hall" and the Center Theatre, as part of the "Radio City" portion of Rockefeller Center.
These concerts were part of The Monster Ball Tour.
Additional Notes:
Set list
Jumping Film (Intro)
Puke Film (Desert)
Raven Film (Forest)
Tank Girl Film (Egypt)
Antler Film (City)
Eh, Eh (Nothing Else I Can Say) (Encore)
Bad Romance (Encore)
Tattoo Film (Opera - Outro)
Part of Cheek To Cheek Tour.
Set list:
"Stranger in Paradise" (Tony solo)
"Sing, You Sinners" (Tony solo)
"Watch What Happens" (Tony solo)
"The Good Life" (Tony solo)
"Bang Bang (My Baby Shot Me Down)" (Gaga solo)
"Bewitched, Bothered and Bewildered" (Gaga solo)
"Firefly"
"Smile" (Tony solo)
"When You're Smiling" (Tony Bsolo)
"Steppin' Out With My Baby" (Tony solo)
"For Once In My Life" (Tony solo)
"The Lady's In Love With You" (Tony solo)
"(In My) Solitude"
"Lush Life" (Gaga solo)
"I've Got the World on a String" (Tony solo)
"In the Wee Small Hours of the Morning" (Tony solo)
"La Vie en Rose" (Gaga solo)
"How Do You Keep The Music Playing?" (Tony solo)
"Ev'ry Time We Say Goodbye" (Gaga solo)
"Who Cares?" (Tony solo)
"Fly Me to the Moon" (Tony solo)
"I Left My Heart In San Francisco" (Tony solo)
NOTES
Links
Community content is available under
CC-BY-SA
unless otherwise noted.