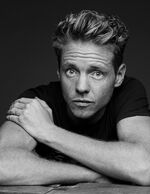 Pieter Henket (born in 1979) is a Dutch photographer living and working in New York City.
Photographs marked as "Raw" indicate that the photo(s) are untouched and unedited, "Final" indicate that this is the version used in the media and "Alternative" are alternate version of the "Final".
On some of the unedited pictures, Gaga is seen with a lightning bolt on her left eyes in a shape of a "Z", but the edited version featured a more sharp lightning bolt. Most of the background effects were added in post-production such as a blue glow around Gaga's body on a black background. The picture with Gaga wearing a H&M's shirt is actually Peter's own as Gaga wanted to look as she just woke up with her boyfriend clothes.
This particular photoshoot was orignally intended to be a promotional shoot. However, when Gaga saw the pictures she decided to keep these pictures for the artwork of her album, The Fame. Pieter Henket recalls what happened that night:
"After we did the photoshoot, she invited me to come to one of her gigs. So I went to the club she was playing that night and I went backstage. she was sitting alone in her dressing room, getting ready, and I showed her the pictures. as we're going through all the pictures she pointed at one and said, 'Go get my manager'".
When her manager came in the dressing room, Gaga said: "That's it! That's my album cover. I want this for my album cover. This is who Lady Gaga is." The show in question was her U.S. television debut, the NewNowNext Awards on Logo. The original pressing of "The Fame" released in Canada and Australia in August of 2008 were comprised of pictures from that shoot except one by Warwick Saint. On the later pressing, one picture from this shoot was replaced by one shot by Candice Lawler.
Community content is available under
CC-BY-SA
unless otherwise noted.