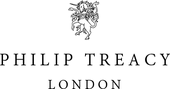 Philip Treacy is a Britain millinery designer from County Galway, Ireland. Treacy was reluctant to work with Gaga as she reminded him of the late Isabella Blow. It was Alexander McQueen who called him and said: "You have got to work with Lady Gaga! She has got the same boobs as Isabella!" From there, he agreed to work with Gaga. In 2010, a rumor of Gaga wanting to intern at Treacy's studio surfaced in the tabloids. During an interview with the Guardian, Treacy confirmed her intention to intern but that she had to learn how to sew and will be treated as any regular intern. In December, Treacy revealed that Gaga did her internship but that she wasn't very good at sewing. He told her that she should stuck to writing songs as she is better doing that.
Millinery
Masks and helmets
Hats
Headpieces
Fall/Winter 2006 Collection
Spring/Summer 2013 Collection
This runway show presented Michael Jackson's outfits.
Fall/Winter 2014 Collection
Fall/Winter 2017 Collection
Collaborations
Thierry Mugler
Fall/Winter 1995 Collection
Alexander McQueen
Spring/Summer 2002 Collection
Fall/Winter 2006 Collection
Fall/Winter 2009 Collection
Francesco Scognamiglio
Spring/Summer 2010 Collection
Armani Privé
Spring/Summer 2011 Collection
Paco Rabanne
Spring/Summer 2012 Collection
Custom
Butterflies mask for Alexander McQueen
White cage headpiece
Other
Links
Community content is available under
CC-BY-SA
unless otherwise noted.