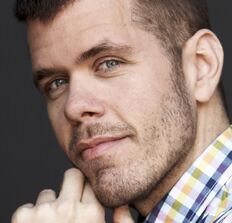 Mario Armando Lavandeira Jr. (born in Miami, Florida - USA on March 23, 1978), known professionally as Perez Hilton (a play on "Paris Hilton"), is an American blogger, writer, columnist and television personality. His blog, Perezhilton.com (formerly PageSixSixSix.com), is known for posts covering gossip items about celebrities. He is also known for posting tabloid photographs over which he has added his owncaptions or "doodles". His blog has garnered negative attention for its attitude, its former outing of alleged closeted celebrities and its role in the increasing coverage of celebrities in all forms of media.
Perez Hilton Fourth of July Spectacular!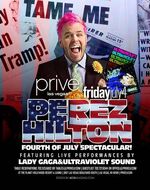 On Jul 4, 2008, Lady Gaga and Ultraviolet Sound were the only two performers that night. Perez Hilton's Bash was an event hosted at the Privé Las Vegas.
Set list
Lady Gaga wears a jumpsuit by Haus of Gaga, a jacket by Maison Margiela, and sunglasses by Versace.
In The Mo - Perez Hilton's One Night
Perez Hilton held at "One Night in NYC", and featured Lady Gaga as a musical guest.
Lady Gaga wears an outfit by Haus of Gaga, and shoes by Christian Louboutin.
In late July, 2011, the long friendship Hilton had with Gaga came to an end. The initial cause of their feud was when Perez did an interview called Perez Hilton Superfan on July 7, with Gaga at Moebius House in Sydney, Australia. During the interview, Perez began to criticize Born This Way in a negative way and began to ask Gaga really terrible questions. Days after that, she stopped talking to Perez. In February 2013, Lady Gaga cancelled her tour due to a hip injury caused by repetitive movements in her show. According to claims made by Gaga on Twitter, Perez responded by sending her a picture featuring a wheelchair with the word Karma written across and Madonna pointing a gun. In August, with the release of Lady Gaga's new single, "Applause", Perez began posting illegal download links on Twitter and commenting frequently on the single's lack of success.
On August 18, a Twitter user reported to Gaga that Perez Hilton had been spotted in the singer's New York City apartment building. Gaga asked the follower to enter the building and collect photographic evidence, before claiming that Hilton was stalking her. Later that day, Perez published a statement on his website in which he denied stalking Lady Gaga. He claimed that he was looking for a place to live in New York after the birth of his son, and that he was shown the apartment without knowing Lady Gaga lived in the building. One day after Gaga asked him to leave her alone, Perez made an offer on two apartments in Gaga's building to harass her.
The feud between the pair led many of Lady Gaga's fans to send antagonistic tweets to Hilton, threatening both the blogger and his infant son. Hilton retaliated by sending tweets to Lady Gaga's parents, saying "If anything happens to me or my son, YOU will have blood on your hands. Hopefully you get your daughter the help she needs!". Gaga has since asked her fans not to send death threats to Hilton, although the blogger was not referenced by name in her statement.
In 2015, Perez began to write positive things about Lady Gaga on his blog which led to people asking him questions about Gaga. Shortly after that, he made a video explaining that he emailed or texted Gaga that he may have done hurtful things to her and he would wish her well thus ending the feud between the two.
Other
Link
Community content is available under
CC-BY-SA
unless otherwise noted.