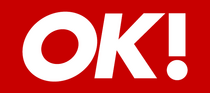 OK! is a British weekly magazine specializing in celebrity news. OK! is the world's biggest celebrity lifestyle magazine, with more than 30 million readers worldwide, and now appears in 20 countries (Australia, Austria, Azerbaijan, Bulgaria, China, Germany, Greece, India, Ireland, Malaysia, Mexico, Middle East, the Philippines, Russia, Spain, Switzerland, Thailand, Turkey, the UK, the US, Venezuela and Vietnam).
February-March 26, 2009
Edit
Schrille Mode mit Lady GaGa
Modehits von Übermorgen

Lady GaGa hat das Ohr am Puls der Zeit und ist auch in Sachen Mode eine absolute Trendsetterin. Für OK! zeigt sie exklusiv die schönsten Outfits im Future-Look.

Schrill, schriller, Lady GaGa. Wahrscheinlich schlug "The Fame", das Album der Amerikanerin, deswegen auch ein wie eine Bombe. Ihre Single "Poker Face" landete bei uns auf Anhieb auf Platz eins der Charts. Doch nicht nur musikalisch heizt uns die 23-Jährige mit heißen Dancetracks ein, ihr extravaganter Kleidungsstil macht sie mittlerweile auch zu einer Stilikone. Bei unserem exklusiven Modeshooting plauderte sie sprichwörtlich ein wenig aus dem Nähkästchen...

Sie designen Ihre Bühnenoutfits selbst. Wie sieht das aus: Sitzen Sie an der Nähmaschine?
Nein, mit der stehe ich auf Kriegsfuß. Ich entwerfe die Sachen und lasse mich dabei von allen möglichen Dingen inspirieren. Manchmal ist es eine Grafik in einer Zeitschrift, manchmal auch eine abgefahrene Tischdecke vom Trödelmarkt. Alles ist möglich!

Demnach trifft man Sie eher auf Flohmärkten als in teuren Designerläden.
Nein, nein. Ich finde Designerläden toll und kaufe dort oft Klamotten. Aber es stimmt: Ich bin auch ein echter Flohmarkt-Fan. Man weiß nie, was man findet. Außerdem liebe ich es, mir die Geschichten hinter den Sachen vorzustellen. Aber vor allem gibt es dort wirklich abgefahrenen Kram!

Sie lieben offensichtlich das etwas Andere. Müsste der Mann, den Sie mal heiraten, genauso verrückt sein wie Sie?
Ein Ehemann? Oh mein Gott! Über so etwas habe ich mir noch gar keine Gedanken gemacht. Muss man das heute überhaupt noch?

Ok, dann sagen wir: Freund.
Keine Ahnung. Obwohl: Ich denke schon. Zumindest sähe es ziemlich komisch aus, wenn da so ein glattgebügelter Typ in Grau neben mir herliefe. Das wäre irgendwie das Gegenteil von gaga, oder?

Gab es denn einen bestimmten Zeitpunkt in Ihrem Leben, an dem Sie gaga wurden?
Schräg war ich eigentlich schon immer, doch an meinem 19. Geburtstag hatte ich plötzlich eine Art von Offenbarung. Es hatte etwas Göttliches. So als hätte mich ein Blitz getroffen. Plötzlich war mir klar, dass ich den Rest meines Leben der Kunst und meiner Musik widmen werde.

Von da an haben Sie dann Ihr Leben umgekrempelt und nach dem neuen Gebot gelebt?
Wenn Sie so wollen ja. Bevor ich entdeckt wurde, habe ich mich zunächst mit kleineren Auftritten in New Yorker Clubs über Wasser gehalten. Viel Geld habe ich dabei nicht verdient, aber das war okay. Musik ist für mich etwas Religiöses, man muss mit ihr nicht den großen Reibach machen. Wenn es klappt, super! Wenn nicht, auch in Ordnung!

Heute spielen Sie auf den größten Bühnen der Welt und fahren von einem Termin zum anderen. Hat Sie dieses Leben verändert?
Es ist das, was ich immer wollte – Sängerin sein. Natürlich sieht man das Leben aus einem anderen Blickwinkel, wenn man berühmt ist. Das heißt aber nicht, dass mich diese Erfahrung zu einem anderen Menschen macht.

Kam in Ihnen nie der Wunsch auf, mal etwas Bodenständiges zu machen?
Sie meinen ein Leben ohne Musik? Was für ein abstruser Gedanke. Dann wäre ich tot

Anna-Julia Meyer
February, 2013
Edit
April, 2013
Edit
March, 2011
Edit
United Arab EmiratesEdit
Jun 30, 2011
Edit
Jan 6, 2012
Edit
Community content is available under
CC-BY-SA
unless otherwise noted.