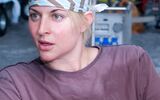 Nicole Ehrlich (PGA) is an American producer and director from New York. She started her career in the entertainment business at age 17, winning "Best Young Media Artist" at the Utah Short Film and Video Festival and "Best Experimental Film" at the New Orleans Film Festival. Prior to that, Ehrlich worked as the vice president of Creative Services & Broadcast/New Media at Universal Music Group for Interscope/Geffen/A&M (IGA) for over 10 years. Ehrlich is currently the CEO of Rocket In My Pocket, an entertainment company that she founded in January of 2013.
Relationship with Gaga
In October 3, 2008, Ehrlich became involved with Gaga for the music video of "Poker Face" as her creative producer. She described her job as "helping her bring her dreams for the video to life". The two would then continue their collaboration on more than 13 music videos and select other projects ever since.
Trivia
Work with Lady Gaga
1 Unreleased collaboration of The Midway State featuring Lady Gaga.
Other
Reference
Link