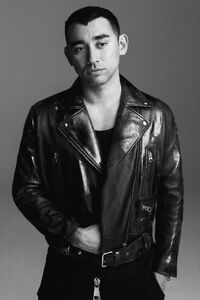 Nicola Formichetti (born 31 May 1977) is an Italian/Japanese fashion director and fashion editor. He is most widely known as the artistic director for the Italian fashion label DIESEL from 2013 to 2017, and for being a member of the Haus of Gaga as fashion director (2009 - 2013, 2018 - Present). He worked two years (September 2010 - April 2013) with the French fashion house MUGLER as artistic director. Formichetti is also known as fashion director of Vogue Hommes Japan, is a contributing editor of several other fashion magazines, and is fashion director for the clothing company Uniqlo.
"
I hate the term "stylist." [...] I've always seen myself as an art director—someone whose job it is to create moods, oversee an overall image. [...] I love everything about fashion, so when I get labeled as a stylist—one tiny part of that world—it really pisses me off.
"

—Nicola Formichetti[1]
Meeting Lady Gaga
Nicola met Gaga in 2009 for the The Beauty Issue of V shot by Sebastian Faena [2]. He gave her the Nasir Mazhar orb hat and she wore it straight away on The Ellen DeGeneres Show the next day. At the beginning of their collaboration, Nicola had to use his name in order to secure clothes for Gaga as many designers were reluctant at first. At the time, "music stylists were just doing music people, and fashion stylists would never touch music people. I loved her and wanted to work with her, even though those around me were not really supportive." (Daily Front Row, 2018)
"
I first met her at a photo shoot for V magazine. It was an instant love. I had always stayed away from celebrity and musicians before, but she was so different. Instantly we understood each other completely. We started working naturally — all the videos, shows, tours, etc. She has such an amazing team around her, too, especially her creative director, Matthew Williams.
"

—Nicola Formichetti to T magazine (January 2010)
The two became best friends and did their first official collaboration at the 2009 MuchMusic Video Awards on June 21, 2009. After that, Nicola became a part of the Haus and was one of three most well-known members at that time, along with Laurieann Gibson and Matthew Williams.
"
We did a live performance in Canada, with a load of dancers, so that was the first thing we did with the Haus. Basically, the concept was avant-garde punk with lots of studs, and we made this dress out of hair and a bra that shot fire from the nipples.
"

—Nicola Formichetti[2]
Work with Lady Gaga
For his works with Gaga, Nicola usually had a few assistants with him. Two of the most frequent assistants were Anna Trevelyan and Brandon Maxwell. All the work below is credited as "Fashion Director" unless noted.
Formichetti revealed in 2013 to WWD that he was no longer an active member of the Haus of Gaga and that his former assistant Brandon Maxwell replaced him.
"She's going to be my BFF forever, but my ex-assistant Brandon is heading that project. I'm too busy with [other commitments]. I've done two albums with her, it's been like five years, and you know, I'm always going to be involved somehow, but I cannot do it every day. She changes 12 times a day; it's insane."
In July of 2018, Nicola and Gaga reunited professionally on a promo photoshoot for Enigma with frequent collaborators Inez and Vinoodh. Nicola joined Haus Laboratories in 2019 as Creative Consultant. That same year, he moved from New York to Los Angeles to be closer to Gaga who lives only a few blocks away. He curated HAUS OF GAGA/LAS VEGAS, a residency museum which included iconic fashion pieces from Gaga personal vault spanning more than 10 years of cultural, musical and fashion reinvention. For the Chromatica era, that started in January of 2020, Nicola returned as Fashion Director on all the projects with his partner, Marta del Rio.
"
We always kept in touch. She's always supportive of everything I've been doing since I stopped working with her. I stopped working with Diesel, and wanted to concentrate on my own things, like Nicopanda and other projects. I was being free, reading, experiencing life. I had been so crazy busy in the past five years that I didn't have time for myself. I was in this state of meditating and traveling. [Gaga and I] started chatting. I feel like we're in sync. When we work together, magic happens. I can't explain how. We take it to a whole other level, and I missed that. She's an incredible creative, and she also works with other creatives really well. She had to do her own thing, and I had to do my own thing. It's been a few years since we'd worked together, so she said, "Let's get together and see what happens." We started meeting up a lot, talking, doing photo shoots, and coming up with ideas.
"

—Nicola to the Daily Front Row (September 21, 2018)
2009
2010
2011
Nicola's Pop Up Shop
In September 2011, Nicola Opens Pop-Up Store in NYC. The style of this visionary is revealed at a new concept store, done in collaboration with Gage/Clemenceau Architects. Injected with the pop art of Warhol and the grunge of old New York and the craze of Gaga, the shop comes to life with reflective floors, red leather studded vests and lingerie and 3-D animations. Haus of Gaga looks including the singer's costume from her blood-drenched "Paparazzi" performance at the VMA's, towering Mugler shoes and clothing, and Vintage Versace pieces are all on exhibit in this cave of ingenuity. Formichetti's muse and model, Rico, also known as the Zombie Boy, who stars in Lady Gaga's "Born This Way" video, will be stopping in throughout the week.
2012
Lane Crawford (Hong Kong) x Nicola Formichetti "Nicopanda Invasion" Pop-Up Shop (May 1-31, 2012)
2018-2021
For Haus Laboratories projects, Nicola worked as Creative Consultant.
NICOPANDA
Accessories
Rings
On her right hand.
Fall 2016 Collection
Resort 2017 Collection
Fall/Winter 2017 Collection
Collaborations
Leather biker jacket and shorts based on Diesel's Resort 2017 Collection.
Deep-plunging fringed crystal mesh neck halter top and an oversize cropped black biker jacket with matching shorts, embellished with crystal studded leather fringes and large crystal stars based from Spring/Summer 2017 Collection.
Other
Reference
Links