The New York Street Revival and Trash Dance is the second concept-show Lady Gaga and Lady Starlight created together. It's a burlesque pop, rock 'n roll, glam and metal party. Gaga started dying her hair blonde at this time. The show lasted only for a month, Gaga started her own revue after it. This was the last time the pair collaborated together until Lady Starlight rejoined Gaga on The Fame Ball Tour in 2009.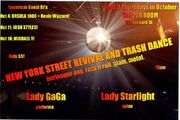 Lady GaGa, me, and DJ Lady Starlight have fantasized since the beginning of our collaboration...about a party. The first ever pop burlesque party, featuring performances by lady gaga every week, thrash and glam sets by miss starlight, guest dj's from our favorite parties, girls in fringe bikinis, fog machines, and underground pop acts. — Lady GaGa
Concert
[
]
| Dates | Location | | City |
| --- | --- | --- | --- |
Reference
[
]
Most of the shows informations came from show posters, venues website or MySpace events. If you want to use part of it, credit the Gagapedia Team.