Music for the Funeral of Queen Mary was composed in 1695 by Henry Pucell for the procession of Queen Mary's cortège through London en route to Westminster Abbey. Electronic transcription of the song was used as the main theme for "A Clockwork Orange" by Stanley Kubrick. This new version was reworked by DJ VH1 with Lady Gaga for her early live performance in 2008. This introduction was replaced by the Haus introduction.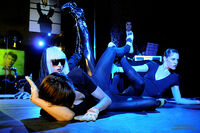 This introduction was created by Lady Gaga and DJ VH1, used during the spring and summer of 2008 when Gaga was touring clubs to promote The Fame. It begins as a bit-crushed remix of "A Clockwork Orange" with rumbling bass. During this part, Gaga would introduce herself with a pre-recorded message. The usual message was "Hello, my name is Lady Gaga... Hello... My name is G-G-G-Gaga, isn't that right? Isn't that right?". After, the introduction would terminate with a hip-hop trap remix of "A Clockwork Orange". Gaga would usually do one of two things during the introduction; either stand/crouch wearing the iPod LCD Glasses, or dance on the floor with her two dancers, usually Dina and Pepper. This introduction is almost always followed by "LoveGame", with the notable exception of the NewNowNext Performance.
Community content is available under
CC-BY-SA
unless otherwise noted.