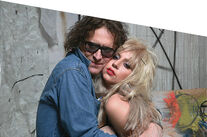 Mick Rock (born 1948 in London, England) is a British photographer known for his shots of rock and roll legends such as Queen, David Bowie, Syd Barrett, Lou Reed, Iggy Pop and The Stooges, The Sex Pistols, The Ramones, Joan Jett, Talking Heads, Roxy Music, Crossfade, Thin Lizzy, Motley Crue and Blondie. Often referred to as "The Man Who Shot the Seventies", most of the memorable images of David Bowie as Ziggy Stardust were shot by Rock, in his capacity as Bowie's official photographer. Currently living in New York City with his wife, Pati, and their daughter, Nathalie, Rock has been showcasing his work in a series of exhibitions.
Location — Spotlight Studios for the Perfoming Arts, New York City
Stylist — Julie Ragolia
Hairstylist — Raymond McLaren (Kramer + Kramer)
Make up — Alexandra Kwiatkowski (Atelier)
Producer — Lip Wap
Set design — Bryan Robert Hamecs (Felt Etc.)
Photo assistant — Cody Smyth
Fashion assistants — Luciana Cruz, Michele Martuscelo, Fredo Montes
Lady Gaga — Coat by Dolce & Gabbana, bra and knickers by AF Vandevorst, sandals by Manolo Blahnik, a ring by Chanel, and earrings by Bing Bang.
Space Cowboy — Pants by Prada and a cuff by Exhibitionist.
Behind the scenes
Edit
Media use
Edit
Location — The Spotted Pig Restaurant, New York City
Camera — FE5010/X915
Camera manufacturer — Olympus
Restaurant picture was included in his book, "Mick Rock Exposed: The Faces of Rock n' Roll".
The bright picture was displayed on the collection "The Legend Series" at CATM Chelsea from March 22nd to April 22nd, 2012.
Community content is available under
CC-BY-SA
unless otherwise noted.