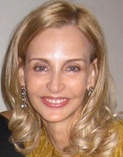 The Marla Weinhoff Studio is a full-service production and set design studio based in New York, New York. Marla Weinhoff's dedication, discipline and passion for beauty and storytelling have allowed her to create sets for the world's most talented designers, photographers and artists for the past twenty years. Beginning with Richard Avedon and currently collaborating with Lady Gaga, Marla is devoted to creating beautiful and innovative sets around the world.
Work with Lady Gaga
Edit
Community content is available under
CC-BY-SA
unless otherwise noted.