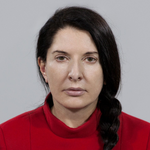 Marina Abramović (born November 30, 1946 in Belgrade, Serbia) is a New York-based Serbian performance artist who began her career in the early 1970s. Active for over three decades, she has recently begun to describe herself as the "grandmother of performance art". Abramović's work explores the relationship between performer and audience, the limits of the body and the possibilities of the mind. Lady Gaga described in great detail her admiration for Abramović in a 2010 interview with SHOWstudio.
Work with Lady Gaga
TechHaus
On July 11, 2013, after Inez and Vinoodh Gagosian Gallery, Gaga announced "ARTPOP" dates (single, pre-order album/app and album/app released). On her LittleMonsters post, Gaga named to Marina; who will work with her in TechHaus.
Reading marathon
On August 6, 2013, Lady Gaga attended a reading marathon in New York, on a science fiction novel published in 1961, entitled "Solaris". She also recorded a video, 15 minutes before starting the marathon, where read the first chapter. The purpose of this event was to sensitize participants and get a donation for the Marina Abramović Institute, which lasted 8 hours.
August 1-3, 2013: The Abramović Method
WARNING: The video may be inappropriate for some users. Viewer discretion is advised.
Marina Abramović instructed Lady Gaga in the Abramović Method–a series of exercises designed to heighten participants' awareness of their physical and mental experience in the present moment. The Abramovic Method is Abramovic's adaptation of her Cleaning the House workshops for the general public. The method helps participants to develop skills for observing long durational performances through a series of exercises and environments designed to increase awareness of their physical and mental experience in the moment. Abramovic will install this method at MAI (Marina Abramović Institute) via a series of chambers, each dedicated to one of these exercises.
Other
Trivia
Links
Community content is available under
CC-BY-SA
unless otherwise noted.