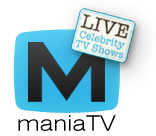 Mania TV (stylized maniaTV) launched in September 2004 as the world's first internet television network, delivering original premium pop-culture entertainment programming to the Internet savvy youth audience. In 2006, the company launched the first Live Celebrity Internet TV Show with Tom Green Live from his living room, which was then followed by Dave Navarro's live Spread TV Show in 2007. In just a matter of a few years, the company has successfully worked with every major advertising agency in the nation to deliver high quality branded entertainment to over 90 leading brands. In the Spring of 2009, founder Drew Massey bought the brand maniaTV and maniaTV.com. Now maniaTV is leveraging the founder's expertise and is focused exclusively on Live Celebrity Internet TV Shows that deliver extraordinary entertainment for viewers and extraordinary premium branded entertainment opportunities for the nation's leading marketers.
Interview
Edit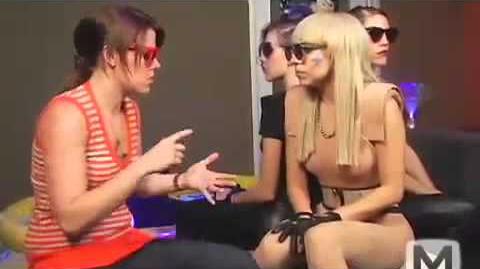 SM-MTV: We are in Hollywood, at the Sunset Boulevard, at the 944 Magazine Party at which Lady Gaga is playing.
Lady Gaga: Hi, Nice to meet you.
SM-MTV: Do I call you Lady? Do I call you Gaga?
LG: My friends call me Gaga.
SM-MTV: So I can call you Gaga?
LG: Sure.
SM-MTV: Thank you. So what brings you to L. A.?
LG: Well, I just recently came up here, to finish recording my album. I wrote Just Dance, which is the first single.
SM-MTV: You've played in a ton of clubs in New York, Arlene's Grocery, Mercury Lounge…
LG: Everywhere. You name it, I've played there. Lady Starlight and I, who is a DJ I originally was collaborating with, we sort of made a name for ourselves in the Dive Bar scene. We would perform with two turntables and a microphone plugged into an amplifier. Quite Low-Fi, if you will.
SM-MTV: How do you go from there to playing at Lollapalooza?
LG: Performance art is really the heart and soul of what I do. And being a shock-artist and a pop-shock-artist is sort of my thing. So I just started getting recognized for the show that we put together. It was a bit of a 70's as variety show, with choreographed dance movements. We spun turntables, we set hairspray on fire. But now, excitingly enough, I love my record label more than I can say because I really have the resources that I need to create the vision that I have always had for my show. And I'm really just trying to reinvent pop music in a fresh way. I'm not trying to recreate the wheel. Everything sort of has been done before. However, I think that I could make it feel new and fresh and still be commercial. I'm very interested in being an interesting, commercial artist.
Community content is available under
CC-BY-SA
unless otherwise noted.