The Los Angeles Times is a daily newspaper published in Los Angeles, California since 1881. It was the second-largest metropolitan newspaper in circulation in the United States in 2008 and the fourth most widely distributed newspaper in the country.
Lady Gaga was interviewed for this edition.
Almost immediately after she deposited herself in a corner booth at L'Espalier, the restaurant at Boston's Mandarin Oriental Hotel on the December afternoon after the first American date of her Monster Ball tour, Lady Gaga made a confounding statement.

"I don't see myself as ever being like anybody else", said the 23-year-old known to her mom (eating lunch nearby) as Stefani Germanotta". I don't see myself as an heir."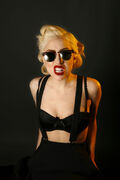 Yet there she was, in a blond Hollywood bob and black tuxedo-bra combo much like the costumes Madonna wore 20 years ago, discussing a show that conjures the spirits of Michael Jackson, David Bowie and the punk-rock drag queens of downtown New York and promoting music -- the newly expanded edition of her 2008 debut album, "The Fame", greatly enriched by eight new songs and repackaged as "The Fame Monster" -- that pays blatant homage to ABBA, Queen, Eurodisco and Marilyn Manson.

Gaga doesn't care. She wants you to trace her references". John Lennon talked about how with every song he wrote, he was thinking of another artist", she said, making a less expected connection to a pop deity.

She's yet to attain the status of the Beatles, but in the ever-accelerating pop cycle, Gaga is a top sensation, and many people's vote for the most exciting artist of 2009. "The Fame" has sold nearly 2 million copies in the U.S. and reportedly double that internationally; her album and the single "Poker Face" both made the top three on the year-end tally of top iTunes downloads.

"The Fame Monster" continues this sales sweep, but it also considerably advances Gaga's artistic project with some of her strongest songs yet, including the earworm-infested "Bad Romance" and the sumptuously emotional ballad "Speechless".

The world is responding. She's made friends with Madonna, been interviewed by Barbara Walters and met the Queen of England at the annual Royal Variety Performance. The Monster Ball has sold out multiple nights in major cities including Los Angeles, where it comes to the Nokia Theater at L.A. Live for shows Dec. 21-23.

This is all happening not because Gaga is cute or takes off her clothes but because (to use one of her favorite words) she is a monster -- a monster talent, that is, with a serious brain.

During nearly two hours of conversation, she not only reiterates her assertion of total originality but also finesses it until it's both a philosophical stance about how constructing a persona from pop-cultural sources can be an expression of a person's truth -- à la those drag queens Gaga sincerely admires -- and a bit of a feminist act.

"I'm getting the sense that you're a little bit of a feminist, like I am, which is good", she said. "I find that men get away with saying a lot in this business, and that women get away with saying very little... In my opinion, women need and want someone to look up to that they feel have the full sense of who they are, and says, 'I'm great.'"

Gaga's casual use of the term "feminist" was interesting; like many female pop stars, she's rejected the term in the past. But she's evolving. She is growing more compassionate", she says, and focusing more on ideas of community, especially the one formed by her core fan base, a mix of gay men, bohemian kids and young women attracted by Gaga's style and her singable melodies.

Grand declarations

Her new songs address serious themes like women's shame about their bodies and the need for open communication in relationships; her often physically distorting costumes show that the pursuit of the feminine ideal is far from natural. Her commitment to confront the changing notion of what's "natural" puts Gaga on the same road traveled by artists she admires, such as the photographer Cindy Sherman. Her frank talk about how female artists aren't expected to write their own songs or about how young women are afraid to ask for what they need from their sexual partners inches her toward a new articulation of feminism.

"If you ask somebody where you see sexism in your life, all they think of is the old stuff," said Nona Willis Aronowitz, co-author of the new book "Girldrive: Criss-Crossing America, Redefining Feminism," by phone. "Equal pay, that's not really on their radar. Domestic violence and rape aren't necessarily in the forefront. But you ask about double standards or restrictive gender roles, they don't think of that as sexism; they think of that as the way it is. That's kind of like what Lady Gaga is talking about."

Gaga does view her music as a liberating force. "When I say to you, there is nobody like me, and there never was, that is a statement I want every woman to feel and make about themselves," she continued. "I don't make it as a defense. I make it as, OK, guys, it's been two years, and I've made a lot of music, and I know my greatness is individual. And I want every woman to be able to say that."

This is one of Gaga's gifts, maybe the one that most distinguishes her from the other talented women directing the pop zeitgeist right now, such as her recent collaborator Beyoncé, her fellow couture hound Rihanna or her rival in redefining blondness, Taylor Swift. Gaga makes outrageous declarations -- which, when you break them down, actually make sense. And then she backs them up, not only through her now famously provocative interviews but in her videos, her collaborations with designers and artists, her live performances and those infernally catchy hits.

Upending genres

As good a game as she talks, Gaga's real language is visual and, of course, musical. Discussing videos like the one for "Bad Romance," which she says is about "how the entertainment industry can, in a metaphorical way, simulate human trafficking -- products being sold, the woman perceived as a commodity," or the Ace Bandage-adorned costume she wore at the American Music Awards, which she said was "meant to be feminine, healing, bondage gothic," she sounds more like an art critic than an evolving club kid.

"It's a feeling," she says of the way she builds these little horror musicals. "There is a narrative, but the narrative isn't nearly as important as the images are, sewn together."

As for the songs that serve as the foundation for all of her other forms of expression, Gaga says she never wanted them to be anything but massive hits. "I don't want to make niche-oriented music," said the songwriter, who entered the music business writing hits for other artists, including Britney Spears. "I don't like it! I don't mean that to be in a rude way. But my taste is not there."

At a time when pop genres are colliding and collapsing, Gaga is contributing to their downfall. She notes that "Boys Boys Boys," the first song that she wrote with her main producer RedOne, is a club track that borrows its "gang chorus" from the hard rock of AC/DC. "I told him, I want to make pop music that my heavy metal friends will listen to," she explained.

"Aside from her few piano ballads, which are like early 1970s Elton John, her dance music is pretty much on-the-money current Euro dance," said her recent collaborator Adam Lambert in a separate interview. "But she's a rock star in her mentality. [Her attitude is] like, 'I hope this makes you look. I'm going to be subversive and out there because it makes me feel good and liberated to be that way.' "

It's arguable that Gaga could only realize her artistic vision in the center of the pop mainstream. Her critical supporters laud her for reconnecting pop to other cultural forms and for revitalizing the stream of art-into-pop first opened up by bands like Roxy Music and the Patti Smith Group.

But she's not alone in that effort. Kanye West played a gala at the Museum of Contemporary Art before she did; Beyoncé referenced Bob Fosse. Go a notch lower in visibility, as Gaga's critics point out, and examples abound of rock and club kids with art connections, from Karen O to Alison Goldfrapp.

Gaga has done something more specific: She's tapped into one of the primary obsessions of our age -- the changing nature of the self in relation to technology, the ever-expanding media sphere, and that sense of always being in character and publicly visible that Gaga calls "the fame" -- and made it her own obsession, the subject of her songs and the basis of her persona.

"Celebrity life and media culture are probably the most overbearing pop-cultural conditions that we as young people have to deal with, because it forces us to judge ourselves," she said. "I guess what I am trying to do is take the monster and turn the monster into a fairy tale."

That stars embody the social concerns of their age is a pop-culture truism. But only rarely does an artist dig beneath the dermis of our shared anxieties, exposing the liquid matter that runs through the shared fantasies and delusions of a particular moment.

"It's kind of like a crusade in its own way," she said. "Me embodying the position that I'm analyzing is the very thing that makes it so powerful."

Owning her image

Since the release of "The Fame," Lady Gaga has been uncovering new layers within her basic themes. At first she just seemed like the most pop savvy of the clever young people using club beats as a basis for music that could be both cerebral and cathartic -- the way indie rockers used heavy guitars a generation before. It was easy to dismiss her as no more than a well-educated New York girl with a gift for pop hooks and self-marketing.

But then her public appearances began to not simply provoke but disturb. She made a video for her song "Paparazzi" that had her in gilded crutches and a leg brace. She turned that vision of crippled glamour even bloodier on the MTV Video Music Awards, an appearance she described as "my first truly original moment."

She's worn costumes that recast childhood icons like Kermit the Frog and Hello Kitty into ingénue's pelts. (The Kermit dress was designed by Jean-Charles de Castelbajac, who'd previously adorned Madonna in teddy bears; the kitty couture was the brainchild of Gaga's main creative partner, Matthew "Matty Dada" Williams.) She's painted her eyes to look like an anime heroine. In the climactic dance sequence from Monster Ball, she adorns herself in the black feathers of a vulture and the yards-long blond braids of a victimized princess.

"I had a different vision for it in the beginning. Dada thought it should be braided, and I said, 'I never wear my hair braided.' He said, 'I know, but it's so Rapunzel, and it's something people deeply understand. And when you're wearing sunglasses on a scaffolding piece with a giant alien dancing behind you, I promise you it's not going to look like Rapunzel.' "

The hairpiece does look like something concocted by crafty kids in a basement; it reflects a key element of Gaga's aesthetic, the do-it-yourself spirit that contrasts with her taste for million-dollar couture. She works with major designers such as Alexander McQueen, who created many of the Monster Ball costumes, but also with newcomers like Gary Card, who made the skeletal headgear she and her dancers wore on the AMAs.

"The great thing about Gaga is she always want to push for the most extreme option," Card said. "She's brave enough to let herself be a canvas for a designer to go and really express themselves. Nothing is off limits! With Rihanna and Beyoncé there is an end result of desirability and unattainable sexiness, whereas Gaga is a really interesting bridge between the desirable and the grotesque. She's not at all worried about looking ridiculous or hideous; actually, I think she thrives off it."

If Gaga is to maintain her distinctiveness, she'll need to preserve her orientation toward art as kids putting on a show. It's what connects her performance of fame to Andy Warhol's vision instead of Simon Cowell's. She's been derided for constantly citing the Pop pioneer, but the connection is real.

Having gotten her start in the bohemian enclaves of downtown New York City, Gaga is deeply indebted to Warhol's "Superstar"-oriented Factory scene and its aftermath, which produced drag performers like Candy Darling, artists such as Robert Mapplethorpe and streetwise rock stars including Lou Reed and Patti Smith, who declared glamour accessible to anyone with a Polaroid camera, a glue gun or a cheap guitar.

"The idea is, you are your image, you are who you see yourself to be," she said. "It's iconography. Warhol and I both went to church when we were younger. That's how I see things. I don't want anyone to feel trapped by their own lives. That to me is more dangerous than anything."

On fantasy island

In Gaga's movie, she is both Andy and the Superstar. Warhol supported and exploited a coterie of outsiders who likely would never have emerged from their corners without his help. Gaga takes control but also shows herself losing it; she blurs the lines between self-realization and self-objectification, courting the dangers of full exposure for a generation of kids born with camcorders in their hands.

Though she talks nonstop about liberation, Gaga's work abounds with images of violation and entrapment. In the 1980s, Madonna employed bondage imagery, and it felt sexual. Gaga does it, and it looks like it hurts.

She says she wants her fans to feel safe in expressing their imperfections. "I want women -- and men -- to feel empowered by a deeper and more psychotic part of themselves. The part they're always trying desperately to hide. I want that to become something that they cherish."

But what is this freakishness, which she hopes to nurture? In songs like "Poker Face" and the new "Speechless," Gaga focuses on women as unreliable narrators, misunderstood or even unable to speak. When she presents herself as a cartoon character or a space alien, she explores old questions about gender, artifice and "reality" using the new language of social media, body modification and transgender sexuality.

These deep issues are her tools, as important to her art as the glitter and latex in which she shrouds herself. "If you're on an island, stranded, and all you have is sticks and leaves and pineapples, you're gonna make a boat out of sticks and leaves and pineapples," she said. "I view glamour and celebrity life and these plastic assumptions as the pineapples. And I spend my career harvesting pineapples, and making pies and outfits and lipsticks that will free my fans from their stranded islands."
Editorial by Ann Powers, photography by Carolyn Cole.
Q&A Lady Gaga and Diane Warren open up about their song, 'Til It Happens to You'
Much as "Glory," the Oscar-winning original song from "Selma," is a stirring anthem for civil rights both past and present, "Til It Happens to You," from the harrowing campus sexual-assault documentary "The Hunting Ground," is also an expression of victimhood redirected into empowerment.
The often gut-wrenching song, which comes from Lady Gaga and seven-time Oscar-nominated songwriter Diane Warren, has received critical praise and has logged more than 21 million views on YouTube.
A phone interview with The Envelope between Gaga and Warren quickly became a rapid-fire chat between the collaborators, leaving their interviewer to marvel at the women's openness and strength.
Noting that she hadn't yet seen the film when she started work on the song, Warren spoke openly of her anger at such assaults and more obliquely about a personal connection. From the film's music supervisor, Bonnie Greenberg, she first heard some of the testimonials of rape survivors in the documentary.
Gaga: It was already kind of a finished piece when I came in to work on it with Diane. We made some changes so it would speak to more people than just rape survivors. The song kind of became a conversation between two women who'd been sexually abused. Finding our common connection through this song and her sharing that with me — Diane doesn't co-write with anybody, ever — it meant a lot to me; it was really a gift. She was saying, 'I want to share this with you; this is ours.' And that's what we're saying to people: We want to share our pain with other people.
(Gaga has been open about being sexually assaulted at age 19 since revealing it during an appearance on "The Howard Stern Show" last year.)
Gaga: Diane will tell you, it was really hard for me when [the song] came out. I was really stressed out about it. Every time I listen to it, I cry. Every time I get a text about it, I always feel sick. It's like this thing you don't want to face. But because she wanted to face it with me, it reminded me of what the song is for.
Warren: You could teach a master class on your performance. In the movie, in the song and in the video, to me, there's three parts. You start out as a victim, in the verse you're more vulnerable, then they get more [ticked] off — in the movie, they're becoming survivors — then in the last verse, you're victorious, like the movie and the video. That's the beauty of the film. I met the vice president the other day and he had tears in his eyes. The song touched him. It's empowering. That's why there's 21 million views of this thing right now.
Gaga: In the end of the song, it's like, "Yeah, I was abused. So what? You don't want to meet me in an alleyway." Then it belongs to you. But I was just saying to someone, you don't know how much it's destroyed you until 10 years later. I used to be this, then I realize I'm not like that anymore because I was destroyed. But now I'm back.
Warren: No one's [messing] with you.
Gaga: You're still standing, you're still alive. [But] when you've looked terror in the eye and you go numb like that, it's like something really dies in you. And that's something Diane really helped me with. I'm the artist on the other side, going, "I don't know if I can reveal this, Diane," and she's saying, "You can." But I had to forgive myself. I had to sit down at the piano and say, "You didn't provoke that person. It's not your fault." For women to be as sexualized as we are in the media and then to be judged for wanting to be sexual beings, that, to me, is a cage. We can't survive unless we're beautiful, but if we're beautiful, we're asking for it.
Warren: I'm inundated with letters and notes. This girl who grew up on my street, I thought lived the perfect life, she goes, "I was abused, I was raped when I was 12." All these people are writing to me, saying, "Your song has freed me, I can talk about this. I'm not alone."
Gaga: I don't have to have a serious conversation all the time. I'd just like to be able to have a glass of wine with someone and say it out loud and know someone else at the table might say, "Yeah, me too. Cheers. How'd you get over it?" I'm living my dream and that happened to me 10 years ago. So you can [still] live your dream.
Editorial by Michael Ordoña, photography by Todd Williamson.
Countdown Lady Gaga and Diane Warren find healing power in 'Til It Happens to You'
Lady Gaga and Diane Warren huddled over a plate of French fries in a vacant hotel banquet room, relishing every bite. They were pumped up — and hungry. Their song "Til It Happens to You" from the 2015 campus rape documentary "The Hunting Ground" is up for a Grammy on Monday and an Oscar at the end of the month.
Everyone was buzzing over Gaga's flawless rendition of "The Star-Spangled Banner" at the Super Bowl the night before. So naturally, Gaga and Warren were both too excited to eat anything during the Oscar nominees luncheon hours earlier. Warren arrived first, wearing all black, pacing and chatting rapid-fire asides; Gaga about an hour late, a coterie of hair and makeup people in tow. But it was impossible to resent the superstar as she glided forward in a deep blue gown, her hand outstretched, her wide-set eyes unwavering on her interviewer.
FULL COVERAGE: Grammy Awards 2016
Gaga's presence seemed to both calm and stimulate Warren. Then the comfort food arrived and the two women, warmed by their camaraderie, spoke for 30 minutes, barely taking a breath. At times, they talked over each other, speaking urgently about the complexities of trauma and how facing their own led to an anthem for rape survivors.
Can you talk about the inspiration for the song?
Warren: Hearing the stories [from the film] was so compelling. And I'd been sexually assaulted myself. It was something I felt I needed to be a part of. I called this one [gestures to Gaga], and it could have gone either way. You still weren't sure.
Gaga: When she first came to me and said, "There's this documentary about campus rapes, and I have this idea for a song and I'd like you to do it with me." She played me some ideas, and I was just like, "Diane, I really don't want to do it." It's really hard to face an issue you haven't really fully faced on your own yet. And also, I've never sung another person's song. Ever. On all my albums, I've always co-written. Especially something that's so personal. And she's very particular.
Warren: Guilty.
Gaga: And I was like, "I need to take this bar out of the chorus. I need to change this note to this note. I need to change this melody to this. I need to add this part at the end. I'd like the chords to be more complicated in this just one spot." It was just about me wanting to make this song more complicated in certain places.
Warren: It's more you.
Gaga: Well, I'm complicated. But she's really amazingly proficient in pop song writing, which does have [its own] methodology. What I think what makes us a good team, even in other songs we've written together, is we're so different.
Warren: You make me a little more weird. I'll go, "Wait, no one's going to understand that." And you'll be like, "No, it could be a lot cooler doing this." It's that push-pull thing.
Gaga, initially, you said no to Diane. What changed your mind?
Gaga: It was because Diane was willing to share the song with me. She was willing to change things and make it into something I related to. It was a way for me to feel strong in the situation. I can't feel strong about this issue in my mind, singing a song that [isn't] my idea of triumph. I wanted to relate to it. And I wanted to relate to it in a way that's informed by my fans. They have all told me stories over the years about this stuff.
This issue in my life wasn't as abundantly clear to me yet. I hadn't resolved that's where the pain was coming from. I wasn't able to admit to myself that [the sexual assault] happened. I didn't deal with it. Then this issue came in my life at a time when I'm getting married and I'm turning 30 and you know, I gotta deal with this one thing that happened when I was 19 that I didn't deal with through my 20s. I just didn't grow up out it. And I gotta do that now.
I hope it helps anyone who's had that happen to them to know that they can let go of [the pain] before it really makes them crazy.
Warren: I think that's what the song is saying. You're a warrior. You're not a victim. I think we're changing something with this song. The girls in the movie are making a change too. They're going to Washington. They're making real changes.
Gaga: I hope it helps anyone who's had that happen to them to know that they can let go of [the pain] before it really makes them crazy. For me, it had to take over. That's my experience. For me to be like, "I'm going to focus on really not thinking about this anymore."
Warren: So you blocked everything out?
Gaga: I've had a weird body response to it. I feel actual physical pain from things that were traumatizing in my life. Not only just this issue. If you don't want to deal with it in your mind, it will go somewhere. I'm hoping [audiences] will watch that movie and say, "I can let go of this." Because they're watching someone else let go of it and be strong. Forgive themselves. Stop asking questions, "Why did this happen to me?" The phrase that's changed my life is: I can handle it. I got this. For a while, I couldn't think that.
Warren: That's the power of this song. It's not only helping and healing other people. It's healing us. It freed something within me. Before, I couldn't even talk about it.
Gaga: Now you can handle it. The song is our way of handling it.
Editiorial by Gina Piccalo, photography by Todd Williamson.
In 'A Star is Born,' Lady Gaga lets go and shows a more real version of herself.
She walked downstairs and there he was, staring at her. He stepped toward her, examined her face: concealer, mascara, rouge.
"Take it off," Bradley Cooper told Lady Gaga.
She noticed something in his hand. It was a makeup wipe. With it, he erased the colors from her forehead down to her chin.
This is the woman Cooper wanted in his film, "A Star Is Born." Not the pop star masked with face paint and headdresses and hairpieces. Just Stefani Germanotta. "Completely open," he said. "No artifice."
Until that moment in 2016, during a screen test in her home, Gaga didn't realize how much she wanted the part — one played by Janet Gaynor, Judy Garland and Barbra Streisand before her. And to get it, she was going to have to "completely let go and trust" Cooper. She couldn't be that girl from the Lower East Side who spent hours doing her makeup before her gigs. She had to let the camera zoom in on her face wearing chapstick and eight-hour cream and nothing else.
"It put me right in the place I needed to be, because when my character talks about how ugly she feels — that was real," Gaga recalls. "I'm so insecure. I like to preach, but I don't always practice what I preach."
Just days before flying to Italy for the world premiere of "A Star Is Born" at the Venice Film Festival, Gaga was sitting in the living room of her Malibu home — a $23-million, six-acre estate with a two-lane bowling alley, dressage ring and safe room. The movie, Cooper's directorial debut, is the fourth version of the story to be made for the big screen. In this latest take, which will be released by Warner Bros. on Oct. 5, Cooper stars as Jackson Maine, a rock 'n' roll star whose success is at risk as he struggles with drug and alcohol addiction. But his life finds renewed purpose when he meets Ally (Gaga), an aspiring singer who becomes both his creative muse and his girlfriend. Jackson decides to take Ally on tour with him, but as her career takes off, his demons threaten to sabotage their happiness.
Although she'd already won a Golden Globe for her performance on "American Horror Story" and performed on some of the world's biggest stages — including at the Oscars and the Grammys — Warner Bros. still wanted Gaga to audition to play Ally.
"That was the studio — that wasn't Bradley or the producers, but a former executive at Warner Bros. who wasn't convinced Gaga should get the role," explains Bill Gerber, one of the film's producers who has been attached to the project since 2007, when Clint Eastwood was set to direct it. "So we convinced them. Bradley believed in her, and Warner's was generous enough to budget a proper screen test. It wasn't unanimous until we did the test, and when they saw it, it took them seconds to say yes."
Gaga says she understood why the studio wanted to test her, noting that some people "don't really know what I look like." Anyway, naysayers fuel her: "I'm totally that girl that's like, 'Bring it. I'll show you.'"
At 17, after studying at the Lee Strasberg Theatre & Film Institute, Gaga was admitted to New York University's prestigious Collaborative Arts Project 21, a musical theater conservatory and off-Broadway theater company. But she didn't thrive there. She wasn't getting auditions, and the ones she went on went poorly. She was almost cast on a domestic tour of "Rent," but producers ultimately decided she was too young. So after just a year at NYU, she dropped out.
"I was frustrated with the system," she says, "so I decided to go off on my own and pay my own rent, work three jobs, make my own music, and record in my apartment."
It's somewhat difficult to envision that version of Gaga as she perches on the edge of her couch, back erect, still wearing the black Alaïa dress and stilettos she put on for a photo shoot earlier that afternoon. The coffee table in front of her is covered with pink crystals and magazines, including one with her on the cover.
An assistant walks into the living room to offer bottled water. Also floating around Gaga's house: her manager Bobby Campbell; a member of her publicity team; and her mother, Cynthia Germanotta, who is visiting from New York. Gaga's French bulldogs are outside on the patio, which overlooks the Pacific, and whine occasionally at the glass sliding doors.
All of this is being watched from afar by cameras over in the barn, which houses both Gaga's horses and her security team, which holds cellphones for guests while they are inside the performer's residence.
To play Ally, Gaga tried to distance herself from all this. She remembered the little girl who grew up obsessed with Garland — the one who would watch the Oscars wrapped in a gown made of blankets, accepting a fake Oscar on a crate in front of her television. And she thought a lot about how she came up in the music industry when — just like her character — she was told she had the right sound but not the right look.
"I never cried, but I would just hold on to my records for dear life and say, 'You'll pry them from my cold, dead fingers,'" Gaga recalls of her early conversations with music executives. "What made things easier for me is that I wrote my music, so I didn't have to beg for songs or for anyone to help me. I did it myself."
For Ally's musical performances — some of which were filmed onstage at Coachella the week between Gaga's two headlining gigs at the 2017 musical festival — she decided to tone things down. She wouldn't grit her teeth or shout at the audience or throw her hands in the air. And she tried to hone in on the character's depression, focusing on how close Ally was to giving up her dreams before meeting Jackson.
"What's different from Ally than me is that when I wanted to become a singer, I hit the concrete running," she says. "I was dragging my piano from dive bar to dive bar to play music. I was calling people, faking being my own manager to get gigs. I really believed in myself that I could do this and that I wasn't going to stop until I made it. ...The truth is, when we meet Ally, she's given up on herself. And that's very different from me. I just wasn't overwhelmed by the odds. The truth is, if we were not sitting here today and I hadn't sold as many records as I have, I'd still be in a bar somewhere playing the piano and singing. It's just who I want to be."
Gaga worked with acting coach Susan Batson, who has trained Nicole Kidman and Juliette Binoche. The teacher said she found the fledgling actress "exceedingly receptive to the work," describing her as "almost beyond professional."
"It was her first [leading role], but you would have never known it, and I think that has something to do with the fact that she's done so much performing already," Batson says. "The Lady Gaga that the public knows? They won't see her."
Getting comfortable on set, Gaga admits, took some time. After months of preparation, she turned up for the first day of shooting with her lines memorized. Cooper came on set to join her in a scene, but he started off by saying a line that wasn't in the script. He was trying to get Gaga to loosen up, but she didn't understand and responded by saying the same line over and over again.
"Finally, he said, 'Are you OK?' And then I started crying," she says with a laugh. "Then I got that out of the way and then we did the scene. I had to let go of the words."
The two would go on to form a close bond during production, developing a shorthand while working on set. If Cooper wanted Gaga to evoke a feeling of warmth, he'd whisper "Tony," knowing that she has a close relationship with singer Tony Bennett and that whenever she thinks of him she gets "a certain feeling of love." If he needed her to focus, he'd say things like "ninja" or "assassin."
"Her learning curve was insane, just from the first day to the second day," Cooper remembers. "Everybody already knows that she's got a God-given talent as a singer, and she was able to utilize that plutonium to act. If this is something she wants to pursue, I will just have been lucky to have been part of her story as an actress."
Gaga also helped inform Cooper's performance as a musician. She wrote a handful of songs for the movie's soundtrack and sat with the actor in the studio, answering his questions about the logistics of what goes on backstage during a big concert. She was also candid about her personal experience with drugs, sharing how readily available substances were to her after she became famous.
"There was a buffet of options," Gaga says. "It's very lonely being a performer. There's a certain loneliness that I feel, anyway — that I'm the only one that does what I do. So it feels like no one understands. And the urge to use is because you're searching for a way to quell the pain. When I first started to perform around the country doing nightclubs, there was stuff everywhere, but I had already partied when I was younger so I didn't dabble. I was able to avoid it because I did it when I was a kid."
As "A Star Is Born" embarks on the fall awards circuit — the film is headed to the Toronto International Film Festival after Venice — Gaga says she's proud of her performance because she knows she "gave it everything." After being forced to cancel a slew of concert dates this year due to her fibromyalgia, she's readying a return to the stage on Dec. 28, when she'll launch a Las Vegas residency. (She won't reveal whether songs from "A Star is Born" will make the cut.)
She'd like to do more acting, but not just "for the sake of being an actress. I want to tell great stories that pull from real places inside of me, from real pain, from real emotion, from my real life."
Gaga does seem to have a gift for easily accessing her emotions. When the conversation returns to self-confidence — how she began to feel beautiful after that early industry scrutiny over her looks — her eyes fill with tears.
"To be honest, I think what makes me feel beautiful is when I see happiness in my fans," she says, her voice choking a bit. "When I see or hear from them that the music that I've made has changed their life in some way, that's what makes me feel beautiful. Because this is just the outside, you know? And at the end of the day, I could be in a million movies and put out a million songs and everyone could say, 'She was so beautiful,' but that's not really what I want. I want them to say, 'I saw that movie and I cried my eyes out and I learned something about myself.'"
Editiorial by Amy Kaufman, photography by Jay L. Clendenin.
Community content is available under
CC-BY-SA
unless otherwise noted.