The Little Monsters is the term used to describe any Lady Gaga fans.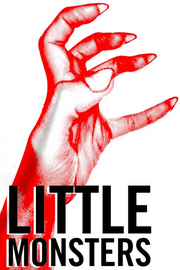 Origin
While working on her second album, Gaga developed the theme of monster, both in physical form, and to describe her inner fear (Monster of death, alcohol, drugs, etc.). During the summer of 2009, she first started to use the name during her live performances to refer her fans. The name fit them well because her fans crawl and scream during her show like monsters would do.
Mother Monster
Stylized as Mother Mons†er, it is the term used to describe Lady Gaga. The term was used by a fan who met her in Chicago. She then started using it herself. Gaga later added it to her Twitter-bio. Other variations include Mommy Monster, Mama Monster, and/or Momma Monster.
The Monster Claw
The international symbol is a claw made with the hand, like in the music video of "Bad Romance".
"

I was obsessed with Chubby Checker and old dances, like the twist. So when I heard "Bad Romance," we just twisted it out and then we added the hand. It's based on the twist.

"

—Laurieann Gibson to Us Weekly in 2010
During The Monster Ball, Gaga saw a fan in Boston greet another fan with the claw hand, and that's when she knew that was the "Little Monsters" symbol. For her performance at the 52nd Grammy Awards, Elton John and Lady Gaga played a custom-crafted Baldwin piano by Terence Koh "inspired by and in honor of my Little Monsters, and their sweet little hands". " The Monster Claw" is also known as the Monster Paw, both, Gaga and her Little Monsters will use the term "Monsterpaws Up" or "Paws Up" to show they agree with something or to show how like Gaga they are inspired by art, music and fashion and have an undying passion for art like she does.
Other Terms
Both, Gaga and her Little Monsters will use the terms Monsterlove, Monsterhugs or Monsterkisses to show their compassion for each other.
Trivia