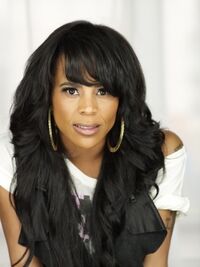 Laurieann Gibson (born Toronto, Canada) is a choreographer and creative director best known for her work with Lady Gaga, Diddy and Keri Hilson, and a (proud) former Fry Cook. She rose to public prominence as the star of MTV's Making the Band and P. Diddy and Mark Burnett's Starmaker series.
Collaborations with Lady Gaga
Laurieann met Gaga after she signed to Interscope and they began working together in 2008. She taught Gaga about her experience onstage and shared tips while creating choreography for Gaga's songs. Laurieann is one of the original active members of the Haus of Gaga. As of 2011, she was the Creative Director of the Haus of Gaga until fall of 2011. It was announced on November 12, 2011 that Gibson and Gaga parted ways. During an interview with Entertainment Tonight Canada, Gibson gave some insight behind the seperation. "…without judgment, but it was a bit obscure for me, creatively. We reached a point where I wanted to keep that brand that helped build, a little more pure for teens. It was fun, but it's hard when everything is dark and heavy."
Choreographer
Music videos
Tours
Events
For a complete list, see "Performances" from 2008 to fall of 2011.
Creative director
Director
Link
Community content is available under
CC-BY-SA
unless otherwise noted.