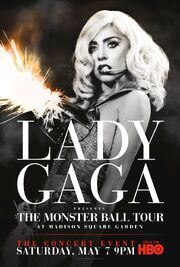 Lady Gaga Presents: The Monster Ball Tour at Madison Square Garden is a 2011 concert special documenting the February 21 and 22, 2011 shows of Lady Gaga's The Monster Ball Tour. Filmed at Madison Square Garden in Gaga's hometown of New York City, the two-hour special was produced by HBO and first broadcast on the channel on May 7, 2011, a day after Gaga's last date of The Monster Ball Tour. It was released on DVD and Blu-ray on November 21, 2011 and was directed by Laurieann Gibson, Gaga's main choreographer.
Lady Gaga Presents the Monster Ball Tour: At Madison Square Garden features concert footage as well as pre-concert and backstage content.
Promotion
The special was announced by Gaga on February 14, 2011, while Gaga was a guest on The Tonight Show with Jay Leno. Over the next 3 months, HBO released snippets and teasers of the recording. Several of the snippets shown were not used in the special due to time constraints. Most snippets were released after fans trended a certain tweet or enough fans "gagafied" their Facebook profiles. Also, the last five days preceding the show countdown, teasers were released.
Content
Further information: The Monster Ball Tour concert synopsis
The special opens with a black-and-white introduction that sees Gaga ordering a cup of coffee from a New York convenience store before being escorted by security into a black SUV, where she reminisces about the many times she had been at the arena to watch other acts perform, and realizes that she will now be performing there herself. After being escorted backstage, she removes her makeup and cries as she discusses feeling like a "loser". She then sings the opening lines of "Marry the Night" while preparing to take the stage. Full-color footage of the concert (shot on February 21 and 22, 2011) is then seen, interspersed with black-and-white backstage footage. The special ends with another black-and-white backstage scene where Gaga and her backup singers perform "Born This Way" a capella.
Set list
Act I — NYC
Act II — NYC Subway
Act III — Central Park
Act IV — Monster Ball
Details from the performance
All of the interludes were cut for the special except some short footages of the Jumping, Twister, and Antler films.
"Dance in the Dark" starts after the first chorus.
Gaga cuts a verse from "So Happy I Could Die".
Victor Rojas and Ian McKenzie replaced Posh during the What's the Monster Ball? and the Battling a paparazzo (Paparazzi) sections, respectively.
The ending credits feature Gaga with her backup singers singing "Born This Way" acapella. (TV broadcast)
Bonus features
These features were not shown on the TV broadcast except the Born This Way (A Capella) during the credits.
Born This Way (A Cappella) — 3:16
Backstage at the Monster Ball documentary — 12:50
Photo gallery
Home media
The Monster Ball Tour DVD was confirmed that it would be released on November 21st and it would include the concert that Lady Gaga held at Madison Square Garden, in New York City early 2011. The special includes exclusive, never before seen footage and will also be available on Blu-Ray.[1][2]
All the release have the same content in a 16:9 widscreen size with subtitles in "Behind the Scenes" English, French, German, Spanish, Portuguese, Italian. The DVD/BR come with a 16 pages booklet with pictures taken by photographer Josh Olins.
Cover
DVD (B0016286-09, explicit)
Audio: Dolby Stereo and Dolby 5.1
| Country | Product number | Barcode | REGIONS |
| --- | --- | --- | --- |
| | B0016286-09 | 602527869988 | 1 |
| | | 602527873565 | 0 |
| | UIBS-1034 | 4988005693587 | 2 |
DVD (Clean)
Audio (DVD) : Dolby Stereo and Dolby 5.1
Blu-ray (B0016285-59, Explicit)
In the United States, exclusive to Best Buy only.
Audio (Blu-Ray) : Dolby TrueHD 5.1 Surround and Stereo, Dolby Digital 5.1 Surround and Stereo for main program (Bonus features are Stereo-only TrueHD and Dolby Digital)
Blu-ray frame rate : 59.94
Same product as the DVD release except the artwork was reduced to fit a carboard package.
Transcription
Some part of the following transcription include the unedited version shown in the trailers released prior the airing on the special.
Introduction — In NYC
Gaga: Can I have a coffee please?
Gaga: Hm... with milk and Splenda.

Clerk: Which size?
Gaga: Eh... large.

Gaga: Can you believe we are playing at the Garden? Are you ready?

Gaga: Thanks man.

-

Fan: Look at that! Are you Lady Gaga?

Fan: Is that Lady Gaga? I can't believe it's you, oh, my God!

Gaga: Thanks, nice to meet you!
Fan: Oh, my God! Oh, my God, oh!

Gaga: Do you know how many time I have been to this arena?

Gaga: And now they are opening these gates for us.
Madison Square Garden — Backstage
Gaga: Welcome HBO to the Monster Ball!

I was in the worst mood on the way here. I just get so revved up when I do these benchmark shows because I start to think about all the people that have tried to stop and I get this like super intense fury. And then I think about how I don't really give a shit if people don't understand what I do. As long as my fans understand. I just don't want my fans to ever feel…

I just sometimes feel like a loser still. It's crazy 'cause we're at the Garden but I still sometimes feel like a loser kid in high school. And I just gotta pick my shit up, I gotta pick myself up and I have to tell myself I'm a superstar every morning so that I can get through this day and be for my fans what they need from me to be. But sometimes I still feel like people are trying to destroy me.

I cannot be destroyed and I will not be destroyed. And you will never destroy the kingdom that is my fans.

I just feel like I have to fight. I'm fighting for every kid that's like me, that felt like I felt and feels like I still feel.

It hurts when I know how much authenticity and how much genuine blood is in my spirit and how much I feel people don't know that cause they see wigs and lipstick and shut down 'cause they don't understand.

I'm sorry. I just want to be a queen for them and sometimes I don't feel like one.

I'm not a loser. It's not about being a winner for me anymore. It's about being a winner for them.

Let's say our own prayer:

Dear Lord,

Thank you so much for the blessings of all my friend and my family and thank you for all the amazing screaming fans that are here tonight tonight.

Dear Lord please give me strength to be a winner for all of them and not for myself. Dear Lord remind me to empower not myself but to empower those around me because that is my gift. My gift is not self-worship, my gift is the worship of others. So please help me to be strong and please help me to know my own strength. Please, help me to be brave lord.

Dear God, give me courage. Do not let me give into those feelings. Do not et me give into my own insecurities. Allow me to walk in your light. Allow me to live and breathe and sing and dance for all the dancers on stage for the the band for the music and for you. Amen…

Now I got some shit to do!"
Act I — NYC
"Dance in the Dark"

Posh: Girls? Are ya'll getting ready? Peppah?
Peppah: Yes Posh, I'm getting ready? Hey Bang Bang, are you getting ready?
Bang Bang: Of Course I'm getting ready. Hey Shompane, you getting ready girl?
Peppah: I'm already ready baby.
Posh: Well let's get it honey

[Resume Dance in the Dark]
Posh: Ohh, no!
Bang Bang: Posh are we breaking down?
Posh: Uopp! Just give me a second.
Bang Bang: Where's Gaga anyways? and where's my lipstick?
Posh: Shut up!
Peppah: Now we're never gonna make it to the Monster Ball!!
Gaga: Yes, you will... I'll take you there!

"Glitter and Grease"

"Just Dance"

"Beautiful, Dirty, Rich"

Gaga: Now get your pockets out and shoot that money 'cause you don't need it in New York.
Victor: So... Gaga, what's The Monster Ball really all about?
Gaga: Well Victor... The Monster Ball will set you free!!
Victor: Do you mean... I could be who ever... what ever... that I want to be free?
Gaga: Yeah Posh, tonight at The Monster Ball, were gonna be super free.
[Pause]

Gaga: And the best thing about The Monster Ball is that I created it so my fans have a place to go. A place where all the freaks are outside and I lock the fucking doors. It don't matter who you are, where you come from, or how much money you got in your pocket because tonight and every other after night you could be whoever is that you want to be. And to get to The Monster Ball all you got to do is follow the Glitter Way.
"The Fame"
Act II — NYC Subway
"LoveGame"

Gaga: My name is LADY GAGA...

And welcome to the last of five shows at Madison Square Garden

I feel so blessed, you have no idea. I grew up twenty blocks from here and I watched every name go up on that markee year after year, month after month and I used to dream that one day I'd see my name in lights. So thank you so much, thankyou for buying a ticket to see my show. And for those of you who didn't pay for your tickets, I want my money back. I'm just kidding.

You know, I didn't use to be brave. Infact I wasn't very brave at all but you have made me brave, Little Monsters. And New York made me brave, so now I'm gonna be brave for you.

Tonight I want you to forget all your insecurities. I want you to reject anyone or anything that's ever made you feel like you don't belong or don't fit in or made you feel like you're not good enough or pretty enough or thin enough or can't sing well enough or dance well enough or write a song well enough or like you'll never win a Grammy or you'll never sell out Madison Square Garden, you just remember that you're a goddammned superstar and you were BORN THIS WAY!

May tonight be your liberation of all those things. 'Cuz I used to pick up my leather boots on that street and I would go down the staris to the 9 train I'd take the 9 train downtown and then I'd take the L train to go across town and I would go to dance class and I would pray and I would dream that someday, one person would believe in me. So when you leave here tonight, know that at least one person believes in you.

Hello purple unicorn? That is the most fabulous gay unicorn I have ever seen. He has a rainbow horn, he's purple, he has neon hoofs. It's very exciting. The only thing better than a unicorn is a gay unicorn. Oh, you know what that means, all the new york gays came out to play. And some came from New Jersey. But we don't care 'cause it's all the same and we were born this way.

YEAH!

I don't know what I'm gonna do with all of you. You see I told my friends about the Monster Ball I told them that the Monster Ball would set them free, so we got into my car… but my car broke down in Brooklyn. So then we got onto the subway onto the F train which always gets me where I need to go. But the subway's left uf off in this very strange place. And I just have no fucking clue where we are. You think I should ask my friends for some help? You know, my deepest and most loyal friends? You know… all my New York and tristate-area gays?

This one's for the boys and the girls tonight. Celebrate your gay pride.

"Boys Boys Boys"

Gaga: Does anybody know what I really, really hate? I hate money. Its hot as hell in here, New York. But nobody can ever make me take off my leather. I'm just a bad kid. I don't want your money. I want your soul, honey.

"Money Honey"

Gaga: How are you doing tonight? This is so crazy for me just completely psycho. I used to sit usually in the bleachers, you know, in the back. And I would sit with my mom, you know, who would take me to see shows. And I'd watch some other bitch sing and dance on the stage all night that I wanted to be. And I would say, "I wish I was that bitch on that stage". So just so you know someday you'll be up here instead of me and I'll be sitting in the back cheering all you guys on.

[Telephone rings]

Gaga: Hello? Beyoncé? She's always interrupting the middle of my show.

"Telephone"

Gaga: I just want to say thank you to all of you for being here tonight because HBO is filming for our HBO special. And it's just this really amazing night for all of us. And I'm so happy. I can't even begin to tell you how grateful I am that you're all here. And it's really funny because my favourite thing about the Monster Ball is that everybody gets really drunk and vomits on each other and has a good time. So you don't know this but inbetween the sets when the videos are playing, I can actually see you from backstage and I see everybody running to go get drinks really quickly. I'm always laughing because I think, "These drunk assholes. That's all they wanna do, is drink and have a good time". So in light of watching all of you have a good time, I would like to dedicate this song to all the drunk assholes in my life. This is called "Speechless."

"Speechless"

During: Gaga: And my make- Every night, this fucking makeup falls off right at that same lyric. Shit. And on another note not to blow up too many people's spots tonight, but Liza Minnelli is here. I thought you all might want to stand up for her because, you know, it is Liza. And Marisa Tomei is here tonight. And I usually would never tell you guys who's here tonight but the reason I'm telling you is because these two women influenced me so much when I was in theater school. Because I went to Tisch, you know, at NYU. And what used to happen was the teachers would go: "Well, your voice is too pop. And when you sing pop music, your voice is too theater. And, you know, you're never gonna play the heroine. And you're never gonna play the blond, you know. You're never gonna play the ingénue. You'll never be the main character. You're never gonna be the star. Because you have dark hair and you're too ethnic". So I used to say: "Well, what about Liza?" And then I'd get to acting class and they'd always pull out a script for me that Marisa had played in a movie. And they'd say: "You'll play these kinds of- These kinds of really ballsy women roles". And you know what? There's never a role other than that that I'm ever gonna wanna play. So thank you, Marisa, for always playing that role for us.

During: Gaga: So thank you for giving me two bad bitched to look up to.

Gaga: All right, you wanna hear a new one? This is from my new album, Born This Way. This is called "You and I."

"You and I"

Gaga: And so as my friends and I traveled further and further down the Glitter Way, we ran into a magical angel with a beautiful black harp. And she said that she knew just the music to play to get us closer and closer to the Monster Ball at Madison Square Garden. Oh, what's that thing? What's that thing? Way up in the sky? It's very beautiful but very strange. Is that a rainbow? No, it can't be. Little Monsters, it's a twister.

"Twister Film (Video interlude)"

Gaga: Monsters, you make me so happy I could die.

"So Happy I Could Die"

"Antler Film (Video interlude)"
Act III — Central Park
"Monster"

Gaga: Do you think I'm sexy? Because I think you're sexy. I used to get bullied a lot in high school by these really awful, mean girls who weighed about thirty pounds less than I did. And it used to make me feel really bad about myself. But I'm here to tell you that someday you'll have a stage upon which to stand and sing and dance in front of all those who bullied you before. Do you feel sexy? You know, I'm kind of like Tinker Bell. You know how Tinker Bell will die if you don't clap for her? Do you want me to die? Scream for me! Some people would like me to die. But I'm not going anywhere. Does anyone know what I hate almost as much as I hate money?

Audience: The Truth!

Gaga: Yes, I hate the truth. The French call it 'La Vérité'. Je detesté la vérité. In face, I hate the truth so much I'd prefer a giant dose of bullshit any day over the truth. So, mes petits monstres. Show me your teeth.

"Teeth"

During: Gaga: Some people say that I'm not a religious woman. So come on, New York, let's go to church.

Gaga: Just in case any of you were wondering if I ever lip-sync during my shows, the answer is no. I never lip-sync, I never have lip-synced and I never will. And as long as you're paying money to buy a ticket to see my show, I'm not gonna waste your goddamn time watching some bitch lip-sync her way through an HBO special. Show me your teeth. Especially not while Liza's watching. Show me your teeth.

Jesus, Jesus, are you listenin'? Jesus over there in heaven, Jesus, I'm confused. Jesus, some people say that you only love a certain kind of person with certain kind of beliefs or background or sexual orientation. But, Jesus, you have blessed me. And every night, myself and the entire Haus of Gaga bleed to death infront of twenty four thousand people talking about love and unity. So I'm quite certain that Jesus must love everybody! Jesus loves everybody. Show me your teeth. You are such an asshole. You know that? You are such an asshole on that instrument. You are so goddamn disrespectful on that guitar. Who taught you to play guitar like that, Jesus? Show me your teeth teeth, teeth teeth.

Everybody, this is Michael. Michael's from Germany. Wie gehts Michael, you're so cute. I like Michael because Michael likes girls from New York. I also like Michael because Michael likes boys from New York. Just like Jesus, Michael loves everybody. So come on, Kern. Kern's a bad bass player. And I told them last night when they came to see my show I said when I- When I auditioned my band, I closed my eyes. I didn't look at them when they came in. I closed my eyes. I said, "I don't want to know what they look like. I wanna hear how they feel". And when I heard this man play the bass I knew it was his destiny. Show me your teeth. Michael. I don't care who you are or what you believe, all I care about is how you feel about me, show me your teeth. I love you too. Show me your teeth.

There it is. The eternal fountain. The only fountain in the world that bleeds for you. Because my religion is you, Little Monsters. And tonight, like every night, my religion is New York.

"Alejandro"

Gaga: Do you hear that? This is the record that changed my life. Just like you. Now dance.

"Poker Face"
Act IV — Monster Ball
Gaga: You guys… I think that the Monster Ball is just up ahead… maybe on the right?

Ian: Are you sure, Gaga? It doesn't look too good.

Gaga: Ian?

Ian: Yeah.

Gaga: I can't see you. Champagne?

Champagne: I'm here, Gaga, but I don't think we should go anymore. It's so dark out here.

Gaga: Oh, come on, you guys. We can't give up now. The Monster Ball is the greatest party on the planet. And tonight it's at Madison Square Garden.

Ian: I'm scared.

Gaga: I think it's just up ahead. It's just so dark I can't see.

Champagne: You know, I think I'm just gonna go.

Gaga: Huh?

Ian: What?

Champagne: Ian, come on.

Gaga: Oh, come on, Ian, you wouldn't leave me, would you?

Ian: Gaga, you know I love you, but you're going too far. You're going too far, Gaga.

Gaga: What? You can't leave me here by myself. It's dark. I can't see. Even if the whole world turns their back on you… you always have yourself.

No! It's the monster. It's the fame monster.

"Paparazzi"

During: Thank you so much for being so brave. You look so amazing. Now help me kill him. Get your cameras out. Take that monster's picture.

During: Oh, no, he's taking off my clothes.

During: Just eat me already.

During: Monsters, if we stick together, we can do anything. And when they ask you: "How was Gaga at the Monster Ball at Madison Square Garden?" You tell them: "She burned the place- We burned that place to the fucking ground!"

Gaga: We did it. We killed him. Now let's get out of here. Let's go to the Monster Ball. Good night. Good night, monsters. Friends, be yourself. Love who you are. Be proud. And never give up on your dreams. Because you were born this way, baby.

Gaga: Caught in a bad romance. Caught in a bad romance.

"Bad Romance"

During: We did it. We did it, monsters. We made it to the Monster Ball. We made it to Madison Square Garden in New York City. Did you have the time of your life? Do you feel free, monsters?

During: Okay, you better not leave when this song is over. Because there might be just one more surprise. Paws up!

Gaga: If you scream really loud… I might just do one more. I could just do one more.

"Born This Way"

Backstage Man 1: Wow, that's how you leave the fucking Garden. That's how you leave the Garden.

Backstage Man 2: Oh, my God. Oh, my God.

Backstage Man 1: That's how you leave the Garden.

Gaga: Look at my Dad

Backstage Man 2: But you'll be right back though.

Joe Germanotta: Some little girl gave it to me.

Gaga: Oh, thanks, Dad.

Now it's time to do what real rock stars do: Go to sleep.

"Born This Way Acapella"
Trivia
Before Lady Gaga sings Money Honey, at 37'16", she says "I'm just a Bad Kid." This could be in reference to the track Bad Kids from her third studio album: Born This Way.
References
Community content is available under
CC-BY-SA
unless otherwise noted.