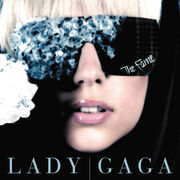 The Fame era began with Gaga being signed with Interscope Records in May of 2007. However, promotion for the album began in late March of 2008. The era marked Gaga rise to fame which started internationally before reaching the US in the fall. The era ended on September 29, 2009 with the last show of The Fame Ball Tour.
Prior to her performance at Lollapalooza, Gaga was signed to Streamline Records by Vincent Herbert. In November of 2007, Vincent Hertbert signed a deal with Interscope Records in which they agreed to promote five of his acts, including Lady Gaga.
Lady Gaga had a goodbye party with her lowersides friends of New York from a Bar. The next day she flew to Los Angeles to meet RedOne in the studio and still hungover, she wrote Just Dance in ten minutes as "A happy record". In a week, they wrote together Poker face and LoveGame. After that, she signed a recording deal with Interscope and began officially the production of her Debut album.
Also, she was sent to write songs with Akon for Tami Chynn, an artist signed to Konvict Muzik in Atlanta. For the first time, Akon recognized her vocal abilities during her singing of a reference vocal to one of his tracks in the studio.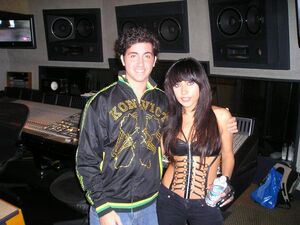 "When we were working, Akon would say, 'Get in the booth and cut these vocals,' and he'd always tell me I could really sing. So he decided he wanted to be a part of my music," Gaga said about working with Akon, who ultimately convinced Interscope-Geffen-A&M Chairman and CEO Jimmy Iovine to sign her to a joint deal with Konlive. "He spoke to Jimmy, and we decided to become a big family." —Lady Gaga
As a result, she was commissioned by Interscope to write for labelmates New Kids on the Block with RedOne, Nicole Scherzinger's solo album and the Pussycat Dolls with Rodney "Darkchild" Jerkins and some others with Akon. Two of hers songs was picked by Britney Spears and recorded but only one was released, "Quicksand" as a bonus track in Europe. Gaga also joined the roster of Cherrytree Records, an Interscope imprint established by producer and songwriter Martin Kierszenbaum, after co-writing four songs with Kierszenbaum.
Learn more

Gaga came back in New York to shoot her first promotional photo shoot for Interscope Records and do her last Lady GaGa Revue. Learn more
On the 6th, Gaga started to use Twitter for the very first time. The following day, Gaga began her first promotional world tour with two performances that month. On the 31th, Melina Matsoukas directed the music video for "Just Dance" in a rented house located in Los Angeles. Learn more
Gaga recorded "Murder My Heart" with Michael Bolton; videos of Gagavisions, while conducting performances in the United States, Canada and Germany. During the fortnight, was officially released the video "The Fame: Part 1" on their official YouTube account. Learn more
The New Kids on the Block: Live continued into November in the United States while making a few stops in the middle of the month in Canada before returning to the States. Learn more
After two dates in Mexico, the New Kids on the Block: Live ended and Gaga continued to perform a similar set for various radio stations for their Christmas shows. At the very end of the month, Gaga filmed the "Who Shot Candy Warhol?" (Crevettes Films) three-part story to be used for the visuals of the upcoming Doll Domination Tour in January. Learn more
2009
In this month, Gaga proposed filming her next single "Paparazzi". Throughout the day, attended various radio channels appearances, interviews and other performances. She had photoshoots in Hotels, and also in France visited the Museum tribute to Andy Warhol, previously, Gaga contacted David LaChapelle, who to start, he organized a surprise party after her performance on American Idol. Learn more
During this month, Lady Gaga continued her tour The Fame Ball, while attending several radio, television and some magazines for interviews. She also collaborated with rapper Wale on Chillin' in the filming of the video. Learn more
In this month, Gaga performed at the 2009 MTV Music Video Awards and her Heartbeats headphones were unveiled. Learn more
Background of The Fame era
Reference
Links