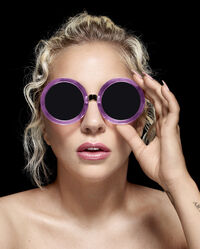 The Joanne era, as its name implies, refers to the album cycle for Joanne. Although the album was released on October 21, 2016, the era began two months earlier, on August 17, 2016 when Gaga announced "Perfect Illusion". The era ended abruptly on February 2, 2018 with the cancelation of the Joanne World Tour on the same day. The reason for the cancelation was Gaga's severe pain due to her fibromyalgia. The tour and era were set to end on February 23, 2018.
On August 17, 2016 Lady Gaga teased her new single "Perfect Illusion" via her Instagram feed, posting a colorful teaser including the name of the song. The single was critically panned yet had moderate success. Following the release of "Perfect Illusion", Gaga released a promotional single titled "A-YO", a pop-folk, country old Americana style about the sleazy stuff in life. Following the release of A-YO, she released "Million Reasons", whereas she was reflecting upon her emotions regarding the breakup of her engagement to actor Taylor Kinney. The song was performed at the American Music Awards, Super Bowl and Sukkiri!!, among other events. The song stayed for 20 weeks at the Billboard Hot 100. The album Joanne was released on October 21, 2016 and received mixed reviews from music critics.
In early 2017, Warner Bros. began production on "A Star Is Born", set to release in October of 2018. The film will star Gaga, and she was seen on the set multiple times in May of 2017. On April 15, Gaga headlined the Coachella music festival in California. During this performance, she announced her new single "The Cure" and performed the song live for the crowd. "The Cure" was made immediately available for streaming and download. In June, Starbucks collaborated with Lady Gaga and started "Cups of Kindness", handing out several drinks that would donate to the Born This Way Foundation. In August, she debuted the Joanne World Tour, and in September, a Netflix documentary, "Gaga: Five Foot Two", was released. Later in the year, it was announced she was nominated for 2 Grammys, for Best Pop Solo Performance and Best Pop Vocal Album.
In January of 2018, Gaga released the "Joanne (Where Do You Think You're Goin')" music video and performed at the 2018 Grammy Awards, where she was nominated for two grammys, and in June, she won Best Music Documentary for Gaga: Five Foot Two. In August and September, "A Star Is Born" premiered at a few film festivals like the Toronto Film Festival and the Shrine Auditorium in Los Angeles to critical acclaim. The film was officially released to the public on October 5th. In December, the Las Vegas residency show "Enigma" began on the 28th.
In January of 2019, Lady Gaga removed the single "Do What U Want" featuring R. Kelly off the streaming services due to violence and pedophilia allegations against the latter.