Stefani Germanotta (born Stefani Joanne Angelina Germanotta) was born on March 28, 1986 at Lenox Hill Hospital in New York City, New York. She is the eldest child of Joseph "Joe" and Cynthia (née Bissett) Germanotta. She is mostly of Italian heritage with some German, Scottish, English and French ancestry on her mother's side. She has a younger sister of six years, Natali. She is better known as her stage name, Lady Gaga which she started using in 2007. She usually prefer to be called Gaga instead of simply just Lady or the full nickname.
Life and career
Physical appearance
Main articles: Hair and wigs, Makeup, Nails, Lady Gaga facts
Lady Gaga is 5' 1" (1.55 m), have naturally brown hair and her eyes green. She have worn many wigs and a weft (only in 2008) from Blonde to Teal across the years.
Tattoos
Main article: Tattoos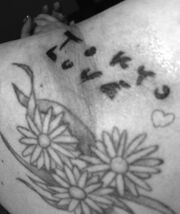 Lady Gaga has twenty-three tattoos located on various part on the left side of her body. During the Musicians@Google Presents: Google Goes Gaga, Gaga revealed that she only has tattoos on the left side of her body because her dad asked her to keep one side of her body 'slightly normal'. She referred to her left side of her body like her 'Iggy Pop side' and her right side (without tattoos) her 'Marylin Monroe side'.
During the second leg of The Monster Ball Tour in Japan, she got a temporary tattoo while on her way to Japan, saying, "リトルモンスター" (Ritoru Monsutā), which means "Little Monster".
Fashion
Main articles: Fashion, Sunglasses, Outfits, Accessories, Shoes
Fashion is a major key point in the life of Lady Gaga. She has stated that she is "very into fashion" and that it is "everything" to her. Her love of fashion came from her mother, who she stated was "always very well kept and beautiful."
Outfits worn by Lady Gaga are a mix of high couture designers, young designers from across the world and her own team, the Haus of Gaga. Some of her favorite designers include Chanel, Armani, Gucci.
Haus of Gaga
Main article: Haus of Gaga
In 2008, Gaga created the Haus of Gaga, her behind the scenes team that create everything from outfits to art direct the films and various projects. They usually either make the outfits themselves or ask a designers to create the outfits for them.
Photography
Discography
Collaborative albums
Tours
Filmography
For the complete list of videos, see Videography and Filmography.
Products
Books
Exhibits
Inside/Out (26 Jun 2010 – 14 Aug 2010)
MIT Musem (July 2010-Present)
Lady Gaga à Gogo (October 24, 2010 - October 30, 2010)
Nicola's (September 8-21, 2011)
Women Who Rock: Vision, Passion, Power (September 7, 2012 - January 6, 2013)
artRave (November 10, 2013)
ARTPOP Pop-Up: A Lady Gaga Gallery (November 11-13, 2013)
Living Rooms (November 13, 2013-February 14, 2014)
G.U.Y. HOTEL (Mach 28, 2014 - April 10, 2014)
Art Of Television Costume Design (August 2, 2016 - October 15, 2016)

Play It Loud: Instruments of Rock and Roll

(April 8, 2019-October 1, 2019)
HAUS OF GAGA/LAS VEGAS (May 30, 2019 - 2020)
Related pages
External links
For the complete international list of official links, see this page.