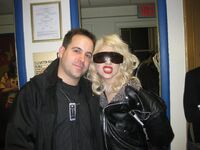 Joe Vulpis is a producer who worked with the Stefani Germanotta Band. They started recording in November 2006, and finished the five track demo, Words. When the band was playing at The Bitter End, they also sold the EP until it was sold out. By March of 2007, the first official EP, Red and Blue was available for sale, also produced by Vulpis.
In regards to the recording sessions with Gaga, Vulpis mentioned that they had run through many different song ideas that were never finalized.
"There is so much audio footage that has never been released. I mean, like I said, we worked together for such a long time. Months where all we did was just let ProTools run half the time and we just let her run things down, and it was a real selective process what she ultimately wanted to finish and nix. But yes, there are hours and hours and hours of tapes that have never even been finalized, so yes. And there's great stuff-whether she was playing solo at the grand piano doing her thing, or the band and her were jamming for hours on end. There's some great stuff, but you know, like you said, it'll be up to her whether or not there's a place or time in the present world"
Production with Lady Gaga
He worked with Lady Gaga on the following song(s):

Songs from Red and Blue (2005):
Songs currently unreleased:
Joe Vulpis (Producer 2006—2007)
Community content is available under
CC-BY-SA
unless otherwise noted.