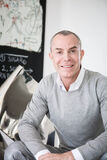 Jean-Claude Jitrois (born 1944 in Narbonne) is a French fashion designer who founded his own label in 1983. He grew up in Aix-en-Provence, and with 18yo, he moved to Paris, where studies at the Salpêtrière Hospital. He wrote several reference books in the field of psychomotor: What Do I Know in 1972, Body and Graphic (psychomotor Expression of the child in drawing and painting) to PPE editions in 1975 or Psycho-Relaxation Syntonics by Editions Universitaires in 1976. He works and teaches psychomotor until 1976, when he opened his first boutique, rue de l'Escarène Tonduti in Nice.
Fall 2009 Collection
Edit
Spring/Summer 2016 Collection
Edit
Community content is available under
CC-BY-SA
unless otherwise noted.