"Jewels N' Drugs" is a song written by Lady Gaga and produced by DJ White Shadow in 2012 for ARTPOP. The song features rap verses from T.I., Too Short and Twista. The song was registered on Gaga's BMI on February 14, 2014.
Background
"I was doing some songs last year with one her producers, DJ White Shadow. He's been pretty busy, doing his thing around the world and he got back at me a little while ago and said, 'There's a song that Lady Gaga's doing that possibly they would want to get you on' … so I said, 's— I'm down with it!'" - Twista to MTV News
Soon after, the session was booked in Los Angeles and $hort got in the booth and laid his verse down, just like that. "Then he called back and was like, 'She's going to debut the song at one of her shows' and I'm like,'s--- I'm there!'".
Performances
| Dates | Location | City | |
| --- | --- | --- | --- |
Interlude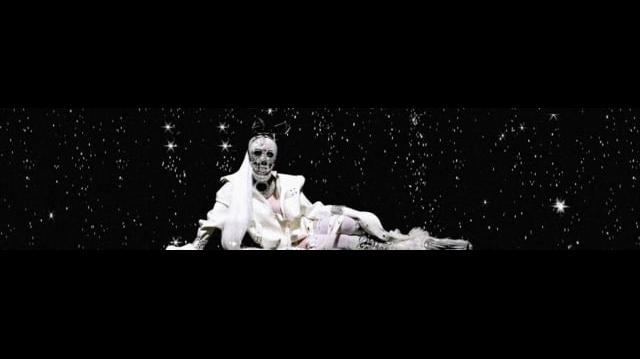 Ruth Hogben directed video interlude for artRAVE: The ARTPOP Ball, video shown on the screen in the back showing Gaga dancing.
Lyrics
T.I.:
Yeah, it's about that time, yeah
Time ta take off partna, alright
Hustle gang, uh huh, G.D.O.D
Get your doe or die partna
Yup, let go

Still Bankhead, shawty, yeah you know what it is
Pocket full of numbers, rubber bands and bills
Came up from round, that's a Dandiville
Fixin' to do a deal about, 'bout 60 mil'
You ain't lived that life, you perpetrate
You wasn't really trapping circling birds of prey
You ain't have to beat no murder case
Man, you probably couldn't get a 'o any day
'Round my way cats get murdered playing
Ain't no rules, play dirtay, man
Put some through your jersey, man
If your partna want some we can do it again
Okay, H-U-S-T-L-E G-G-A-N-G, that wait
Yeah, just pull up, pull up, hop out, hop out
All about the dollar, better go ask Gaga-Gaga-Gaga-Gaga

Lady Gaga:
Don't want your jewels, I want your drugs
Don't want your money, want your love
Don't want your jewels, I want your drugs
Want your jewels, I want your drugs
Don't want your money, want your love

I admit that my habit's expensive
And you may find it, quite offensive
But I won't die at the hands of another
I'm your mother, sister, your father, brother

This family is stupid attractive
If you've surveyed the way we've acted
Keep it coming, I'm coming around like your friend now
I think you should shut, up and sit down

Don't want your jewels, I want your drugs
Don't want your money, want your love
Don't want your jewels, I want your drugs
Want your jewels, I want your drugs
Don't want your money, want your love

Too $hort:
Everybody about that money, what you want?
I'm high as hell trying to have some fucking fun
I don't need 'em, but the diamonds make it shine
Tried to quit it, but just can't find the time
It's the middle of the week, this ain't even the weekend
Red carpet event, every time you sink in
It's good pussy in the passenger's seat
My lil' homies hang with me, I be passing 'em freaks
Bitch!

Lady Gaga:
Jewels and drugs, play that hustle
Smother 'em, if you wanna be bad
Slap honey on a young pancake
We know how to make that money

Jewels and drugs, play that hustle
Smother 'em, if you wanna be bad
Ain't nothin' if it ain't a family
We know how to make that money

Twista:
Come and show me the gateway into your love
I feel like'a money can never do it like a club,
And I feel like a diamond can never do it like a drug
And I want us to come on and take it with me so that I can hit it
I can admit it, I am influenced by desire
When I approach her I try to provoke her by giving money and jewellery
And accessories, instead of the recipe of a legacy
You're taking it to another place when I get it

Hold up

Twista be going at warp speed breaking atoms
Blowin' O.G. has got me creating antimatter
Then'a poppin' and smokin' up with me, never gotta,
Because you be ready to party in the mood of club

I think it's an anomaly
And I'mma be strange as Lady Gaga
Probably, a dollar be the business,
but I'd rather be in an outer dimension
when I be talking about Jewels 'N Drugs

Lady Gaga:
Jewels and drugs, play that hustle
Smother 'em, if you wanna be bad
Slap honey on a young pancake
We know how to make that money

Jewels and drugs, play that hustle
Smother 'em, if you wanna be bad
Ain't nothin' if it ain't a family
We know how to make that money
Credits
Writers
Lady Gaga, DJ White Shadow, Nick Monson, Dino Zisis, Twista, Too $hort and Clifford Harris Jr.
Producers
Lady Gaga and DJ White Shadow
Additional production
Nick Monson and Dino Zisis
Recording by
Dave Russell, Bill Malina and Benjam Rice at Record Plant, Hollywood, CA
Assistant recording
Benjamin Rice, Ghazi Hourani and Daniel Zaidenstadt
Additional recording
Elliot Carter and Daniel Zaidenstadt at Record Plant, Hollywood, CA
Programing by
Rick Pearl
Background vocals
Nicole Ganther, Natalie Ganther and Lyon Gray
Background vocal arrangement
Lady Gaga
Union contract administration
Ivy Skoff
Mixed by
Manny Marroquin at Larrabee North Studios, Universal City, CA
Assistant mixers
Chris Galland and Delhert Bowers at Larrabee Studios
Mastering
Gene Grimaldi at Oasis Mastering, Burbank, CA
Published by

Stefani Germanotta P/K/A Lady Gaga (BMI) Sony/ATV Songs, LLC/ House of Gaga Publishing, LLC / GloJoe Music Inc. (BMI)

Maxwell and Carter Publishing, LLC (ASCAP), administered by Universal Music Publishing Group and Maxwell and Carter Publishing, LLC (BMI) administered by Universal Music Publishing Group

C. Mitchell Staying High Music (ASCAP)
Todd Shaw Publishing Designee
Clifford Harris Publishing Designee (ASCAP)

Twista appears courtesy of GMG Entertainment, LLC and T.I. appears courtesy of Grand Hustlex
References