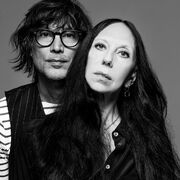 Inez van Lamsweerde (born 25 September 1963, Amsterdam, Netherlands) & Vinoodh Matadin (born 29 September 1961, Amsterdam, Netherlands) are a Dutch fashion photographer duo well known for their work for fashion magazines, advertising campaigns, and for their independent art work.
This particular photoshoot is instead a series of photoshoots that happened after each scene of the music video for "
Yoü and I
" was shot in a studio built inside of a pig sty.
On October 17, 2012, Inez revealed that they agreed with Gaga that the published photographs would be only in "gorgeous black and white". The only exception to their artistic vision was two photographs used on the cover of "Visionaire" in 2011.
On September 1, 2011, Gaga announced on her Twitter account that she had shot five "fashion films" related to the music video of the song, with Dutch photographer duo Inez van Lamsweerde and Vinoodh Matadin. After the tweet, Gaga released the first video, titled "Haus of Ü Featuring Nymph".
"We built a studio in a pig sty and worked for three days with her constantly coming off set to us and filming with us and taking pictures. What's incredible in there is that this is Gaga, as herself in the character that she is, related to the 'Yoü and I' video, and it's purely her." They went on to explain of Gaga: "She asked us to make these videos as a bridge between fashion and rock and roll, and since both are kind of equally important for her as an inspiration and starting point. So, she really said to us, 'Do your thing, what you would do in fashion context,' let's say, but relate it to the characters that she is in the 'Yoü and I' video."
Directed — Inez and Vinoodh
2nd assistant camera (AC), sound technician — Derek Nelson
Creative direction — Lady Gaga
Fashion direction — Nicola Formichetti
Cinematography — Todd Heater
Lighting technician — Jodokus Driessen
Editing — Otto Arsenault
Featuring Yüyi
Featuring Barn Hooker and Mother
ARTPOP FOOTAGE
The video was posted on July 20, 2013 on Youtube and was published in an article for V Magazine on July 22, 2013 with the following note: "We know you have questions, and we have answers... but, you'll have to wait for them. For now, gaze upon the beauty that is Gaga in this ARTPOP leak. Listen closely: you can hear it in her voice that she's just as impatient as you are for more to come, and it will, and it will SLAY. Patience, Little Monsters!"
LADY GAGA IS OVER
On August 12, 2013, Lady Gaga posted a short film by the Haus of Gaga. This video was filmed during the ARTPOP photoshoot in collaboration with Inez and Vinoodh . In video, Gaga is seen with a clear mask on her face, which she pulls plastic away from and stares at the camera with various looks. The purpose of the video was to address the criticisms Gaga faced after the Born This Way era, with insults such as "flop" and "she's over". The video was also used to promote Applause, the lead single from ARTPOP.
AN ARTPOP FILM STARRING LADY GAGA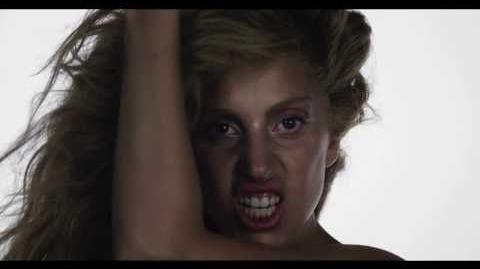 On November 20, 2013, Lady Gaga posted a short fashion film, shot by Inez and Vinoodh as well as the Haus of Gaga. This video was filmed during the ARTPOP. In the video, Gaga is seen in various sets and outfits, some of which include the motherboard chair, and the prosthetic arm, as well as new and unseen sets. The video was first debuted at the artRave in Brooklyn, New York, on November 10, 2013. 
Social media promotional pictures