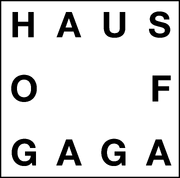 The Haus of Gaga is the name used by Lady Gaga to describe her behind-the-scenes creative team. The name is inspired by the German "Bauhaus" which she told in an interview in Germany and a play on the word "House" used by famous fashion brands. Furthermore, "Haus" is literally German for "house". This should not be confused with House of Gaga Publishing, the publishing company for her music, which is managed by her father, Joe Germanotta.
Background
Inspired by Andy Warhol's Factory, the Haus is a collective who works on various projects for Lady Gaga. These projects include clothing, stage sets, props (Disco Stick, iPod LCD Glasses, etc.), sounds for her live performance. In her own words: "It's my creative team and it was really organic. I was a bit frustrated at the beginning, being so new to the business and going forward with a major label. I wanted to put my own money into the show because, when you're a new artist, you kind of have to prove yourself. I was making money as a songwriter and I didn't want a condo or a car because I don't drive and I'm never fucking home, so I just wanted to put all my money into the performance."
Lady Gaga explaining the process:
"
I called all my coolest art friends and we sat in a room and I said that I wanted to make my face light up. Or that I wanted to make my cane light up. Or that I wanted to make a pair of dope sunglasses. Or that I want to make video glasses, or whatever it was that I wanted to do. It's a whole amazing creative process that's completely separate from the label..
"

—Lady Gaga
Members
The Haus started with her close friends including Gaga's creative director, Matthew Williams and people hired to work with her. The first list of members was first published in August 2008 inside the liner notes of The Fame. The list was expanded when the US edition of The Fame came out with four new members (S. "Kamikazee" M., David "Dark" C., A. "The Ornament" C. and DJ Space Cowboy).
Creative
Management
Dogs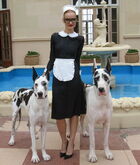 Pacific Coast Harlequin Lava and her son, Rumpus, are owned by Suzzane Kelleher-Duckett. They were used in every music video made after "Just Dance". She gave them alternative nicknames Aless and Abbey Road. They also made a cameo in the short film, The Fame: Part One. In October 2009, Rumpus died after a hike in Los Angeles. He had no signs of injury and appeared to be in perfect health before passing. There has been a necropsy and results are to be expected soon. He was to be in the music video for "Bad Romance" but was replaced by Lava. In the video for "Alejandro", Lava was replaced by Luna and Soleil, a pair of 2-year-old Black Great Dane littermates. Luna can be seen at 0:15 - 0:16 and Soleil can be seen at 6:54.
Creations
In a nutshell, the Haus of Gaga was created in order to help Lady Gaga realize her ideas. Since 2008, the creative team mixed art, fashion and music for every aspect of her live show. Over time, the Haus decided to hire other artists and companies to help them. As of now, a mix of both the Haus, artists and external help are used to make new creations. Since 2008, the creative team mixed art, fashion, and music into every aspect of her shows. Over time, the Haus decided to hire other artists and companies to help them. As of now, the Haus, artists, and external help are used to make new creations.
Media
Haus of Gaga app
On February 23, 2009, the Haus of Gaga App was released for the iPhone and iPod Touch. It was created by Universal Music Group and is offered as a free download through the App Store. The main feature of the app are webisodes starring Lady Gaga called "Transmission Gagavision" in which she discusses her fashion inspirations and the works created by the Haus design team. The webisodes were produced on a weekly basis from June 24, 2008, until March 31, 2009. On March 30, 2011, Gaga announced that the webisodes would return during the first week of April. On April 6, she released webisode number 41, under the shortened name Gagavision. The app also includes tour dates, news, and allows fans to chat with each other. Billboard named the Haus of Gaga app as one of the top five artist apps for the iPhone.
Haus of Gaga 2008 Blog
Main article: Blog
The Haus of Gaga Blog was written by Lady Gaga as a promotional effort for her debut album "The Fame". It was hosted on LadyGaga.com, her official website. Updated sporadically between May 1 and December 22, 2008, Gaga wrote a total of 29 blog posts. Most of her entries focus on details about her videos and performances, particularly the wardrobes and props created by the Haus of Gaga. Also discussed are fashion, celebrities, music artists, and fan videos. Some of the posts provided insight into recent Haus designs, including pictures of items in production.
Former members
These are members that are now retired from the Haus. For example, Space Cowboy is now working on his career. The two dancers, Dina and Coco's contract were not renewed since 2008. They were replaced with the new group of dancers. David "Dark" Ciemny was described as the "tech guy" and his wife, Angela "The Ornament" as her librarian in an interview with Nardwuar. David Ciemny was Gaga's tour manager worldwide from 2008 to 2009 (18 months).
Musicians
Creative director
Personnel
David "Dark" Ciemny (Road manager, 2008—2009)
Angela "The Ornament" Cinema (Assistant, 2009)
Megan D. (Assistant, 2009)
Leah "L.L" Landon (Artist manager/development for The Coalition, 2008—2009)
Marissa Jade Willinsky (Dancers and band makeup, January 2010 to May of 2011)
Sharon Gault (Makeup artist, 2008—2009)
Billy B (Makeup artist, 2009—2011)
Todd Tourso (Creative, 2010)
Jennifer O'Neil (Assistant, 2008-2011)
Unknown role
R. "Ninja" (2008)
S. "Kamikazee" M. (2008)
References
Community content is available under
CC-BY-SA
unless otherwise noted.