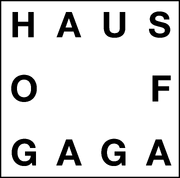 The Haus of Gaga is the name used by Lady Gaga to describe her behind-the-scenes creative team. The name is inspired by the German "Bauhaus" which she told in an interview in Germany and a play on the word "House" used by famous fashion brands. Furthermore, "Haus" is literally German for "house". This should not be confused with House of Gaga Publishing, the publishing company for her music, which is managed by her father, Joe Germanotta.
Background
Inspired by Andy Warhol's Factory, the Haus is a collective who works on various projects for Lady Gaga. These projects include clothing, stage sets, props (Disco Stick, iPod LCD Glasses, etc.), sounds for her live performance. In her own words: "It's my creative team and it was really organic. I was a bit frustrated at the beginning, being so new to the business and going forward with a major label. I wanted to put my own money into the show because, when you're a new artist, you kind of have to prove yourself. I was making money as a songwriter and I didn't want a condo or a car because I don't drive and I'm never fucking home, so I just wanted to put all my money into the performance."
Lady Gaga explaining the process:
"
I called all my coolest art friends and we sat in a room and I said that I wanted to make my face light up. Or that I wanted to make my cane light up. Or that I wanted to make a pair of dope sunglasses. Or that I want to make video glasses, or whatever it was that I wanted to do. It's a whole amazing creative process that's completely separate from the [record] label.
"

—Lady Gaga
Logo
Prior to 2009, no official logo existed for the Haus of Gaga and thus, various fonts were used to write the name. The first official logo was revealed on the poster of The Monster Ball Tour in 2009 as "Haus of Gaga Presents". The logo by itself was used on the tour program and is written using Helvetica by Adobe.
Members
The Haus started with her close friends including Gaga's creative director, Matthew Williams and people hired to work with her in 2008. The first list of members was first published in August 2008 inside the liner notes of The Fame. The list was expanded when the US edition of The Fame came out with four new members (S. "Kamikazee" M., David "Dark" C., A. "The Ornament" C. and DJ Space Cowboy). Since then, no official list was published.
The current and past members of the Haus are divided into three departments:
Dogs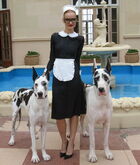 For more, see this page.
In 2008 to 2010, Gaga used dogs in 8 music videos from "Poker Face" to "Alejandro" and one short film, The Fame: Part One. Starting with The Fame: Part One in July of 2008, Pacific Coast Harlequins Lava and her son, Rumpus, which Gaga nicknamed Aless and Abbey Road were seen later in "Poker Face" (2008), "LoveGame" (2009), "Eh, Eh (Nothing Else I Can Say)" (2009), "Paparazzi" (2009) and "Chillin" (2009). For "Bad Romance" (2009) and "Telephone" (2010), only Lava can be seen since Rumpus died in October of 2009.
For "Alejandro" (2010), Lava was replaced with two black Great Danes, Luna (0:15 - 0:16) and Soleil (6:54), which are barely seen in the music video. After that, no dogs were used in the next music videos. However, Gaga own dog, Asia was used in a few photoshoots in 2014 and 2015.
Creations
In a nutshell, the Haus of Gaga was created in order to help Lady Gaga realize her ideas. Since 2008, the creative team mixed art, fashion and music for every aspect of her live show. Over time, the Haus decided to hire other artists and companies to help them. As of now, a mix of both the Haus, artists and external help are used to make new creations.
Vault and Exhibits
For a list of exhibits, see this page.
In an interview with Yahoo!Style in 2014, Gaga revealed that she "have a huge archive in Los Angeles. It's 40,000 square feet. I have every single outfit. All those pieces mean so much to me. I've kept every single one."
Since 2009, a few select pieces are pulled from the archive to be used on special events and museums such as the Rock and Roll Hall of Fame and Museum along with the Museum Metropolitan Museum of Art. During the ARTPOP era, two pop-up galleries were hosted by the Haus with custom outfits and designer pieces. Nicola Formichetti also had two pop-up shops in 2011 and 2012 using clothes and accessories worn by Gaga.
Daphne Guinness and Michael Jackson
Main articles: Dennis Tompkins & Michael Bush and Daphne Guinness.
On June 27, 2012, Gaga bought some items from the Daphne Guinness Auction which benefited the Isabella Blow Foundation. Gaga have worn a few pieces since then. Later that year, she also bought 55 stage costumes of Michael Jackson at an auction on December 2, 2012. She tweeted following the auction that the clothes would be "archived & expertly cared for in the spirit & love of Michael Jackson, his bravery, & fans worldwide".
Las Vegas
Main article: Haus of Gaga Las Vegas
Six months after the residency concert Enigma debuted, a residency museum at the Park MGM Resort & Casino in Las Vegas, NV opened on May 30, 2019. The museum was curated by fashion director Nicola Formichetti who selected 70 pieces including wigs, shoes, props and outfits from every era since 2008 until 2019. The museum also served as the official store to buy new merchandise and also brought back merchandise from previous eras as well.
Divisions
Grey Label
Main article: Polaroid
On January 5, 2010, Polaroid announced a multi-year strategic partnership with Lady Gaga, who will serve as the creative director for a special line of Polaroid Imaging products. Gaga made a special appearance at the Polaroid booth at the 2010 Consumer Electronic Show (CES) in Las Vegas on January 7, 2010, to talk about her new creative and business relationship with the Polaroid brand.
On January 6, 2011 at CES, they revealed their joint venture, Polaroid Grey Label by Haus of Gaga, along with three products which only the GL10 Instant Mobile Printer was released in June of 2011.
Haus Laboratories
Main article: Haus Laboratories
Haus Laboratories was announced in 2010 as a perfume brand, in association with Coty. They released their first fragrance together called "Lady Gaga Fame" in 2012 and the second unisex fragrance called "Eau de Gaga" in 2014. The fragrance division closed around July of 2015.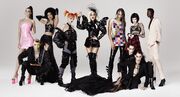 It was relaunched with a new logo on September 17, 2019 as a vegan and cruelty-free cosmetics brand. It is the first major beauty line to launch exclusively on Amazon, released in nine countries including France, Germany, Japan, the United Kingdom, and the United States. The first products included lip liner, lip gloss, and liquid-to-powder shimmer. The company's mission is to spread kindness, bravery, and creativity by providing tools for self-expression and reinvention.
TechHaus
Main article: TechHaus

TechHaus is the technical division of Haus of Gaga founded in 2012 to create the ARTPOP app. The division second project was the creation of a series of couture technologies unveiled at the beginning of the ARTPOP campaign in partnership with Studio XO. Following the management change in November of 2013, a number of projects were revised, including TechHaus which stopped development of both the couture technologies and phase 2 of the app.
Media
The name "Haus of Gaga" was also used to refer to an app that mirrored the content of her website and a blog on her official website.
Haus of Gaga app, 2008-2013
On February 23, 2009, the Haus of Gaga App was released for the iPhone and iPod Touch. It was created by Universal Music Group and is offered as a free download through the App Store. The main feature of the app are webisodes starring Lady Gaga called "Transmission Gagavision" in which she discusses her fashion inspirations and the works created by the Haus design team. The webisodes were produced on a weekly basis from June 24, 2008, until March 31, 2009. On March 30, 2011, Gaga announced that the webisodes would return during the first week of April. On April 6, she released webisode number 41, under the shortened name Gagavision. The app also includes tour dates, news, and allows fans to chat with each other. Billboard named the Haus of Gaga app as one of the top five artist apps for the iPhone.
Haus of Gaga Blog, 2008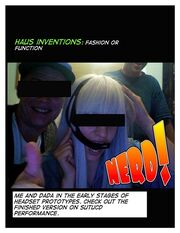 Main article: Blog
The Haus of Gaga Blog was written by Lady Gaga as a promotional effort for her debut album "The Fame". It was hosted on LadyGaga.com, her official website. Updated sporadically between May 1 and December 22, 2008, Gaga wrote a total of 29 blog posts. Most of her entries focus on details about her videos and performances, particularly the wardrobes and props created by the Haus of Gaga. Also discussed are fashion, celebrities, music artists, and fan videos. Some of the posts provided insight into recent Haus designs, including pictures of items in production.
Instead of using the blog, Gaga continued to communciate with fans using MySpace (since 2005), Twitter (since March of 2008) and later joined Instagram in 2012. From February 2012 until July of 2015, Gaga posted on Little Monsters and briefly had Amen†Fashion, a fashion blog for two months in 2013 on Tumblr.
Haus Editorials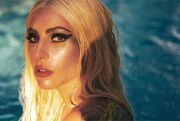 The Haus Editorials is a serie of experimental photoshoots with photographer Alex Dolan (2014, 2017/18, 2020), Sarah Tanno-Stewart (2017/18), Hannah Khymych (2017) and Christine Hahn (2019). Similar to other photoshoots, Gaga is the model, Frederic Aspiras is the hair stylist, Sarah Tano-Stewart is the makeup artist and Tom Eerebout and Sandra Amador, the stylists.
References