Haus Laboratories is Lady Gaga's own perfume brand based in Paris. It was created in association with Coty Inc., a company founded in 1904 known for its cooperation with designers and celebrities for the creation of fragrances.
They released their first fragrance together called "Lady Gaga Fame" in 2012 and the second unisex fragrance called "Eau de Gaga" in 2014.
The original "Haus Laboratories" logo was written using a font called "ITC New Baskerville" on a single line while the new version have a rectangle with the word "Haus" and "Laboratories" written inside of it using "Calson Pro" by Adobe.
Partnership
On November 11, 2010, Coty Inc. officially announced the signing of Lady Gaga to develop and market her first-ever signature fragrance. Bernd Beetz, CEO of Coty, said in a statement:
"Lady Gaga's universal appeal makes her a subject of fascination. A force like no other, Lady Gaga is explosive, provocative and sexy, three traits which pave the way for an extraordinary fragrance experience for consumers."
Distributed worldwide, it will be managed by Coty Beauty in close collaboration with Lady Gaga, who will be Creative Director, and her Haus of Gaga team. Stephen Mormoris, senior vice president of marketing for Coty Beauty says:
"The marketing behind Lady Gaga's fragrance will be unprecedented and groundbreaking. We are working toward distilling the brilliance of Lady Gaga into a fragrance that delivers a breathtaking olfactory experience and a timeless, enduring packaging design that is part of Gaga's overall artistic sensibility."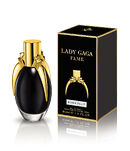 Main article: "Lady Gaga Fame".
Lady Gaga Fame is the first perfume released by Lady Gaga, launched in August 2012. The fragrance was revealed in a press release on June 14, 2012. The perfume is produced in the Haus Laboratories in Paris. The tagline of the fragrance is "The First Ever Black Eau de Parfum, Fame". Learn more
Main article: "Eau de Gaga".
Eau de Gaga is the second unisex perfume by Lady Gaga, launched in 2014, through the Haus Laboratories label in association with Coty Inc. The fragrance was revealed via Twitter on August 7, 2014 with first promotional photo by Steven Klein. Learn more
Logos
Links