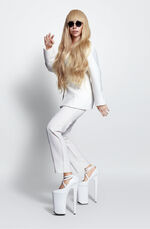 Gagadoll is the world's first life-size human-shaped listening station that closely resembles Lady Gaga. The project is a creation of the creative group PARTY Inc. and the doll maker company Orient Industry. The bone conduction system enables one to listen to her songs and message. A total of four Gagadolls were created in 2013 for promotion of ARTPOP in Japan.
Background
Edit
On November 14, 2013, Universal Music Japan uploaded a trailer video for "Gagadoll". At the time, no information regarding the project was available besides that it was to commemorate the release of "ARTPOP". On November 15, 2013, UMI uploaded the complete "Making of" video.
Yahoo! Japan
Edit
A special portail website (ladygaga.yahoo.co.jp) was created by Yahoo! Japan from November 26 to December 8 of 2013. Links were added to the white suit worn by Gagadoll as to make her body a website menu.
White suits
Edit
Jump suits
Edit
Press conference
Edit
<iframe src="https://vid.me/e/rlEu?stats=1" width="854" height="480" frameborder="0" allowfullscreen webkitallowfullscreen mozallowfullscreen scrolling="no"></iframe>
Community content is available under
CC-BY-SA
unless otherwise noted.