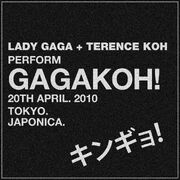 Gaga Koh is a name devised by combining Lady Gaga, and fashion designer, Terence Koh's name. It was set up as a charity concert for people living with HIV. M·A·C Viva Glam and KCD Worldwide hosted at the Tabloid club in Tokyo, Japan.
Throughout the entire performance, Lady Gaga is seen sporting a full body outfit of pure white. During the performance, one of her dancers wearing nothing but a white underwear, lifts Gaga up, as she sings. The Rubberman Piano used for the performance was the same from AmfAR New York Gala crowned with five-foot-tall papier-mâché bunny head – Terence Koh's "spirit animal".
Set list
Japanese wedding hat: Balmung Tokyo
Dancers
Bunny Masks: Writtenafterwards by Yoshikazu Yamagata
Community content is available under
CC-BY-SA
unless otherwise noted.