"G.U.Y." is a song written by Lady Gaga and produced by Zedd in 2012 from ARTPOP. Gaga revealed the song title in an interview with Stylist magazine. Shortly after the publication of the article, Gaga published a message on Little Monsters: "They got the title wrong. its G.U.Y (Girl Under You) :)" On October 14, 2013, Gaga told Emma, the second little monster to join the Haus, to play a 12 second snippet of G.U.Y. on RadioARTPOP, a fan-made webshow that livestreamed the snippet.[1] The song was released as the third single from ARTPOP and was registered on Gaga's BMI on February 14, 2014. It was sent to airways four days after this.
Background
"
Any kind of feminist has valid views for herself about what it means to be a feminist, but, as a new-age feminist, I would say I quite like the transference of strength I feel by submitting to a man – being under him. I actually wrote a song about it on my album, it's called GUY and it stands for Go Under You. So wearing makeup, smelling delicious and having suckable, kissable, edible things between your limbs is something I find strengthening because I know that when I pick the right guy, I can let him have it. Some women feel oppressed by makeup and clothing, and here's to them, they have every right to feel that way as well.
"

—Lady Gaga for Stylist
Gaga also talked about the creation of the song and collaborating with Zedd in the track-by-track ARTPOP commentary on Sirius XM.
"
I did this record with Zedd, you know him from "Clarity," that's a great song. What I really like about "G.U.Y.," is it's really about new-wave, like third new-wave feminism, which is that we don't feel the need — for me, anyway — to be on top all the time, or be in charge, or take control like a man. I'm a power-bottom, I like to be underneath. So, G.U.Y stands for "Girl Under You." (...) So, the record's all about being comfortable being underneath, because you're strong enough to know, that you don't have to be on top to know you're worth it. And, it's great because I worked on it with Zedd, but, again, because I co-produced on the record, it's really fun, I think, for Zedd's fans to hear how different this is from his other stuff; you know, you can just hear two people really collaborating, and having a true exchange between auras.
"
Recording
Writers and producers
Lady Gaga and Zedd
Recording by
Dave Russell at Record Plant, Hollywood, CA
Assistant recording
Benjamin 'Ben' Rice at Record Plant
Instructional voice
Sonja Durham of Haus of Gaga
Mixed by
Zedd at Zedd1, Santa Monica, CA
Assistant mixers
Ryan Shanahan and Jesse Taub
Mastering
Gene Grimaldi at Oasis Mastering, Burbank, CA
Published by

Sony/ATV Songs LLC / House of Gaga Publishing LLC (BMI)

Zedd Music Empire (ASCAP), all rights administered by Kobalt Songs Music Publishing
Commercial release
Artwork
| | |
| --- | --- |
| Lady Gaga tweeted the official single artwork for "G.U.Y." on March 24, 2014. The artwork follows the same "white canvas and signature" template as the other singles from ARTPOP, and features Gaga as a fallen Phoenix from the opening "ARTPOP" scene of the "G.U.Y." music video. As Gaga directed the video, she also hand-wrote the text on the cover herself using a black marker pen. | |
Digital release
Remixes
| # | Name | Time |
| --- | --- | --- |
| 1. | "G.U.Y." (St. Lucia Remix) | 5:29 |
| 2. | "G.U.Y." (Rami Samir Afuni Remix) | 4:28 |
| 3. | "G.U.Y." (Wayne G 'Throwback Anthem' Remix) | 7:53 |
| 4. | "G.U.Y." (Lovelife Remix) | 3:15 |
| 5. | "G.U.Y." (KDrew Remix) | 4:45 |
Release history
Country
Date
Format
Italy
March 28, 2014
Contemporary hit radio
United States
April 8, 2014
Contemporary hit radio
Rhythmic contemporary
United Kingdom
May 12, 2014
Contemporary hit radio
Remix
Length
Releases
Year
St. Lucia Remix
5:29
G.U.Y. (Remixes)
2014
Rami Samir Afuni Remix
4:22
Wayne G "Throwback Anthem" Remix
7:53
Lovelife Remix
3:12
KDrew Remix
4:43
Performances
| Dates | Location | Channel | |
| --- | --- | --- | --- |
Lyrics
Greetings Himeros
God of sexual desire
Son of Aphrodite
Lay back and feast as this audio guides you through new and exciting positions

I wanna be the girl under you (oh yeah)
I wanna be your G.U.Y.
Oh yeah, I wanna be the grave unearth you (oh yeah)
Our sex doesn't tell us no lies

I'm gonna wear the tie
Want the power to leave you
I'm aimin' for full control of this love (of this love)

Touch me, touch me, don't be sweet
Love me, love me, please retweet
Let me be the girl under you that makes you cry

I wanna be that GUY (G.U.Y.)
I wanna be that GUY (G.U.Y.)
I wanna be that GUY (G.U.Y.)
The girl under you, GUY

I'm gonna say the word and own you (oh yeah)
You'll be my G.I.R.L.
Guy I'm romancin' loves to hold you (oh yeah)
Know you'll wear my makeup well

I'm gonna wear the tie
Want the power to leave you
I'm aimin' for full control of this love (of this love)

Touch me, touch me, don't be sweet
Love me, love me, please retweet
Let me be the girl under you that makes you cry

I wanna be that GUY (G.U.Y.)
I wanna be that GUY (G.U.Y.)
I wanna be that GUY (G.U.Y.)
The girl under you, GUY

I don't need to be on top
To know I'm worth it
Cuz I'm strong enough to know the truth

I just want it to be hot
Because I'm best when I'm in love
And I'm in love with you

(GUY, you, why) Touch me, touch me (GUY) (mount your goddess) (why)
Touch me, touch me (GUY, you, why) (as summer moon comes into full phase)
Get on top of me (GUY, you, why) (and Mars' warring spirit rams into the atmosphere)
(I wanna be that)

Touch me, touch me, don't be shy
I'm in charge like a G.U.Y.
I'll lay down face up this time
Under you like a G.U.Y.

I wanna be that GUY (G.U.Y.)
I wanna be that GUY (G.U.Y.)
I wanna be that GUY (G.U.Y.)
The girl under you, GUY

I wanna be that GUY (G.U.Y.)
I'll wreck you right up, GUY (G.U.Y.)
I'll lie down face up, GUY (G.U.Y.) (Achtzehn)
The girl under you, (Sechzehn) GUY

Fourteen
Vierzehn
Drei
Eins
Nein Zedd
Nein Zedd
Nein Zedd
Nein Zedd
Music video
On March 14, 2014, Gaga revealed during her keynote speech with John Norris that she would release her next Music video "next saturday". She also tweeted a still from the clip after the keynote with the following caption: NEW LADY GAGA VIDEO next Saturday 3.22 [1]. On March 19, Gaga tweeted: I'm so excited for you to see the new video! 3.5 days! Can anyone guess the #NextARTPOPSingle. On the same day, a preview of the clip was also confirmed to be airing on The Today Show on Friday, March 21, 2014. A "takeover" of American Top 40 with host Ryan Seacrest was also announced for Sunday, March 23, 2014.
It was confirmed on March 20 via Twitter from Dateline, a show on NBC that they would be premiering the music video for "G.U.Y.". The clip was shot at Hearst Castle in California on February 11 to 13, 2014.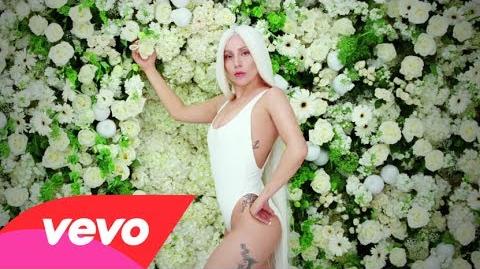 The full G.U.Y. music video lasts nearly twelve minutes and features four songs. Shortened versions of "ARTPOP" and "Venus", the full version of "G.U.Y.", and an extended version of "MANiCURE" during the credits. Although, the video has been changed because, in the original video, MANiCURE started over after the first chorus, while the changed version has the guitar solo in the song extended.
A shortened version of the music video was released a few days after the full-length clip, and only included the "G.U.Y." section of the video.
Sketches by Max Forward
ARTPOP: Phoenix Scene
The video begins with the instrumental of "ARTPOP" in the desert (Hearst Ranch) with businessmen fighting about money while carrying bows and arrows. Gaga is seen as a Phoenix lying down with an arrow stuck on her back. The businessmen then leave the scene without trying to help Gaga as they are too busy trying to catch money on the ground.
Lady Gaga wears wings by Jim Henson's Creature Shop with an arrow by Haus of Gaga.
Venus: Hearst Castle Scene
In an interview with Andy Cohen, Gaga explained that she's a phoenix rising from the ashes and heading to Hearst Castle to be brought back to life. When she arrived, she collapsed onto the ground and two male guards rescue her. The men then take her to the Neptune pool and place a flowery head scarf over her body, lift her up high and lower her into the pool where synchronized swimmers await and she is snapped back into reality.
The Real Housewives Scene
Gaga is then snapped back to reality by seeing The Real Housewives of Beverly Hills playing instruments and singing the song. The Housewives are Kyle Richards, Yolanda H. Foster, Lisa Vanderpump, Kim Richards and Brandi Glanville.
G.U.Y: Neptune Pool Scene
In the first scene, as Gaga regained consciousness, Andy Cohen can be seen playing Zeus (or God) in the sky. Gaga explained that she did that because she felt that reality TV really run our lives now. "So it's really an inside joke about what I think Pop culture is today. You are God obviously." - Gaga to Andy Cohen in 2014.
Lady Gaga wears an outfit by Jean Paul Gaultier.
White Roses Scene
Lady Gaga wears a swimsuit by Mia Gyzander Costumes, and an outfit by Bea Szenfeld for the second scene.
White Space Scene
Lady Gaga wears silk scarf with fishnet. On nail, "Faint White Diamon" nail lacquer by Azature.
White Garden Scene
Lady Gaga wears a denim outfit by Muto-Little Costumes.
Coffins Scene
In the opening of this scene, Gaga is seen with SkyDoesMinecraft, a YouTuber. He is helping Gaga to crack the code to open four coffins using Minecraft. Jesus, Gandhi, John Lennon and Michael Jackson are each contained within one coffin each, which she will later use to clone them. Gaga takes the blood of kindness and calls it G.U.Y. In the video, John Lennon is not seen and the model is only noted in the credits.
Gaga has explained that she loves Minecraft and played it when it was released.
Lady Gaga wears an outfit by POL, and a belt by Zana Bayne for Prabal Gurung. Lego flowers by Nathan Sawaya.
Roman Pool Scene
Lady Gaga wears a swimsuit by POL with small cuffs by Lynn Ban, and ankle sleeve heels by Ruthie Davis.
Some of the male models are wearing gold wings floaties (original idea by Lady Gaga, concept by Gianni Catalina, creation by Marialia Pacitto) with underwear by Versace. Lego fruits by Nathan Sawaya.
Seashell Bedroom Scene
Lady Gaga wears a swimsuit by La Perla with a barbed wire choker by Lynn Ban, and shoes by Sonia Rykiel.
Hall Scene
Lego sculpture by Nathan Sawaya.
Archery Scene
Lady Gaga wears an outfit by Atsuko Kudo for Charlie le Mindu, and sandals by Brian Atwood.
Cloning Factory Scene
For the first scene, Lady Gaga wears a playsuit by Sentimental with shoes by Christopher Kane. For the second, she wears jeans and rings by Versace.
Commercial Building Scene
Gaga bursts into the commercial building to get revenge for trying to kill her in the first scene. She receives the help of the Real Housewives of Beverly Hills to inject and kill them essentially, with kindness.
Lady Gaga wears a hat by Arturo Rios, a fur coat by Helen Yarmak, bodysuit by SOMARTA, and boots by Pleaser.
One of the male clones wears a "LG" necklace by Tarra Rosenbaum.
Final Scene + Credits
Here, in the last scene, the men that were injected with G.U.Y. are now walking out of Hearst Castle and are perceived to be the people that are kind and thoughtful in the industry, but are not like their older selves who attempted to murder Phoenix Gaga, which represent corrupted businessmen.
Shooting
The music video was shot in a studio lot and also at Hearst Ranch, Hearst Castle and a commercial building in California on February 8 to 13, 2014. The six-day shoot became her longest music video shot to this day. Usually, her music videos take only two days of shooting.
Prior to the shoot on February 6, 2014, Hearst Castle announced that they would allow Gaga to do a project there. The news attracted media attention as it was the first time since 1960 that a video project was shot there. In exchange for the permission to shoot there, Gaga recorded a public service announcement for the Hearst Castle Preservation Foundation and one short feature on the castle to educate about water conservation. She also had to pay the standard $22,100 special event fee and to reimburse the state for all the costs in production. Gaga, her parents, and associates also donated $250,000 to the Hearst Castle foundation in addition to underwriting a $25,000 water supply study and paying special fees.
A behind the scenes video was recorded during shooting. A part of it was used exclusively on The Today Show on Friday, March 21, 2014, as the first official footage from the video. On March 24, 2014, a new trailer for the behind the scenes video was uploaded on Vevo.
G.U.Y (VFX Breakdown)
Credits
| | |
| --- | --- |
| Director | Lady Gaga |
| Director of Photography | Thomas Kloss |
| Editor | Harvey White |
| Producers | Nicole Ehrlich, Andrew Listermann |
| Executive producer | Emerald Listermannn |
| Production company | Rocket In My Pocket, Riveting Entertainment |
| Colorist | Robert Curreri |
Cast
Lady Gaga
Herself
The Real Housewives of Beverly Hills Band
Kim Richards, Yolanda Hadid, Carlton Gebbia
The Real Housewives of Beverly Hills Accomplice
Lisa Vanderpump, Kyle Richards, Gigolo "Giggy" Vanderpump
Zeus
Andy Cohen
Minecraft Gamer
SkyDoesMinecraft
John Lennon
Alexander Xavier
Jesus
Ryan Kiser
Michael Jackson
Drake James
CEO #1
Greg Carlson
CEO #2
Louis Dezseran
CEO #3
James Marshall Case
Dancers
Asiel Hardison, Ian McKenzie, Graham Breitenstein, David Masterson, Nicholas Geurts, Casey Johansen, Gianinni Moreira, Daniel Dory, Amanda Balen, Montana Efaw, Chelsea Traille,

Theresa Stone

, Heather Blum,

Karen Chuang

, Tamina Pollack-Paris, Benedicte Castillo, Joy Spears, Ashely Seldon, Tierney Ashton, Kevin Frey, Knicole Haggins, Christopher Martinez, Sloan-Taylor Rabinor, Victor Rojas, Maile Hochuli, Veronica Mejia, Dominique Young, Lydia Sims
Synchronized Swimmers
Diana Care, Morane de Place, Amy Funder, Erin Ganley, Amanda Godinez, Bianca Johnson, Shannon Kelly-Jones, Brittany Hipp, Teresa Liccardo, Rachel Rife,Rebekah Rife, Catherine Hamilton, Rachel Suggs, Cally Timm
Businessmen
Fred Brotman, Michael Walton, David Rode, Chuck Pelletier, Antonio Rufino, Patrick Kanehann, Michael S. Brown, Dave Kirkpatrick, Matt Campbell, Aaron Baldwin, Alan Richardson, Alexander Cole, Austin I'anson, Bob Collins, Brandon Renfro, Brian Giangrunda, Brain Reed, Bruce Staufenburg, Clif Juell, Cory Moore, Dan Propst, David La Voy, David Paiz, James Calder, John Patchin, Johnny Costa, Joseph Skoda IV, Joseph Skoda, Josh Johnson, Kody Nelson, Marc Merk, Mark Olson, Philip Epstein, Ray Rocha, Robert Swan, Sam Silva, Steve Montes, Steve Ridge, Warren Zeal, William Stephens, Alan Mueting, Charles Harris, Corey Devonacha, Da Ron Mitchell, Daniel Robinson, Darell Davine, Darryl White Jr, Dwight Equitz, Edward Martinez, Filippo Calvagno, Gary Plummer, Geoffrey Gilbert, Greg Gittens, Herman Sinitzyn, Ian Krieger, Ivan Crasci, Iveory Edward Johnson, Jamal Kazak, James Day, James Hardy, John Robert, Rohnnie Prescott, Jose Rosete, Joshua Parrish, Josiah Black, Justin Bahniuk, Keith Naqm, Larry Pacheco, Leroy Wellington, Maaz Ali, Michael Paskel, Nik Petcov, Paul Walsh, Philip Hersh, Tobias Dorner, Zack Hurshawe
Businesswoman
Amanda Fugate-Moss, Trina Rochford
Office Building Security Guard
Rigo Obezo
Heist Driver
Fernando Orozco
Female Models
Monique Hayward, Katerina Lova, Lauren York, Bridget Jones, Chase Kennedy, Alyx Bien, Anastacia Chence, Kelsey Norris, Stephanie Danielson, Alana Noland, Amber Erby, Aneiszka Sea Hunter, Catherine Fetsco, Diana Butova, Sarah Roberts, Tatiana Dekhtyarm Virginia Anders
Male Models/Clones
Ajdin Sefer, Alejandro Montesinos, Alvaro Alvarec, Elvis Rivera, Kennen Miller, T.J. Degenhardt, Tim Giraud, Connor Breen, Chase, Mattson, James Schaepe, Alex Heim, Alex Ramadan, Austin Phillips, Justin Shaw, Spenser Watkins, Emil Rapp, Ryan Hunter, Gino Vigil, Cole Jesienouski, Weston Serame, Wade Holter, Aaron Thornton, Cedrick Kern, Davon Waker, Elie Akl, Ethan Clarke, Hunter Clowdus, Ismail Hzmeed, Kenny Sale, Lucas McGarvey, Luka Mihovilovic, Markos Lomeli, Michael Walton, Paul Black, Trevor Holmes, Travis Scholz, Connor DE St Croix, Kevin Challinor, CJ Forst
The rest of the credits is available during "MANiCURE" at the end of the film.
The G.U.Y. Hotel
From Mach 28, 2014 at 1PM to April 10, 2014, The OUT NYC hotel lobby hosted an exhibition of costumes, props, art from the video for "G.U.Y." The gallery was open to the public free daily from noon to 11PM. Until April 7, visitors who fill out a form at THE OUT NYC have a chance to win a pair of tickets for Gaga's sold-out Roseland Ballroom concert that night.
THE OUT NYC's nightclub, BPM, and CLICK will also play host Gaga's official Roseland after-party on Friday, April 4th with her producer DJ White Shadow and Steven Redant spinning.
References