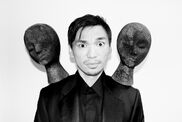 Frederic "Freddi" Aspiras (born July 13) is the wigmaker and hair stylist at the Haus of Gaga since November of 2009. He started working with Gaga on the Monster Ball as the hair stylist for the tour. Since then, Aspiras is involved on various projects including photoshoots, music videos, events, concert tours while working on a day-to-day basis with Gaga. He's Fozzi's "dad".
Works with the Haus of Gaga
Edit
Fiber Optic Wig
Edit
On September 5, 2012, Gaga posted a video of her backstage at the Born This Way Ball wearing an handmade "Fiber Optic Wig" made with a mix of real light blonde hair and fiber optic. The wig was conceived by Frederic Aspiras and took 6 months to be completed. Gaga revealed in the video that Tara Savelo, Chris Vineyard and herself also helped in the creation of the wig. The concept was of a "Disney princess taken to a rave". According to Gaga, the wig feels and move like real hair.
The wig is lit at the source of it and is plugged to a generator. The particular model shown on Gaga can also be plugged to the lightning board of the Born This Way Ball and be controlled by the lightning engineer. Tara revealed on September 7, that "the wig is for the BTWB, we are trying to put in sound sensors so that the louder she sings, the stronger it glows. #UnicornWig".
</div>
Reference
Edit