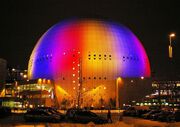 The Ericsson Globe (formerly known as the Stockholm Globe Arena, or nicknamed in Swedish, Globen - "The Globe") is the national indoor arena of Sweden, located in the Johanneshov- district of Stockholm (Stockholm Globe City). The Ericsson Globe is currently the largest hemispherical building in the world and took two and a half years to build. Shaped like a large golf ball, it has a diameter of 110 metres (361 feet) and an inner height of 85 metres (279 feet). The volume of the building is 605,000 cubic metres (21,188,800 cubic feet). It has seating capacity for 16,000 spectators for shows and concerts, and 14,119 for ice hockey.
This concert is part of the revamped Monster Ball Tour.
Addtional notes:
Set list
Jumping Film (Intro)
"Vanity"
"The Fame"
Puke Film (Interlude)
"LoveGame"
Twister Film (Interlude)
Antler Film (Interlude)
"Monster"
"Teeth"
Little Monster (Interlude)
Apocalyptic Film (Interlude)
"Bad Romance" (Encore)
Fan Film (Outro)
Part of The Born This Way Ball Tour.
Additional notes (30 August):
Due to the power outage after "Judas", Gaga did a Q&A with the crowd accompanied by Terry after performing a short acoustic rendition of "Fashion of His Love".
The door of the tower that usually opens during the intro opened during the first verse of "Fashion of His Love" due to the power issues.
During "Paparazzi", there were technical problems with the lights for Mother G.O.A.T's prism.
Set list

Act I
Space (intro)
Operation: Kill the Bitch (interlude)
Birth (interlude)
Interlude
Mother G.O.A.T. Manifesto I (interlude)
Interlude
"Judas"
Act II
Act III
Mother G.O.A.T. Manifesto II (interlude)
"Bad Kids"
"Hair" (acoustic)
"Yoü and I" (acoustic)
Act IV
Interlude
"Americano" / "Poker Face" (medley)
Act V
"Scheiße"
"The Edge of Glory" (acoustic + album)
Part of artRAVE: The ARTPOP Ball.
This show of the Joanne World Tour was originally planned take place on October 23, 2017 but was postponed from original events to February 15, 2018 due to hospitalization for body pain, but was cancelled again due to body pain caused by fibromyalgia.
Link
Community content is available under
CC-BY-SA
unless otherwise noted.