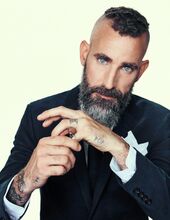 DJ White Shadow (born Paul Blair) is a producer, disc jockey and sound engineer based out of Chicago, Illinois. He is a producer on Lady Gaga's third album, Born This Way as well as her fourth album, ARTPOP.
Early life
Blaire grew up in Ohio, but spent his school years in Detroit. He started DJing when he was 17 in Japan and made some popular remixes that appeared around the internet.[1]
Work with Lady Gaga
"
Gaga was listening to my mixtapes after someone she knew heard me DJ in a club in L.A. One day Gaga e-mailed me and asked me if I made my own beats. I said yes, sent her some, and she hit me back, this time on the phone, asking if I wanted to work with her on some stuff. I said okay.
"

—DJ White Shadow, Billboard[2]
They started working together during The Monster Ball Tour because he was a consultant for the musical interludes. After that, they collaborated on Gaga's third album for more than a year. He is credited as co-producer for the song, "Born This Way", along with Fernando Garibay and Gaga.
Production with Lady Gaga
He worked with Lady Gaga on the following song(s):
Songs from Born This Way (2011):
Songs from ARTPOP (2013):
Songs from A Star Is Born soundtrack (2018):
Other songs:
Songs currently unreleased:
Songs by Lady Gaga that he remixed:
DJWS Vision
After Monstervision episode 8, DJ White Shadow started a video blog called "DJWS Vision"
DJWS vision number 1
Released:
November 4, 2012
Location:
San Juan, Puerto Rico
Length:
01:48
DJWS vision number 3
Released:
November 14, 2012
Location:
Rio de Janeiro, Brazil
Length:
01:30
DJWS vision number 4
Released:
December 21, 2012
Location:
Safari, South Africa
Length:
01:02
Notes
Shadow's official website launched on May 23, 2011, the day of release of Born This Way.
DJ White Shadow also has a booking agency of his own; which is home to many of the top DJs in the country called The Music Trust, based in his hometown of Chicago, IL. (www.themusictrust.com)
Other
Resources
Links