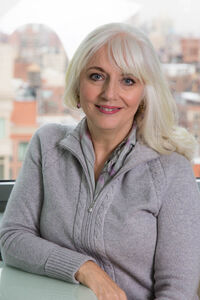 Cynthia Louise "Cindy" Germanotta (born: Cynthia Louise Bissett; August 30, 1954) is Stefani and Natali's mom. She's married to Joe Germanotta.
Little bio
Cynthia was born on August 30, 1954 in Wheeling (West Virginia) to Paul Douglas Bissett (died on March 31, 2013) and Veronica Rose "Ronnie" Bissett (née Ferrie). She's got two siblings an older brother called Paul Douglas "Doug" (married to Carole Nessif) and a younger sister called Cheryl Ann "Sheri" (married to Steve Cates). Also she's got two nieces, Laura Mull and Jenny Snyder (Paul's daughters).
After she married Joseph Germanotta, she worked in telecommunications at Verizon.
Her family tree
Veronica Ferrie (1928)
Paul Bissett (1926-2013)
Joseph Germanotta (1957)
Cynthia Bissett (1954)
Cheryl Bissett (1???)
Steve Cates (1???)
Paul Bissett (1???)
Carole Nessif (1???)
Stefani Germanotta (1986)
Natali Germanotta (1992)
Laura Mull Bissett (1???)
Jenny Snyder Bissett (1???)
Cynthia's grandparents
Maternal grandparents
Cynthia, Cheryl and Paul are the maternal grandchildren of Vincenzo "James" Ferrie (died on 1967) and Filomena "Minnie" Campana (née Ferrie) (died on 1940). Originally:
"Ferrie" was "Ferri"
"Campagna" was "Campana"
Vincenzo (in 1905) and Filomena (in 1913) immigrated to the United States from Broccostella (Frosinone, Lazio, Italy).
Paternal grandparents
Cynthia, Cheryl and Paul's paternal grandparents are George Lindsey Bissett (died on 1943) and Sarah Ann "Sally" Bissett (née Leach) (died on 1963).
Trivia
She was 31 years when gave birth to Gaga.
Her fashion sense inspired Gaga.
She co-launched the Born This Way Foundation with Gaga.
She has referred to Gaga as "a great businesswoman".
She works with Joe in Joanne Trattoria.
She is referred as "Grandmother Monster" by both Gaga and her monsters.
Her daughter sang "Happy Birthday" to her in one of her Born This Way Ball shows.
Other
Links