For other uses, see Chromatica (disambiguation).
Chromatica is Lady Gaga's sixth studio album. It was set to be released on April 10th, 2020, but was delayed to May 29th, 2020 due to the COVID-19 pandemic. Lady Gaga supervised the production with longtime collaborator BloodPop® and a variety of producers to create a concept album returning to her dance-pop roots, eschewing the stripped-down style of its predecessors Joanne (2016) and A Star Is Born (2018). Chromatica draws inspiration from 1990s house music, seeing Lady Gaga adopt a cyberpunk-inspired persona.
The album's lead single, "Stupid Love", was released on February 28th, 2020. "Rain on Me" was released as the second single on May 22nd, 2020. The song's Robert Rodriguez-directed music video premiered the afternoon of the single release, and showcases a cyberpunk rave in the rain. A day ahead of Chromatica's scheduled release, and with no announcement, Lady Gaga released "Sour Candy" as a promotional single. "911" was accompanied with a music video which was released on September 18th, 2020, and directed by Tarsem Singh. The song was serviced to Italian contemporary hit radio on September 25th, 2020. "Free Woman" was sent to radio in France as the fourth single from the album on April 13th, 2021.
Background and inspiration
Lady Gaga revealed the inspiration behind the album's title in an interview with Zane Lowe on Apple Music's Beats 1.
"I think what I've learned is that I can view the world in whatever way I choose to see it, and it doesn't mean that I'm deleting the bad things, it just means that I can reframe my life experiences", she said. "I live on Chromatica, that is where I live... I found Earth, I deleted it. Earth is canceled. I live on Chromatica".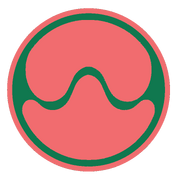 Chromatica's symbol was explained to Zane Lowe by Lady Gaga as follows:
"The symbol for Chromatica has a sine wave in it, which is the mathematical symbol for sound, and it's from what all sound is made from, and, for me, sound is what healed me in my life period, and it healed me again [during] making this record, and that is really what Chromatica is all about; It's about healing and it's about bravery as well and it's really like... when we talk about love I think it's so important to include the fact that it requires a ton of bravery to love someone".
Continuing on the album's inspiration and concept Gaga said: 
"
BloodPop® brought it up, and we talked about how Chromatica was essentially on its own when you first look at it, it seems to be about colors and all the different colors and also music is made of a chromatic scale, you know? So it's all the colors, all the sounds, you know, so we, we're talking about inclusivity and life and also a lot of what we see around us and what we're experiencing is math, which is very much like music and sound is math as well. So we talked about that, and then I sort of went back and I said, 'OK, well, yeah, it's inclusivity but it's really a way of thinking', you know, it's not just, 'Oh, Chromatica, we're being inclusive with all the colors, all the people', and when I say, 'All the colors, all the people', I mean way more than we could possibly fathom.

I think that we're actually operating on a completely rudimentary level where we square things off into very simplified colors when actually we're all extremely different in a vast variety of ways that stem from both, like, genetics as well as epigenetics, like, we're all completely different and I thought OK, well maybe, Chromatica is a frame of mind. And that is my frame of mind, and I don't know that I've ever made an album that wasn't on Chromatica in some type of way, meaning like my frame of mind is always a part of my music, and this is just my way of kind of expressing, even in a both literal and abstract way, that, like, making music and putting it out into the world is my perspective on life, and it's also my gift to the world in the best way that I can, and I think that everyone on any given day is doing the absolute best that they can do, and this is my perspective, and here it is, and it's always been my perspective, but now I know that it was my perspective.
"

—Lady Gaga on Apple Music
Nicola Formichetti talked about Chromatica in an interview for Vogue.
"
Chromatica is not utopian or dystopian. It's how Gaga sees the world. It's very, very upbeat, but it's realistic in its message, and she speaks about a lot of deeply personal things. So there is this interplay of light and dark. We needed something that wasn't running from the past—actually, we wanted to embrace the past—to show that Gaga is on her path towards healing. Chromatica is about how she makes sense of things. [...] Gaga wanted to own the roots of her past [in pop]. And we wanted to show that through fashion, as well. Before, we used to kind of hide her. Gaga was this mystery, with the wigs, the sunglasses, the makeup. She was an enigma. We still have that element, of course, but she's much stronger, and you can really see more of her in everything. You start seeing more of her face, her skin.
"

—Nicola Formichetti for Vogue
Lady Gaga has been candid about her experiences with sexual assault, mental health issues, chronic pain, post-traumatic stress disorder, and more.
In an interview New Music Daily with Zane Lowe on Apple Music which was released on the day of release of "Stupid Love" (February 28th, 2020) Lady Gaga talked about the meaning she put into this album:
"
We are definitely dancing… I put all my heart, all my pain, all my messages from the other realm that I hear of… what they tell me to tell the world and I put it into music that I believe to be so fun and you know, energetically really pure. I want people to dance and feel happy. I would like to put out music that a big chunk of the world will hear, and it will become a part of their daily lives and make them happy every single day.
"

—Lady Gaga on Apple Music
Lady Gaga surprised Zane Lowe when she shared that a lot of songs from "Chromatica" were recorded in her private studio at her Hollywood Hills home.
"
We made a lot of the record in my studio house. So I have a house where it's Frank Zappa's old studio, it's a live room, it's a big studio, it's beautiful. And I would be upstairs on the porch, outside the kitchen, and BloodPop® would come up and he'd go, 'Okay, come on, that's enough, off the porch', and I would cry and I would say, 'I'm miserable, I'm sad, I'm depressed,' and he'd go, 'I know, and we're gonna go make some music now. And then I'd go downstairs and I would write, you know, 'Stupid Love', or I'd write that lyric that I just told you to make another song [Lady Gaga means "Replay"], you know, it just, this album is such a display of not only how you can reframe the way that you view the world, but I promise, or, and I hope, that the love that was around me in the process of making this album is something that other people feel, that they know that artistically, like, you know how producers are, if one guy's working on it, or one girl's working on it, they don't want anyone else to work on it, they don't wanna share, they, everybody gets cocky, there was none of that. These records got passed around to so many different people, there were so many different iterations of these songs because we all wanted it to be perfect and literally nobody cared who put their fingerprints on it, as long as it was the dopest thing that we could give to the world and that it was meaningful, authentic, and completely me.
"

—Lady Gaga on Apple Music
Also Lady Gaga told Zane Lowe further about creation of this album:
"
This was very emotional for me making this album and I cried constantly and I was writing poetry constantly. And, but you know what was really different, I didn't question myself a whole lot. I don't know [why], it was so real and so honest that it was, I basically would write something out and I would just say it and it would take me not even four minutes to write it and I would just feel like this is what it is.
"

—Lady Gaga on Apple Music
In an interview for American Songwriter, Lady Gaga told about the process of working on Chromatica:
"
[...] with this record in particular, I made a deliberate decision to explore my relationship with BloodPop® and explore what he saw in me as an artist. Because I was in a very dark place and he could see the color. That is Chromatica. When I could not see color, BloodPop® could. By the end of it, I could see all the colors, which is why in the "Stupid Love" video, there's such a color story. Because out of the darkness came so much color, so much light. For me, color is the warmth. Color is the warm hug. Color is the way we should see things.

So, we just started working. We started discovering together by working. But it was challenging at first because I was wrestling with myself in a lot of ways. But I wanted to practice my skills and I wanted to practice my art. I found it uniquely interesting that if I put my mind and my heart to it – that moment at the piano when I would write a lyric or a melody or cord progression with Blood. He'd be sitting on the floor and I'd be at the piano or he'd be in the control room and I'd be at the piano and he'd be sitting there at his computer ready to go and I just remember thinking to myself, "Well, he loves me and I can say whatever I'm feeling. I can play whatever I'm feeling."

And that was the journey and for a couple years. We worked together on and off and then he assembled with me the squad. That is, the team that would build the rest of Chromatica.
"

—Lady Gaga on American Songwriter
Lady Gaga continued to talk about the process answering such questions as "What is your studio ecosystem like? Are there a lot of producers around? Do you like a minimal team? What is the layout like?":
"
For Chromatica, though, [working on it] really began with BloodPop®. And some days I would be with just Ben [Rice] in the studio. Ben records my vocals but I have to give him credit for being a producer in his own right. He's incredible. He produced "Shallow" with me.

We mostly worked from the Frank Zappa studio. It has a full live room and a full control room. Beautiful, huge echo chambers that are 100-feet high and beautiful acoustics. We wrote, gosh, I'd say 50 songs, 100 songs, I don't even know anymore. We wrote so many songs. And then I wanted to write, like, 20 more. I thought Blood was going to throw me off the porch [Laughs]. But he didn't. He understood that I wanted to "rinse" the record. That's what I say. I call it rinsing. It's like rinsing the songwriting. I wanted to make sure there was nothing left inside me for this one.

Then, one day, Blood said to me, "Okay, it's time to leave the studio." And I think what he meant really to say was, "It's time for you to leave these things that are hurting you behind. It's time to let go of them. Let's finish at Jim Henson studio." We went there. And everyone came together and – listen, my only rules that I have with everyone is that we all have to collaborate with each other, everyone has to listen to everything, everyone has to work together, I don't like egos. I like collaboration. And I like the art to come first.

This, to me, is the heart of Chromatica. It was the ability for an artistic collective to operate in service of one thing only. And that is spreading color and kindness to the world. And how to make it better. And if it's not better, go back. If I added too much, reverse the car. If there isn't enough there, we have to amplify. If the record's not right, rewrite the record. If the melody is not sitting right, rewrite the melody. If the lyric's not coming out of my mouth in the right way, rewrite the lyrics – it's a consonant now and not a vowel. It's the minutia and the art of poetry and creativity in music. We all came together and we celebrated it. It brought me back to life in so many ways.
"

—Lady Gaga on American Songwriter
The map of Chromatica
The map of Chromatica was released in June of 2021 inside a fanzine, included in the trifold vinyl of Chromatica. It was previously used as a poster without the written annotations on the wall among other posters during MTV VMA's 2020 medley. However, the easter egg went unnoticed until the release of the fanzine 10 months later.
The Capitol: The Capitol is comprised of Four Loops following the contours of The Sine River.
Mother's Peak: It is said that Chromatics derives all of its energy from Mother's Peak, a once active volcano with mystical pink magma goo.
Legend has it that the Spiritually Evolved/Non-Binary are the only ones capable of stabilizing The Core, and thus have resided at the foothills of Mother's Peak in order to maintain the balance of Chromatica for many generations.
Desert of Kindness
Alice Bay
North Bend: North of the River is an ever-evolving metropolis, with all the complexities and diversity that come with urban and suburban living. From highly refined, well-manicured City Centres for commerce and leisure, to densely populated residential areas, to quieter living on the outskirts of the respective Loops.
The population here is generally more forward thinking, tolerant, and compassionate than the South. Every age and status is represented here and living in harmony.
South Bend: South of the River is the "old" city. Things are more traditional — in both architecture and way of thinking. This is where the government buildings are located, and most of the elders.
Much of the South Bend architecture utilizes the resources of Babylon, giving the most prestigious buildings their green teal coloring.
Compassion Hills
Babylon: Babylon is the result of beauty emerging from tragedy.
Thousands of years ago, when Mother's Peak erupted, the discharge mixed with the saltwater from The Bay and turned Babylon into a glazed, jade-like ruin.
Artwork

At the end of NikkieTutorials' video with Lady Gaga on YouTube which was recorded on December 2nd, 2019 and published on December 5th, 2019 makeup artist gifted the singer with some Christmas ornaments and Gaga joked that one of the ornaments was actual the cover of her future LG6 album (Chromatica), saying: "That's my album cover LG6 [...] It's done already. That's LG6, the whole time. That's is coming out with our next drop for Haus Laboratories as well. Just remember this look."
On April 5th, 2020, Lady Gaga revealed the cover artwork via social media. The photograph was taken by Norbert Schoerner, while graphic design was handled by Travis Brothers, Bryan Rivera, Isha Dipika Walia, and Darío Alva. Lady Gaga was styled by her longtime collaborator Nicola Formichetti and Marta del Rio. A physical artwork version was prematurely revealed earlier in the day by an online music retailer.
In an interview for Vogue, Nicola Formichetti talked about what the album cover and the clothes that Lady Gaga wore for the photoshoot of it symbolize in terms of fashion. "The blend," says Nicola Formichetti, is seen from the outset: the cover depicts Lady Gaga strapped to a metal shield-slash-symbol; the squiggle is called a "sine," and it represents the elasticity of sound. But it's what she's wearing that's most intriguing: on one foot, a violent boot with a knife-blade heel, created by Cecilio Castrillo . On another, a shoe with a semi-ritualistic animal horn heel, created by Gasoline Glamour. Her outfit consists of welded claws by Gary Fay, leather belt straps , one-armed metal plating, icing-pink hair, and even a pseudo-collar made of octopus tentacles. It's an assemblage of the outré costumes that originally helped to cement Gaga's fame.
"
[The cover] is almost a tableau of different parts of her journey throughout her life. How she has always transformed herself into different characters, establishing these Gaga 'codes.' Punk rock. Avant-garde. Alien. Norbert's style is very voyeuristic, almost more cinematographic in nature, which I think worked well for this. And, you'll notice, she can't move. She's bonded to this fashion. But this isn't a bad thing. It's both about where she started and how far she has come.
"

—Nicola Formichetti for Vogue on May 29th, 2020
Symbols
Release and promotion
In response to tabloid reports saying she might be pregnant, Gaga tweeted on March 12th, 2019, "Rumors I'm pregnant? Yeah, I'm pregnant with #LG6." Several news outlets speculated the tweet alluded to a release within a nine month window, the typical span of a human pregnancy, but the anniversary has since come and gone, proving the theory to be false. In October 2019, she jokingly announced via Twitter that the album would be called Adele after the English singer-songwriter of the same name. In January 2020, several news outlets reported that the album's lead single was scheduled to be released in early February, with the album's release following soon afterwards.
The album's title and release date were officially announced on March 2nd, 2020, through Lady Gaga's social media accounts with an artwork featuring Chromatica's symbol on a pink background with "LG-6" stamped on the corner. Lady Gaga confirmed that the image is a placeholder "This is not the album cover but we made it for you to enjoy in the meantime". The pre-order for the album was made available with the announcement. On March 24th, Lady Gaga announced in a statement on Instagram and other platforms that the release would be postponed until later that year due to the coronavirus pandemic.
First of all, I want to make sure everyone is staying safe and practicing social distancing. Please know that I'm thinking of you all.
I wanted to tell you, that after a lot of deliberation, I've made the incredibly tough decision to postpone the release of Chromatica. I will announce a new 2020 release date soon.
This is such a hectic and scary time for all of us, and while I believe art is one of the strongest things we have to provide joy and healing to each other during times like this, it just doesn't feel right to me to release this album with all that is going on during this global pandemic.
Instead I prefer that we spend this time focusing on finding solutions. It's important to me that the attention is on getting essential medical equipment to healthcare professionals, making sure kids who depend on public schools for meals get the assistance they need, and that we help those who will be financially impacted by this pandemic.
As you may have also heard, MGM sadly had to postpone my Vegas shows from April ‪30-May‬ 11 due to guidelines about public gatherings from the CDC. I'm hopeful that my other Vegas shows in May will continue, and we'll update you as soon as we have any new information. I also definitely plan to see you on the road for my CHROMATICA BALL tour this summer!
I had so many fun things planned for us to celebrate together… I had a secret Coachella set lined up, and a lot of other fun surprises, some of which I'm still planning to share with all of you very soon! Chromatica is still very much on the way and I can't wait.
To my fans, I love you. I know you are disappointed. Probably angry and sad. But I also know that as a fan base… as a family… we are strong, we are loving and we are the kindness punks. So I ask you to practice that kindness in these trying times.
I hope you can see that when the album does come out, I want us to be able to dance together, sweat together, hug and kiss each other, and make it the most bombastic celebration of all time. And until that time comes, LET'S ALL STAY HOME! But I promise you that when we can go out again, I'm going to make it SO MUCH FUN. I can't wait to be dancing with you all!
⚔️💓
—Lady Gaga
On April 5th, 2020, Lady Gaga revealed the cover artwork via social media after a physical cover was prematurely revealed earlier in the day by an online music retailer. Some day another statement about album delay was revealed on Gaga's official website.
On April 22th, 2020, an American retail corporation, Target, accidentally leaked the tracklist for Chromatica on its website, where the album was available for pre-order. It didn't take fans long to spot it, and after much hype and social media pickup, Lady Gaga herself revealed the tracklist of the album on the same day on her Instagram.
On September 30th, 2020, Lady Gaga shared a message of inspiration on a new Chromatica billboard in Los Angeles:
"
I wrote this album when I was sad. I wrote this album when I was mad. I wrote poems about fear, and I asked my poems to sing. I heard sines from above I've never heard before-to keep going, to keep breathing, to know each lyric was a step forward, each melody was a gift. Chromatica was a dream I had that became real. My art always teaches me something.
Chromatica taught me to dance my way through the pain. That the pain could get better, that music was my faith. Music is my religion. People are my god. I am here to serve the world and inspire as many people as possible to rejoice no matter what the circumstances are. We all deserve happiness. We are all valuable. Sometimes it just requires patience and fortitude to recognize our own strength. That is Chromatica.
"

—Sincerly, Lady Gaga
It was later added to the trifold vinyl booklet in June of 2021.
Singles
NOTES
On March 5th, 2020, Lady Gaga announced she would embark on The Chromatica Ball tour to support the album. The six-date trek was scheduled to begin on July 24th, 2020, in Saint-Denis, France and end on August 19th, 2020, in East Rutherford, United States. The tour was postponed twice from its original 2020 summer date due to safety concerns over the COVID-19 pandemic. Once on June 26th, 2020 to postpone the dates to summer of 2021 and again on June 2nd</sup, 2021 to postpone them to summer of 2022.
Track list and editions
The album has a standard and deluxe editions. The standard edition will consist of 16 tracks. The deluxe edition will contain 4 bonus tracks with a special Hardcover book.
CDs
Vinyls
Tri-fold vinyls includes
Standard LP album with tracklisting sticker
28 page LP size booklet
40 page Fanzine
Tri-fold vinyls includes
Standard LP album with tracklisting sticker
28 page LP size booklet
40 page Fanzine
Cassettes
Five editions of Chromatica were produced on cassettes. They all share the same standard album tracks but have different cassette and tape colors along with slightly different visuals.
Lady Gaga's official UK store exclusive edition
Cat N°
B00712301
Barcode
602507123017
Shell
Neon green
Tape
Black
Urban Outfitters limited exclusive edition
Cat N°
B00716611
Barcode
602507166113
Shell
Transparent silver
Tape
Pink
Cassette 1
Cat N°
B00885408
Barcode
602508854088
Shell
Transparent dark green
Tape
Black
Cassette 2
Cat N°
B00885422
Barcode
602508854224
Shell
Pink
Tape
Black
Cassette 3 - Limited Edition
Cat N°
B00885423
Barcode
602508854231
Shell
Mint green
Tape
Black
Boxset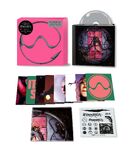 Limited edition boxset includes:
Box 195x197x26mm / Outer Lid
International Hardcover book deluxe special 7' edition (22 tracks)
Album artwork poster
8x Postcards
Temporary tattoos
Postcards, temporary tattoos and poster: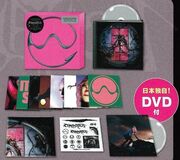 Limited edition boxset includes:
Box 195x197x26mm / Outer Lid
Japanese Deluxe Hardcover book special 7' edition (23 tracks)
Special DVD
Album artwork poster
8x Postcards
Temporary tattoos
DVD:
No.
Title
Length
1.
"Interview" (Recorded on March 11, 2020)
16:47
2.
"Stupid Love" (Music video)
03:38
3.
"Stupid Love" (The Making of)
06:36
4.
"Rain On Me" (Music video)
03:09
5.
"Rain On Me" (The Making of)
04:40
6.
"Sour Candy" (Lyric video)
02:38
7.
"911" (Short film)
04:43
Collector's edition digital frame (IICONI)
IICONI is a collectable frame that offers a unique journey to the heart of Chromatica. This photo frame gives you access to an app where you can find music, videos, photos, news and stories. The album, in Deluxe Edition with 3 extra track, is available for HD FLAC download and optimized streaming 320 kbs.The dimensions of this aluminum frame is 30x30 cm, it's the same size as a standard 12" vinyl. This release is limited to 550 Individually numbered copies.
Digital frame includes:
The Album, in Deluxe Edition with 3 extra remix
Videos
Photogallery (Digital album and single covers, album photoshoot, music video stills from "Rain On Me" and "911")
Stories (Biography, Born This Way Foundation, Chromatica lyrics and etc.)
News
Videos:
No.
Title
Length
1.
"Stupid Love" (Music video)
03:38
2.
"Rain On Me" (Music video)
03:09
3.
"911" (Music video)
04:43
4.
"Sour Candy" (Lyric video)
02:38
5.
"2020 MTV Video Music Awards Medley"  
09:18
6.
"The Chromatica Weather Girls"  
 
7.
"Stupid Love" (The Making of)
06:36
8.
"Rain On Me" (The Making of)
04:40
9.
"911" (The Making of - Vevo Footnotes)
04:42
Release history
Region
Date
Edition
Format
Catalog #
Barcode
Label
May 29, 2020
Standard
CD
B0032000-02
0602508854064
Interscope
Streamline
Clear LP vinyl (Transparent)
B0031976-01
0602508852961
Milky Clear LP vinyl (Standard)
B0031852-01
0602508789045
Limited Picture LP vinyl
B00885413
0602508854132
Limited Silver LP vinyl
B0031977-01
0602508852978
Cassette Dark Green Colour
B00885408
0602508854088
Cassette Pink Colour
B00885422
0602508854224
Cassette Mint Green Colour
B00885423
0602508854231
Cassette Electric Green Colour (UK Store Exclusive)
B00712301
0602507123017
Polydor
Cassette Silver Colour (UO Exclusive)
B00716611
602507166113
Interscope
Streamline
Japanese Standard edition
UICS-1359
4988031378281
Universal
Deluxe
CD (Limited Hardcover Book)
B00885414
0602508854149
Interscope
Streamline
Target Exclusive CD
B0032001-02
0602508854071
Japanese Deluxe edition
UICS-9164
4988031384350
Universal
June 10, 2020
Standard
Taiwan Press Version CD
0885406A
Nov 20, 2020
Deluxe
Boxset
B00885416
0602508854163
Interscope
Streamline
Dec 16, 2020
Boxset (Japanese edition)
UICS-9166
4988031408216
Universal
June 12, 2021
Standard
Trifold yellow vinyl (Record Store Day)
B0033479-01
0602435720128
Interscope
Streamline
June 25, 2021
Trifold black vinyl
Booklet and credits