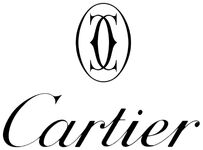 Cartier
 (/ˈkɑrti.eɪ/; French: [kaʁtje]) designs, manufactures, distributes and sells jewelry and watches. Founded in Paris, France in 1847 by
Louis-François Cartier
, the company remained under family control until 1964. The company maintains its headquarters in Paris and is now a wholly owned subsidiary ofCompagnie Financière Richemont SA. Cartier is well known for its jewelry and wrist watches, including the "Bestiary" (best illustrated by the Panthère brooch of the 1940s created for Wallis Simpson), the diamond necklace created for Bhupinder Singh the Maharaja of Patiala and the first practical wristwatch, the "Santos" of 1904.
Accessories
Edit
This 18K yellow gold piece with peridot eyes, onyx nose and black lacquer spots that "literally envelops the finger to make a bold and solid eye-catching statement" is "Panthère Ring", named after Louis Cartier's creative partner, whose nickname was "The panther".
"The feline motif is a tribute to devastating seduction, mysterious beauty and untamed character."
Necklaces
Edit
Bracelets
Edit
Sunglasses
Edit
Community content is available under
CC-BY-SA
unless otherwise noted.