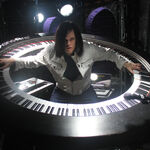 Brockett Parsons is a keyboard player from Summit, New Jersey. He is most famous as a winner on Diddy's Making His Band.
Work with Lady Gaga
The PianoArc
Invention inspired by Lady Gaga and a certain Monster Ball guitarist ("Jesus"?) :
So Gaga inspired you to create the PianoArc…
I think it's fair to say if I didn't play keyboards for Lady Gaga, it wouldn't have happened. She's one of the greatest performers of all time, and so that spirit of innovation rubbed off on me.
PianoArc.com :
We designed and built the world's first circular keyboard controller, the "Brockettship", used by Brockett Parsons on the Lady Gaga The Born This Way Ball 2012-2013 and the 2013-2014 ArtPop tours.  The PianoArc "Brockettship"  has performed in across the world, starting in Seoul, South Korea in May 2012...
PianoArc's cameo appearance during Superbowl LI captured Brockett Parsons performance on the Brock360 and brought our server to a halt – something we're sheepishly proud of – we were honored at the magnitude of inquiry from around the world.
Interviews
People October 19, 2018
Lady Gaga's Keyboardist Brockett Parsons — Inventor of the Circular Piano — Drops First Solo Album
Keyboardist Brockett Parsons has jammed with Lady Gaga on four world tours, the Super Bowl and on SNL - and now he is debuting his first solo album
By KC Baker October 19, 2018 06:29 PM
On a bone-chilling January morning in 2010, keyboardist Brockett Parsons stood in line in New York City with hundreds of other hopefuls waiting to audition for the gig of a lifetime: a coveted spot in Lady Gaga's band for the world tour of her hit album, The Fame Monster.
Less than three weeks later, after making the cut — handpicked by Gaga herself — Parsons found himself jamming on onstage with the superstar in Manchester, England, where she kicked off her show-stopping Monster Ball World Tour.
His life has never been the same.
Since that winning audition, Parsons has performed the Super Bowl halftime show with Gaga, rocked out with her on SNL and the Grammy Awards, pounded the keys on a few songs from her hit movie, A Star Is Born — and somehow found the time to invent the world's first circular electronic keyboard, the PianoArc.
After snapping up millions of views and more than 150,000 followers for playing his one-of-a-kind keyboard on Instagram, Parsons is dropping his very first solo album, The Brockettship, on Modern Icon/Ropeadope Records, featuring 15 original songs that fuse jazz, hip hop, new wave, rock, and pop.
His long, dues-paying path to success – including being chosen for Diddy's touring band on the MTV reality show Making His Band — he tells PEOPLE, "has been amazing."
His lifelong love of music began as a kid in Summit, New Jersey, when he started playing the trumpet and piano at 8 years old, inspired by his mother, Chesley Kahmann, a composer and acclaimed pianist who's released nine of her own albums.
With music in his blood, Parsons began perfecting his craft at Bucknell University, where he was director of the popular Bucknell Jazz and Rock Ensemble, and then at the prestigious Berklee College of Music in Boston, before playing hundreds of gigs including stints at New York City's legendary Café Wha.
Armed with a strong work ethic, raw talent and an explosive stage presence, Parsons opened up to PEOPLE about how far he's come, his adventures along the way – and where he's headed next.
How did you end up on Diddy's MTV Reality Show?
In 2009 there was an open call audition for this MTV show, Making His Band, which was an extension of Making the Band, in four different cities. In New York, thousands of people showed up. I stood in line for seven hours, in the winter. Of 8,000 people, he eventually chose seven winners and I was one of them.
Forty of us lived in this big mansion for seven weeks while we competed to be in his touring band. It was crazy because you had no idea what was gonna happen next.
I still know a lot of the people from that show. One of them — Jamareo Artis, who's been playing bass guitar with Bruno Mars for years, plays on my album.
How did you land your biggest break as Lady Gaga's keyboardist, a job you've had for nearly a decade?
Two very big auditions in a short period of time changed my life. Diddy's show definitely got the ball rolling. That warmed me up for the Gaga gig, essentially.
We never ended up touring with Diddy. That was OK because three months later, in January 2010, there was an open call to audition to be in the band for Lady Gaga's world tour. There were hundreds of people at that audition. It was really intense but for some reason I felt really comfortable. Her vibe was incredible. I got the gig and we toured for about a year-and-a-half, all over the world with the Monster Ball Tour.
Since that time, I've played four world tours with her, and almost every TV show you could imagine — Saturday Night Live, Kimmel, Fallon, Oprah, the American Music Awards, Grammys, the Super Bowl, and Madison Square Garden six times.
What was it like to tour with Gaga in 2010 when she was exploding on the world stage?
Every concert was sold out all over the world. It was massive. We knew that we were part of something that wasn't just big for that year, but something big for maybe even a generation. It's very rare that a new artist gets that much heat. You know?
It was an event everywhere we went. You could just feel the anticipation.
What are some of the highlights of performing with Gaga?
The Super Bowl was incredible. We played in front of 100 million people. After we performed, the five of us in the band walked backstage and watched the rest of the game without saying a word to each other for a while. Nobody else could understand what it felt like at that moment.
Here you are at the Super Bowl with the top music star in the world playing the biggest gig in the world. It doesn't get any better than that.
The first time we played Madison Square Garden was also a highlight. So was performing on stage during a Muppet ABC special with her and Elton John. We performed with Sting when she did a duet with him for iHeartRadio. They sang "King of Pain." That was amazing.
How did you come to invent the world's first circular keyboard, the PianoArc, which made its TV debut at the Super Bowl?
After my first tour, I was talking to the guitar player at the time who really had great stage presence and asked, "How can I get my stage rig to look better?" I was asking because when you play with her, because her level of performing is so incredibly high, you have to have a certain power yourself to even be worthy of that stage.
He was like, "Man, why don't you just make a circular keyboard?" He was sort of half joking. He was like, "You just have a circle around you. Do something wild."
I called a friend named Chuck Johnson who I played with at Bucknell. He had previous experience in developing musical instruments. I asked him if he thought it'd be possible to make a circular keyboard, and he was like, "Yeah, we can do it.' He got a team together and six months later, the keyboard was delivered to rehearsals. I played my first gig with it in South Korea at the Seoul Olympics Stadium in 2012 on the Born This Way Ball tour.
So Gaga inspired you to create the PianoArc…
I think it's fair to say if I didn't play keyboards for Lady Gaga, it wouldn't have happened. She's one of the greatest performers of all time, and so that spirit of innovation rubbed off on me.
Tell me about the new album.
It's a journey of all the styles of music that I love, so it goes from jazz to hip hop to the kind of rock where Pink Floyd or David Bowie could be referenced. Then I do a Radiohead cover, and then play some fusion type stuff that gets pretty experimental. Then I close the album out with just a straight traditional jazz piece.
It's a throwback to the days when albums had an overall storyline. Hopefully, people will dig it.
What's next for you?
This is the first album that I've done. I did it because I thought I had something to say and because it was time. I'm gonna just keep on writing and making more music. That's a lifelong process.
Cosmo Music All Access October 3, 2017
Discography
Links
Community content is available under
CC-BY-SA
unless otherwise noted.