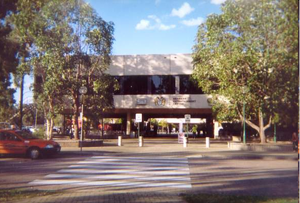 The Brisbane Entertainment Centre (BEC) is a centre, located in Boondall, a Brisbane City suburb, in Queensland, Australia.
The arena has an assortment of seating plans, which facilitate the comfort of its users, subject to performance. Specific seating plans usually are allocated, depending on the performance and the size of its audience. The general seating arrangements are end stage mode, "in the round" and intimate mode, which only uses half of the arena.
It also has a sporting complex and many other smaller function rooms, which are available to hire for wedding receptions, business functions and the like.
The centre has 11,000 tiered seats and a maximum concert capacity of 13,500.
Part of the Doll Domination Tour, Lady Gaga was the opening act. There were no changes fashion wise between this concert and the previous concert at Vector Arena.
Set list
Part of The Monster Ball Tour: Arena Version.
Part of The Born This Way Ball Tour.
Additional notes (June 13):
Gaga wore a new Void of Course for the performances of "Born This Way" and "Black Jesus † Amen Fashion". The performance of "Black Jesus † Amen Fashion" was also slightly altered, as it featured runway use.
A rotating rack featuring her old classic outfits was debuted during "Fashion of His Love".
The Disco Scepter that first appeared during "LoveGame" on the first date was used instead of the original gun to kill "Mother G.O.A.T." during "Paparazzi" starting on this date.
During "Scheiße" Gaga wore the hat she wore whilst singing "Paparazzi".
Due to safety reasons, handrails were added to the staircase starting on this date.
Gaga wore a denim jacket saying "Brisbane Bad Kids" whilst performing "Hair".
Starting on this date, Gaga pulls up young girls or boys on stage to dance with her during "Marry the Night".
Additional note (June 16):
During "Heavy Metal Lover", the motorcycle got stuck at the beginning of the Monster Pit. After a failed attempt from Gaga, who got up and turned the bike into the pit, two dancers helped her put it in the pit. Consequently, the bike was late on coming back to the stage, just before the last chorus, rather than just before the break.
Set list

Act I
Space (intro)
Operation: Kill the Bitch (interlude)
Birth (interlude)
Interlude
Mother G.O.A.T. Manifesto I (interlude)
Interlude
"Judas"
Act II
Act III
Mother G.O.A.T. Manifesto II (interlude)
"Bad Kids"
"Hair" (acoustic)
"Yoü and I" (acoustic)
Act IV
Interlude
"Americano" / "Poker Face" (medley)
Act V
"Scheiße"
"The Edge of Glory" (acoustic + album)
Part of artRAVE: The ARTPOP Ball.
Community content is available under
CC-BY-SA
unless otherwise noted.