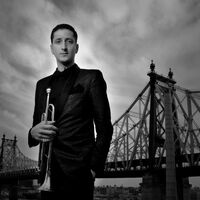 Brian Newman (born June 10, 1981) is an American jazz musician, singer, and trumpet player. Born and raised in Mentor and Concord Township in Cleveland, Ohio. He told his mother at age twelve that he wanted to grow up to be a New York City jazz musician. Brian began playing at age nine and made his public debut at age 14. He is a 1999 graduate of Notre Dame-Cathedral Latin High School and currently lives in the Bedford Stuyvesant neighborhood of Brooklyn, New York. Newman attended the University of Cincinnati's College-Conservatory of Music in Cincinnati, Ohio. He is most known for his numerous performances with Lady Gaga and her surprise appearances at his performances in New York City. Brian has similarly shared the stage with a diverse array of performers across multiple genres, highlighted by notable appearances with Tony Bennett, Frank Sinatra, Jr., Mark Murphy, Dierks Bentley and Megan Hilty. Newman currently holds a residency at the Rose Bar at the Gramercy Park Hotel in New York City and is married to American burlesque performer Angie Pontani.
Work with Lady Gaga
Songs from Joanne:
Songs from A Star Is Born soundtrack (2018):
Other
Links
Community content is available under
CC-BY-SA
unless otherwise noted.