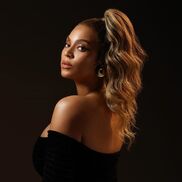 Beyoncé Giselle Knowles-Carter (born September 4, 1981) is an American R&B singer, songwriter, dancer and actress. Born and raised in Houston, Texas. Knowles rose to fame in the late 1990s as the lead singer of Destiny's Child, one of the world's best-selling girl groups of all time. She work has earned her numerous awards and accolades, including 16 Grammy Awards, 12 MTV Video Music Awards, a Billboard Millennium Awards, and a star on the Hollywood Walk of Fame (with Destiny's Child). As a solo artist, Knowles has sold over 13 million albums in the United States and over 75 million records worldwide, making her one of the best-selling music artists of all time.
Relationship with Lady Gaga
Beyoncé collaborated with Lady Gaga on "Video Phone" and "Telephone". Gaga appeared in her video for "Video Phone" and she appeared in the music video for "Telephone". On September 4, 2010, Gaga gave Knowles a diamond and leather whip and sung "Happy Birthday" for her birthday at Jay-Z's, Knowles's husband, and Eminem's Home and Home Tour. Gaga also allowed Knowles to listen to Born This Way months before the release.
When Beyoncé did the Super Bowl halftime show in 2016, Gaga stated that she was with her because Gaga herself was going to sing the National Anthem before the show.
When Gaga did the press conference for her Super Bowl performance on February 2, 2017, when asked if she knew about Beyoncé's pregnancy, Gaga answered she knew and has sent her flowers. Just a few weeks after the Super Bowl, Beyoncé requested Gaga would fill in for her Coachella performance, due to Beyoncé's pregnancy. Gaga accepted the request and fill in for her. Months after, on Beyoncé's birthday, Gaga tweeted to Beyoncé congratulating her. Weeks later, when Gaga was recovering from a Fibromyalgia attack in September and October, Beyoncé sent her a shirt from her clothing collection Ivy Park and along with that sent some flowers to her with a note. Most recently, Gaga tweeted at Beyoncé and her BeyHive fanbase to enjoy the Beyoncé's Coachella performance.
Work with Lady Gaga
"Video Phone" (2009)
Other
Links